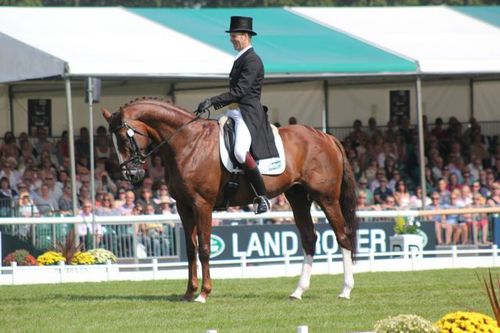 Nick Gauntlett with Chilli Morning at Burghley
Mary King had just taken over Chilli Morning to start this season.  The chestnut stallion was previously campaigned by Nick Gauntlett, but was moved to Mary's yard by owner Chris Stone. This past weekend, Chilli Morning competed at Belton with Mary; after leading the dressage, the pair was eliminated on cross-country for three refusals.
Mary told Horse & Hound: "He's a top-class horse, but he's not the right horse for me. I'm not strong enough to ride him without a stronger bit, but he's used to a soft bit and a strong man and he doesn't like a stronger bit. That's what went wrong at Belton.
"From the horse's point of view, he needs someone else on him because he is a really good horse. It's the first time I've given up the ride on a top-class horse, but I can't do him justice."
Read the full Horse & Hound article here.
Kudos to Mary King for doing right by the horse and putting her own ego aside. That's what good horsemanship is all about!  Chilli Morning has been offered to William Fox-Pitt to ride, as reported from WFP's site.
Comments