Matt Flynn and Get Lucky (Van Gogh x Ranna, Wagenaar) sat in third place after the first two phases of the Fair Hill International CIC3* in Elkton, Maryland, but if they could fly home quick enough on cross country they had a chance to move up. A clear and fast round on Derek di Grazia's course, with 5.6 penalties added, Matt and "Lucky" ultimately won on a final score of 36.5.
"I really went for it on him timewise. The corners on the way home were pretty tough out there. He jumped straight through it and was really honest all the way around," Matt said.
"He's a bit of a spooky horse so it takes a few runs in the spring to get out and going. This is a good place for him because it has open tracks that are great galloping versus some of the other events that can be a bit twisty. It was nice to really let him gallop and this is just an awesome venue for cross country riding."
This the 10-year-old Dutch Warmblood's first season at the level and only his second Advanced run. Imported as a 5-year-old and produced by Matt up from the Young Event Horse Series, he's a promising mount for the future.
"He is owned by my parents and Bess and Tyler Abell of Merry Go Round Farm together. Mr. and Mrs. Abell have been really supportive of this horse for the past five years, and Tyler really enjoys cheering him on. He's one we hope to continue to develop up the levels," Matt said.
Will Coleman will be pleased with his weekend as he looks ahead to spring four-stars in just a couple short weeks. The Off the Record Syndicate's Off The Record (VDL Arkansas x Drumagoland Bay, Ard Ohio) added 7.2 time penalties on cross country to move up a couple places and finish second on 39.8 in the 9-year-old Irish Sport Horse's first CIC3*.
"(Off The Record) continues to impress. It was his second Advanced and he was awesome. He's a hardy one, but he loves cross country," Will said. "He really looks to go out there like a total beast. I like a horse that wants to go out there and give it all to you and wants to go."
Will has made no plans to take "Timmy" to a CCI this year. "Thinking about his career, I think he's going to be better suited to do a bunch of these CICs throughout the summer, like Great Meadow and Bromont, and then I want to take him to Boekelo. I think he'd be a great horse for Boekelo, but 10 minutes is big. He did nine minutes in the two-star at Fair Hill here last year, and he did it double clear, but it's a big jump from two-star to three-star, and I think he just needs a little extra build up."
Will also picked up a win in the Advanced division, leading from start to finish with Badminton-bound OBOS O'Reilly, a 15-year-old Irish Sport Horse (OBOS Quality x Omard Clover Queen, Clover Hill) owned by the Four Star Eventing Group.
Rounding out the CIC3* top three is Kristen Bond and Liz Bond's 10-year-old Durch Warmblood Enough Already (Winningmood van de Arenberg x Zandora, Landor S). With clear rounds and 10.2 time penalties to add across the two jumping phases, they finished on 43.4 for an emotional finish in the gelding's first run at the level.
"He hasn't had a lot of experience. When I was pregnant, I was lucky to have amazing friends. Phillip (Dutton) rode him and Kim (Severson) had him for a little bit, so he's had some exceptional people on him, but they didn't do a lot of competing. So this was his first trip around. We're learning together," Kristen said.
"He's an absolute stud. The last time I did a CIC or CCI3* was in 2011… It has taken a super long time for me to feel back to where I felt myself. I can definitely say it felt normal to me today."
Boyd Martin piloted the Ray Price Syndicate's 10-year-old Thoroughbred/Warmblood Ray Price around the gelding's first CIC3*, adding 9.6 time penalties on cross country move into fourth place on 44.2. Waylon Roberts and Anthony Connolly and Skye Levely's 15-year-old Thoroughbred Kelecyn Cognac cruised around for their 15th three-star clear round as a pair, adding 6.4 time penalties to finish fifth on 45.2.
Kaitlin Clasing and Steplin LLC's 11-year-old Holsteiner Cartender de Nyze (Caretino x M-Cyra, Contender) made quick work of the course with 5.8 added time penalties and a sixth place finish on 46.8. Mara DePuy and Congo Brazzaville C (Tangelo van de Zuuthoeve x Mexico M, Highline), an 11-year-old Dutch Warmblood owned by Mara, David and Mary Clark Regamey, added 12.4 time penalties to finish seventh on 52.5. Chris Talley and his own 9-year-old Thoroughbred Unmarked Bills cruised home with the fastest time, adding 5.2 penalties to move up from 12th to a final eighth place finish.
Boyd and the Long Island T Syndicate's 12-year-old Oldenburg/Thoroughbred Long Island T (Ludwig von Bayern x Haupstsbuch Highlight, Heraldik xx), leaders after the first two phases, picked up 20 jumping and 18 time penalties to finish in ninth. Hillary Moses and Claudia Schultze's 14-year-old Holsteiner Zanadoo (Lavall I x Granmalvina F, Lord) were clear with 18.4 time penalties to round out the top ten.
Will Faudree and Hans Dampf, a 12-year-old Oldenburg owned by Jennifer Mosing and Sterling Silver Stables, led the CIC2* from start to finish, adding only 0.4 time penalties to end on a 27.7. The son of Heraldik xx and Look CR made his return to FEI level after a year away.
"He felt great. He hadn't been out in a year, and we've taken our time in his rehab. He was super cross country and show jumping. He felt like his old self. I think he was pretty happy to be back. He was doing his little dance around the start box," Will said. "Because he hasn't been out in a year I thought he might back off of the water, but he was foot perfect the whole way around. He felt very, very fit."
Ryan Keefe and Rumsey Keefe's 18-year-old Thoroughbred Flintstar (Zabalu x Croftlea Firequeen, Kingcroft Wicklow) made steady moves up the leaderboard throughout the competition. They started in seventh place with a 31.3 and ultimately placed second as the only combination in the division to finish on their dressage score in their first two-star as a pair.
Lindsay Kelley and Cooley Cruise Control (Chacoa x Castlequarter Royale, Guy Cavalier), a 9-year-old Irish Sport Horse owned by the Cooley Cruise Control Syndicate made a big move from 13th after dressage to eventual third, adding just 2.8 time penalties for a final score of 35.4. Caitlin Silliman and Morgan McCue's 7-year-old Trakehner Ally KGO (Hirtentanz 2 x Annabel Lee, Butow) were foot perfect save ten additional seconds on the clock for a final score of 36.2, good for fourth place in the mare's first attempt at the level.
Alex Reed with her 11-year-old Thoroughbred On Broadway (Mass Market x Catz, Catrail) and Will with Michel 233 (Mighty Magic x First Lady, Federweisser), an 8-year-old Hanoverian owned by Jennifer Mosing and Sterling Silver Stables, posted two of the four double clear cross country rounds to finish in fifth and sixth place respectively. The remaining fault free cross country trip belongs to Arielle Aharoni and Christina Aharoni's 10-year-old Dutch Warmblood Dutch Times (Goodtimes x Alino Queen, Michellino), who moved up from 18th to eighth in the final phase.
Turning to the CIC*, Kelli Temple and Kara Angulo's 8-year-old Holsteiner mare Metallica (Cancara x Ulysses, Casall) picked up their first international win, finishing with a 28.5 after adding just a rail to their initial score.
Mike Pendleton and Bonnie Stedt's 9-year-old Irish Sport Horse The Fonz Himself (Vincenzo Vant Merelsnest x Jadore Chanel) crossed the finish line in the final phase two seconds over the time to finish on 29.5 for second place in their first FEI appearance as a pair.
Olivia Dutton and the very experienced Mr Medicott (Cruising x Slieveluachra, Edmund Burke), a 19-year-old Irish Sport Horse owned by the Mr Medicott Syndicate, came home double clear for third place and a final score of 31.6 in their first international appearance as a pair. This was also the gelding's first FEI event since last April, when he won the USEF CCI4* National Championship at the Kentucky Three-Day Event with Olivia's father, Phillip Dutton.
Katherine DeLaney and Kara Angulo's 9-year-old Dutch Warmblood Elbaran (Albaran x Twiggy) added just 0.4 time penalties to an otherwise superb performance for fourth place on 31.8 in their first one-star. Rounding out the top five is Francesca Broggini and her 19-year-old Belgian Sport Horse Petit Bleu Marine (Nabab de Reve x Nurioso Monsboro, Surioso), who moved up from 10th after show jumping after a fault free round across the country.
Shelby Allen also contributed to this report.
Fair Hill CIC & H.T. [Website] [Entry Status] [Ride Times] [Live Results]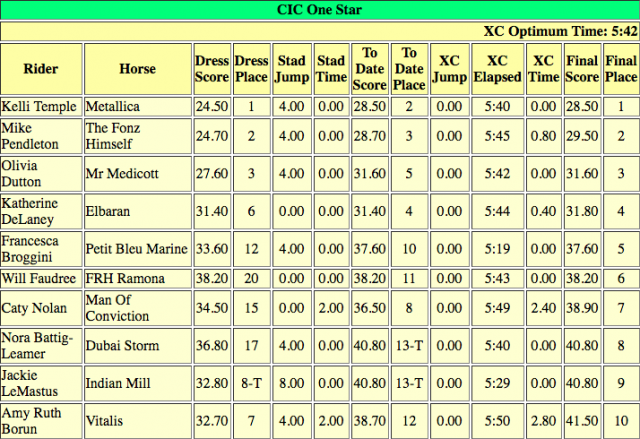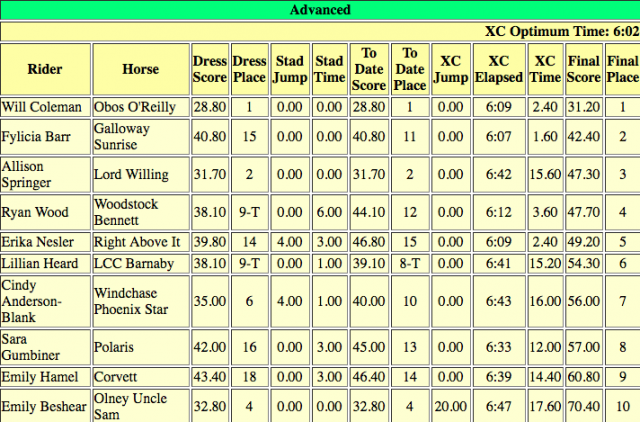 Comments