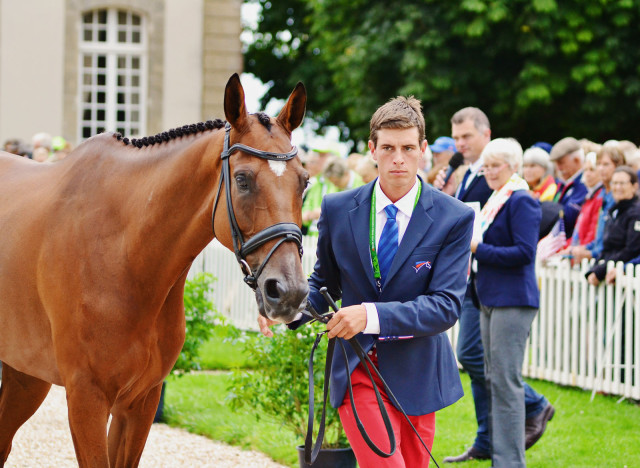 Maxime Livio has been cleared of charges involving Bingo S's positive test for testosterone at the Pattaya CSI1*-W in Thailand last November, but the FEI confirmed the case involving Qalao de Mers' positive test for acepromazine at last summer's World Equestrian Games in Normandy is still ongoing.
Bingo S's suspension was due to be lifted April 15 and has now been lifted a few days early after the the 9-year-old Dutch gelding's B sample tested negative. Maxime's suspension has also been lifted, and he is now cleared to return to competing.
"It is rare that the B sample doesn't confirm the A sample, but it proves that our system works and that the checks and balances put in place to protect the athlete function correctly," FEI Secretary General Sabrina Zeender said in a press release.
"As with all other sports and as part of an in-built safety mechanism, the athlete has the right to request confirmatory analysis of the B sample. As this has returned a negative result in this instance, the case against Maxime Livio is dropped."
The FEI confirmed in the press release that the original doping case against Maxime is still ongoing after Qalao de Mers' A and B samples tested positive for the presence of the controlled substance acepromazine in his system at WEG.
The case, which has not yet been submitted to the FEI tribunal for action, is of particular interest to the U.S. and Canada, as the FEI tribunal can rule to disqualify Maxime, who finished in sixth place individually, or the entire French team, which finished sixth in the team standings, from the Games.
That would move Canada into sixth place in the WEG standings, qualifying the team for the 2016 Olympic Games in Rio de Janeiro and opening the door for the U.S. to qualify for the Olympics at this summer's Pan American Games in Toronto.
Maxime maintains his innocence in the case and released a statement last year that he believed Qalao de Mers' positive test for acepromazine at WEG to be an act of sabotage.
[B Sample Tests Negative for Maxime Livio Ride at Thai Jumping Event]
Comments