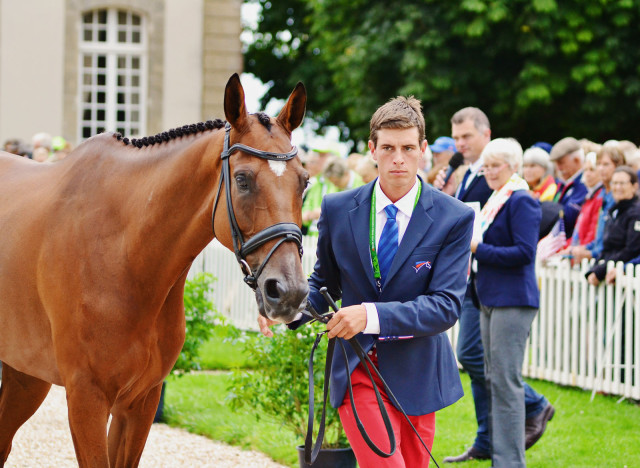 The FEI announced today that the tribunal has disqualified both Maxime Livio and the entire French team from the 2014 World Equestrian Games, which moves Canada up to sixth place in the team standings to automatically qualify them for the 2016 Olympic Games in Rio de Janeiro.
Samples taken from Maxime's horse, Qalao de Mers, tested positive for hydroxyethylpromazine sulfoxide, a metabolite of the acepromazine, following his dressage test in Normandy on Aug. 29, 2014; the horse went on to place fifth individually, boosting the French team to fourth.
Acepromazine is a controlled substance under the FEI's Equine Anti-Doping and Controlled Medication Regulations; under these rules, any use of a controlled substance during competition results in disqualification for the competitor. While the FEI Tribunal can rule to spare the rest of the team in a doping scenario, that didn't happen in France's case.
Due to the major implications this case had for Canada's Olympic qualification, the FEI tribunal issued a partial ruling on the disqualifications, and any sanctions Maxime may receive as a result of the rule violation will be determined at a later date. You can read the FEI tribunal's partial decision at this link.
The following countries are now qualified to compete in eventing at Rio: Germany, Great Britain, the Netherlands, Australia, Ireland and Canada. Brazil receives an automatic ticket as the host nation.
This is big news for our Canadian friends, who now are going to Rio regardless of what happens at this summer's Pan American Games in Toronto. While Canada will certainly be bringing their A-game on home turf, this opens the door for Team USA to take gold in a much more palatable scenario, which would in turn qualify them for Rio.
Canadians Jessica Phoenix, Selena O'Hanlon, Cody Sturgess and Rachel McDonough are all competing here this weekend at the Rolex Kentucky Three-Day Event. If you see them smiling a little bigger than usual today as they come down centerline, you'll know why.
FEI Tribunal Disqualifies Maxime Livio and French Eventing Team