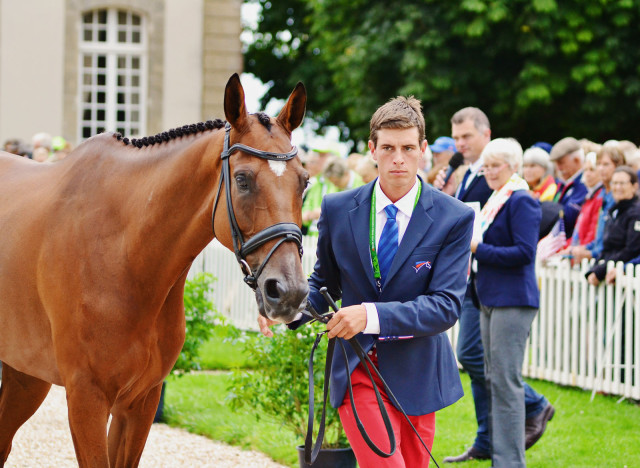 Maxime Livio released a statement on his Facebook page this afternoon following the FEI's announcement that Qalao de Mers tested posting for the controlled substance acepromazine on the second day of dressage at the World Equestrian Games. He has denied any wrongdoing, saying he is "stunned and devastated for France" and pointing to a "malicious act" as the potential source of the positive test result.
The statement is in French, so here is a rough translation of his comments via Google Translate. Click here to read the original statement in French:
Following the positive test of Qalao de Mers to acepromazine, I just heard the news and I take note of the results. I am stunned and devastated for France, the French team and of course for my own performance.
We came at the World Games with the hope and the desire to get on the podium as a team, and personally, I was aiming to be in the top 10.
I was therefore sure that my horse would be controlled (tested). I would never have taken such a risk to France or to my career, and I disapprove of doping, which does not correspond to the ethics of sports and horse riding.
I await the detailed analysis of the A sample. Not having administered any doping substance to my horse, for now I can consider nothing more than a malicious act.
The French Equestrian Federation has always led numerous campaigns and actions that riding is a clean sport in France, and I was aware of all this since I was Junior. A few weeks before the WEG, a final seminar again reminded us to review all our food and dietary supplements.
For 10 years, I have put great care to build my career in the most professional way possible, and I would never have taken such a risk after so many years of efforts to reach the level where I am today and the first objective: the World Equestrian Games.
As we clarified this morning, the positive test for a controlled substance does not mean Maxime and the fourth-placed French team will automatically be disqualified from WEG. That decision will be up to the FEI Tribunal at a hearing date not yet set.
New FEI rules dictate that if one team member is disqualified for a substance violation, the whole team is subsequently disqualified. That means if the FEI Tribunal does rule to disqualify Maxime and the French team, Canada would move into sixth place in the team standings, thus qualifying for the 2016 Olympics in Rio.
Click here to read the original story and the full press release from the FEI detailing the proceedings and what will happen at this point.
[Maxime Livio's Qalao de Mers Tests Positive for Acepromazine at WEG]
Comments