Do you have a turnout blanket in decent condition, but are swooning for an upgrade this winter? We have the perfect solution that not only makes it more affordable for you to trade up, but also gets your old turnout onto the shivering withers of a horse that desperately needs it.
Horseware has announced the relaunch of their wildly popular Turnout Trade-In Program, where you hand in your old but still useful turnout, and in exchange you get $50 off a brand new Rambo.
So who are the fine recipients of your trusty old rug? We're glad you asked!
Only a handful of the cutest ponies, the kindest drafts and the best charities you could ever hope to meet.
Horseware shares with us just a handful of the numerous hardworking beneficiaries of last year's Trade-In program, and why it means so much to these groups to get your old blanket.
The Mare and Foal Sanctuary in the UK not only takes in abandoned and neglected animals of all shapes, sizes, and ages, but they also train and re-home them into better situations. Some remain at the farm permanently as part of the top notch children's education program where little ones can learn all the aspects of horse care and science.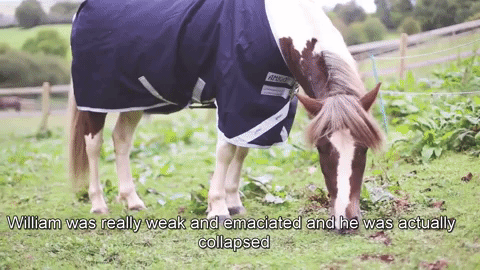 "A lot of these guys come to us in a pretty bad, poor state, so as you can imagine, they're skinny, they need the extra warmth that a rug will give them," said one employee at the Mare and Foal Sanctuary. "People really do help us out, but we're reliant on companies like Horseware. These guys really deserve it."
The second highlighted charity is the Devon Equine Crisis Support, which works in conjunction with the Welsh Pony Rescue & Rehoming Project in the UK. They introduce us to the wildly handsome and charming Tada, a stunning piebald who had a body score of 0.5 when he arrived, but miraculously recovered and is the picture of mischievous health today.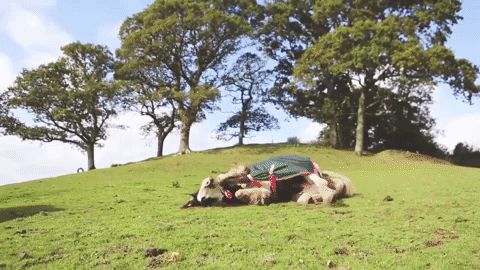 You break in that Rambo with everything you've got, Tada. 
Are you ready to help some horses and get your own Rambo? It's easy! Visit Horseware's Turnout Trade-In Page and fill out the voucher form, then click on Participating Retailers to find the closest drop-off location, and they'll take care of the rest! Next thing you know, that faded but cozy rug will be bringing care and warmth to a horse that needs it, and your pony will be strutting their stuff in a new Rambo. Your turn-in blanket can be any brand or fill, so long as it's still in working condition.
Go Horseware, and Go Eventing.
Comments