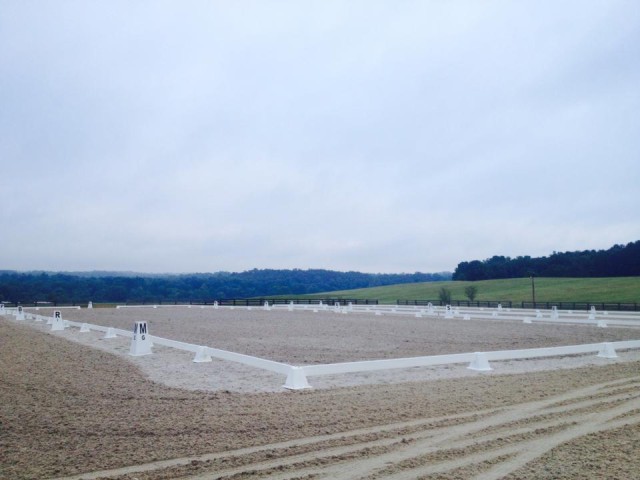 The weather wreaked havoc at events all over the country this weekend. Groton House in Massachusetts made the call to compress the show from three days to two when it became clear the weather was going to get nasty. That turned out to be a good decision. Encore Horse Trials in Michigan was forced to run the event as a combined test. And down in Georgia, there were two weather holds due to storms on Saturday. Beginner Novice cross country was ultimately postponed until Sunday. As you might expect, however, everyone worked together to accommodate the conditions. Eventing is by all accounts a team sport, in its own way.
U.S. Weekend Action:
Groton House Farm H.T. [Scores]
Genesee Valley Hunt H.T. [Scores]
Horse Park of New Jersey I H.T. [Scores]
Chattahoochee Hills H.T. [Scores]
Inavale Farm H.T. [Scores]
Encore H.T.  [Website]
Abbe Ranch H.T. [Scores]
Monday News:
"It was epic. The way this all went down is at the heart of why I am an eventer and eventing coach. Everyone pitched in. People were approaching our stabling coordinator to offer their help. I don't believe I heard a single complaint about the decision to make the change." [David Wilson describes the event at Groton House]
Horses are on display in an art gallery in New York City. A recreation of Jannis Kounellis's original 1969 living installation art piece "Untitled (12 Horses)". The horses are tied to the wall, eating hay, drinking water, snorting and pooping (as they do), but anyone that has spent time sitting quietly in a barn knows how peaceful and calming such a setting can be. [Art That Snorts]
Grooms are the unsung heroes of the sport, and Mark Bellissimo aims to honor them. Several horse shows will present a $500 award to the groom of the winning horse in the highest-money grand prix class of the week over $25,000. They will als receive media recognition, and the top three grooms at the end of the year will be awarded substantial prize money and be honored in the Chronicle of the Horse. [Grooms Initiative]
Surprise! Michael Jung wins again. Actually, he won first and second place at the Strzegom CCI3* in Poland. Michael and his horses produced two of the five clear show jumping rounds. Great Britain won their second consecutive FEI Nations Cup team competition, buffering their lead in the series' standings. [Strzegom 3*]
Trevor Breen has earned his second victory at the famed Hickstead Derby. Trevor and his one-eyed wonder horse Adventure De Kannan captured hearts and the win in 2014. This weekend Trevor and 16-year-old Loughnatousa WB – who won in 2012 with rider Paul Beecher – produced the only clear round out of 37 competitors. [Hickstead Derby]
Monday Video: Jessica Bortner-Harris's 5-year-old OTTB gelding, Better Terms (Willis) was supposed to be her horse for the Retired Racehorse Project, but an injury has him sidelined with four weeks of stall rest. He definitely hasn't lost his sense of humor!

Comments