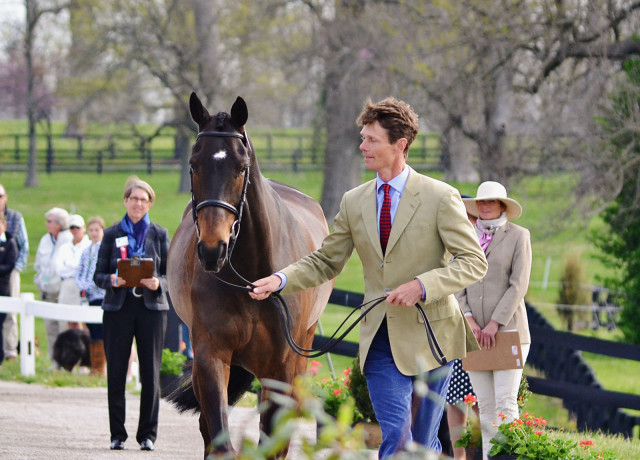 Thirty-seven of the 39 horses that presented at the final horse inspection will move on to the show jumping at Rolex, as two were withdrawn this morning. Phillip Dutton did not present Mr. Medicott and Colleen Rutledge and Shiraz withdrew after being sent to the holding box. The announcement about Mr. Medicott elicited a collective groan from the crowd, as Cave was in third place after a double clear cross-country trip yesterday. We're still waiting to confirm why Phillip withdrew, and it goes without saying that it will be a big blow to Team USA if this horse is facing a serious injury in a WEG year. All our fingers and toes are crossed that this isn't a major issue.
Colleen has confirmed that Shiraz is suffering from a slight shoulder strain after going double clear for the first time ever in a four-star yesterday. She said it's just not something that's going to get better today, hence her decision to withdraw from the holding box. Just one other horse was held — Marilyn Little's ride RF Smoke on the Water, who is in ninth place after cross country. Dr. Catherine Kohn, the FEI veterinary delegate, spent a lengthy amount of time speaking to the ground jury after examining Smoke in the holding box before the horse was reinspected. After jogging the strip for the second time, Smoke was accepted and will move on to show jumping.
It was a relatively uneventful jog considering how the first horse inspection went down on Wednesday, with five horses being sent to the holding box, one being spun and one withdrawing. Multiple horses were also asked to jog two or even three times on Wednesday, but none of the horses were asked to jog again today. We definitely saw some tired horses, but the vast majority of the horses looked to be in good shape after tackling Derek di Grazia's impressive cross-country course yesterday. Overnight leader Bay My Hero was looking very fresh for William Fox-Pitt, and Manoir de Carneville had to throw in his customary buck while jogging the strip with Sinead Halpin. Parker looked ready to go around Derek's course again with a grinning James Alliston.
We saw much more conservative outfits on this chilly morning in Lexington. I thought Kim Severson looked fabulous in orange while presenting Fernhill Fearless, whom she piloted to a double clear in his first four-star yesterday. Sharon White and Wundermaske definitely received the loudest cheer from the crowd upon the announcement that they have been expected. Team Orange always brings it! It's going to be very warm this afternoon for the show jumping, with temperatures expected to reach into the mid-80s. Show jumping gets underway at 12:40 p.m. Keep it locked on EN for everything you need to know from the exciting conclusion of Rolex.
Update 11:50 a.m. EST: Phillip Dutton has just released the following statement on his Facebook page: "I decided to withdraw the Mr. Medicott Syndicate's Mr. Medicott from Rolex, as he didn't feel good enough for me to jump him today, unfortunately. He will be evaluated by our vet team later today, and we will post an update when we have more information. Hopefully there will be many more Rolexes for Cave in the future. Thank you to the syndicate owners for their support and to everyone who came out to see Cave at Rolex."