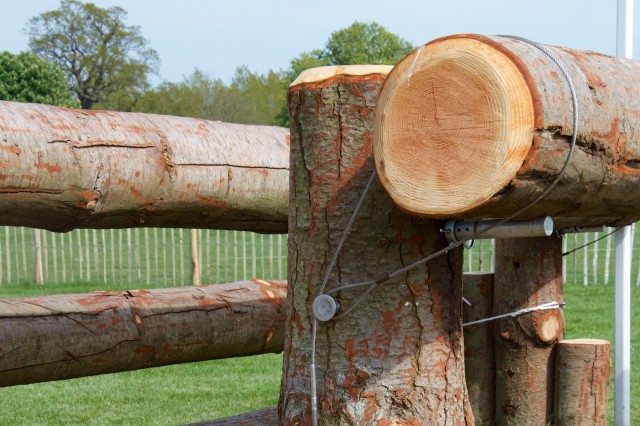 Ms. Jacqueline Mars has one again shown her dedication and generosity to the sport by agreeing to donate $25,000 to renew the 2009-2010 Frangible Fence Study — if the USEA can raise a matching amount by Jan. 15, 2016.
Led by Dr. Suzanne Smith, a mechanical engineering professor at the University of Kentucky, the 2009-2010 study was put on hold due to a lack of funds during the economic recession. EN spoke to Dr. Smith about the importance of renewing the Frangible Fence Study.
"What we did before really moved our understanding forward about how rotational falls can happen, but we haven't yet expressed that mathematically so that we can use that understanding to help us create better fence designs. That's the importance and the focus of this next study — to capture the understanding that we already have and then extend that into fence design," Dr. Smith said.
"The next step is to be able to give builders and designers good guidance for understanding what other designs they can use to help prevent these falls. Nothing you do is ever going to reduce the risk completely, but the goal is to reduce it as much as possible and help the horses be able to navigate these situations in a safe way, which then also protects riders."
Dr. Smith equates researching why rotational falls happen — and ultimately how to prevent them — to a puzzle: "We know some of the pieces, but we don't know all of them. There are a couple of key pieces that are still missing, and this study will help fill those in. With that understanding, it can reduce these incidents further. "
If the matching $25,000 can be raised by Jan. 15, Dr. Smith said that work on the renewed study would begin right away in the spring. She anticipates that the study will take about 18 months to two years total, with a projected total cost of $160,000. She also hopes that some initial findings would be ready to present to the USEA Safety Committee within six months of starting.
You can click here to read more about the USEA's campaign to raise the funds to match Ms. Mars' generous donation. Former USEA CEO Jo Whitehouse also gave an impassioned plea for all eventers to support this extremely important cause.
"With $50,000 in the bank by January 15, we could instruct Dr. Smith and her team of young engineers to get started on taking our sport to a whole new level of safety," Jo said. "We will then continue to raise funds throughout 2016 until we have the full amount covered. Mrs. Mars' matching donation and the USEA's compelling support just goes to show how important this study is to all of us across the sport."
When we consider the horses and riders around the world that have died or suffered serious injuries due to rotational falls in 2015 alone, it is imperative that the Frangible Fence Study be fully funded so we can work toward a safer sport.
Every donation helps, and all are tax-deductible. Click here to donate on the USEA website; be sure to select "Deformable Fence Technology" when making your donation. You can also mail a check to United States Eventing Association, 525 Old Waterford Rd NW, Leesburg, VA 20176.
THANK YOU to everyone who donates! Go Eventing.
[USEA Launches Campaign for Collapsible Fence Study with Matching Grant from Jacqueline Mars]
Comments