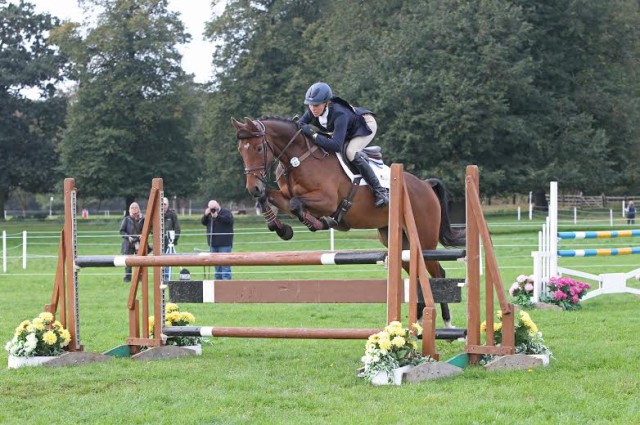 Richard Sheane is well known for his prowess at sourcing, producing and selling Irish Sport Horses under the Cooley name in Ireland. Thanks to his new business venture with British-based U.S. rider Liz Halliday-Sharp, Americans will now have access to those horses without making the trek across the pond.

Branded Cooley Horses International, Liz and Richard are bringing a quality crop of proven Cooley horses to Ocala to sell during the winter off season — with the first group arriving in the States this week — giving potential buyers the opportunity to see them and try them right here in the U.S.
Liz first met Richard in 2011 when she bought HHS Cooley from him as a 7-year-old, and she turned to him again a year later to buy Fernhill By Night as a 9-year-old. Both have since appeared on the USEF High Performance Training Lists and garnered top finishes in major international competitions.
HHS Cooley placed 3rd in his first CCI3* at Galway Downs as a 9-year-old last year and finished 7th in the Ballindenisk Nations Cup CICO3* this spring. Fernhill By Night capped a strong 2014 season with a clear cross country run at the Boekelo CCIO3* to finish 23rd; he also placed 2nd in the CIC3* at Ballindenisk in September. Both horses are now targeting Rolex Kentucky in the spring.
"All of my best horses have been sourced through him, and he would be my first point of call if I'm looking for horses," Liz said. "He's a very good, honest horseman with a brilliant eye. He knows what he's looking for, and he's very meticulous about finding the right horses."
Why sell in the U.S.?

Indeed, when we spoke for this interview late into the night in Ireland, Richard had been at Cavan International Equestrian Center since 7:30 a.m. looking for horses at the November show. "Sometimes I think people assume I drive half an hour down the road to see a horse," he said. "A lot of work goes into it."
So why bring the horses to the U.S. to sell? Richard said it's a model he's seen work successfully in the show jumping world that he hopes to emulate in the eventing market. "Some Americans might not have the leap of faith to get on a plane and come here, so it gets the Cooley horses on the ground in front of them," he said.
Richard and his wife, Georgina, who run the business together, had already been thinking last year about bringing a select group of Cooley horses to Ocala to sell when Liz told him she had purchased a farm from Ocala Horse Properties with the intent of basing in Florida for the winter; at that point, all the pieces naturally fell into place.
"I've alway wanted to be able to produce a few more horses, but finding the time to be on the road searching for the right horses like Richard does is almost impossible when you are trying to compete and ride full time as well," Liz said. "Richard deals in a straight way and does his business right. Between me doing some of the producing and him finding the horses, I hope we can make this work for many years."
And it doesn't hurt that "January in Ireland is not much fun," as Richard so aptly put it; there's a reason #eventingsunnyflorida remains a popular Twitter hashtag. "We've gone to Ocala for the last few years running to see the horses we have sold. It's something we've always wanted to do to take that next step. It's a little bit of an adventure as well as everything else," he said.
The Cooley philosophy
The Cooley name continues to gain momentum since Georgina convinced Richard to give a prefix to the horses five years ago — "thank goodness she forced me to do it." Liz's HHS Cooley is a notable "graduate," as is Kim Severson's Cooley Cross Border, a horse we talent spotted on EN that placed 2nd in the Dutta Corp Fair Hill International CCI2* last month.
Additionally, Cooley horses enjoyed an excellent showing at Le Lion d'Angers this year, with Cooley Dream Extreme finishing 3rd in the 6-year-old Championships with Piggy French and Cooley SRS finishing 9th in the 7-year-old Championships with Oliver Townend, making them the highest-placed Irish horses at the championships.
"We're planning on selling horses that are going to do the same thing," Richard said. "It's easy to sell a good product — I'm very adamant about that — and to do it in a straightforward fashion. You have to produce as well as get the results so that you're not working off a canvas that's nearly good but a canvas that's really good."
And now the U.S. gets to benefit from Richard and Liz's handiwork. Liz and her husband, Al, arrived in Florida this past weekend, with the first three Cooley horses scheduled to land in the U.S. this week. She'll be based in Ocala until the end of April, with her sights set on tackling her first four-star in Kentucky with both HHS Cooley and Fernhill By Night.
Cooley quality
All three of this first group of Cooley horses competed in England this season with Liz and have gone through a stringent vetting process. Cooley Ground Control, a 2008 gelding by Chacoa out of Cloon Crest, won the CIC* at Camphire International in July and also jumped clear around Le Lion this year.
"He's won and placed quite a lot this year and is a serious horse for the future, either for a professional or amateur rider," Liz said. "I think he's good enough to go on all the way; he's the whole package. I hope the right person can find him and love him like I do."
Cooley All Business, a 2006 gelding by Aldaltus out of Cork Lady, competed at the CCI* level with Emily Baldwin last year before spending the first half of this season in the show jumping ring. He's been eventing at the Intermediate level with Liz this fall, and she said he's "probably one of the best cross country horses I've ever sat on."
Cooley Cruise Control, a 2009 gelding by Chacoa out of Castlequarter Royale, just started eventing in May this year and won his BE100 qualifier at Eridge for the British Eventing Young Horse Championships, where he jumped double clear in his 5-year-old class.
"He's by the same sire as Cooley Ground Control, and I really like horses by Chacoa," Liz said. "I think they have a great attitude and are really happy horses. They love their job and want to please you. It's a joy to train a horse like that."
Let the horses do the talking
Richard, Georgina and their two children, Ellie and Arthur, will be arriving in Ocala next month to base at Liz's farm for the winter, bringing with them another batch of Cooley horses to sell. They are still settling on which horses will be making the trip, but Richard said all will be picked with U.S. eventing in mind.
"We're selecting horses that are very suitable for the American eventing system," he said. "These are horses that are light and easy on themselves. The ground is harder in the States than what we're used to in England and Ireland. It's something I've noticed in traveling to the States — that there are certain types that might work here but not in the U.S."
And that's the attention to detail Richard promises when sourcing, producing and ultimately selling horses under the Cooley name. "We like to say we let the horses do the talking; that has really worked for us," he said. "It's something that I really believe.
"You see dealers and agents and producers who always have a lot to say but don't really have much to back it up. We believe in spending less time talking and more time on the ground trying to find the right horses so we can get them sold to the right people."
You can visit Liz's website at Chailey Stud and click on the Cooley Horses International link to see more information and videos on the three horses that will be arriving in the States this week. Richard will have information on the horses he's bringing posted soon at RichardSheane.com.