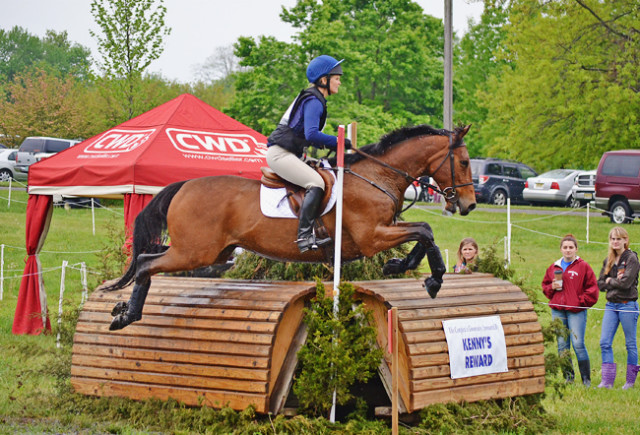 Plantation Field announced today that Nina Fout, who rode 3 Magic Beans to a team bronze medal at the 2000 Sydney Olympics, has been selected for its new Course Designer Development Program, in which she'll work alongside Mike Etherington-Smith to design the CIC* and CIC2* courses for the fall horse trials.
"I have to thank Plantation Field Equestrian Events for the incredible opportunity to work with Mike E-S. He's a brilliant course designer, and the venue is a wonderful setting to showcase good design," Nina said in a press release.
Nina's 'S' license allows her to design courses at the Advanced level, and she has already designed at Middleburg, CDCTA, Kelly's Ford, Gordonsdale and Morningside, with her ultimate goal to design at the FEI level. It's a goal that's not that far off thanks to Plantation's program, as she will eventually graduate to designing the CIC* and CIC2* courses on her own.
Boyd Martin said the program's selection committee — which includes himself along with Mike, Phillip Dutton, Mary Coldren and Denis Glaccum — received six applications for the program, with the committee ultimately deciding to choose Nina as the very first participant to work with Mike.
"Nina has ridden at the Olympic level and has a wonderful creative mind for course design," Boyd said. "We all felt her working with Mike E-S could boost her career towards being one of America's next great four-star course designers."
Mike said he anticipates beginning work on the courses very soon. "Nina has already done quite a lot of designing, and I am looking forward to working with her on the courses for the September event and hopefully being able to share some of what I have been lucky enough to learn over the years," he said.
With Nina and Mike teaming up to design the one-star and two-star courses and Mike returning to design the three-star course, the stage is set for Plantation Field International to once again prove why it's the Best. Event. Ever.
"The committee is already working hard toward making Plantation Field one of the best CICs this year," Boyd said. "Katie Walker came home from the Wellington Eventing Showcase planning to outdo Mark Bellissimo."
With that in mind, preparations at the grounds are well underway, and footing expert and local farmer Jamie Hicks has been busy spreading layers of mushroom compost on the galloping tracks.
"Jamie is obsessed with how to get the most ideal galloping lanes for the event, and he's taken charge with working on the fertilizing, compost spreading, mowing and seeding," Boyd said. "We feel like this year's event will really showcase his hard work."
[Plantation Field Equestrian Events Selects Olympian Nina Fout for Course Designer Development Program]
Comments