Vittoria Panizzon and Amy and Patricia Lambert's Chequers Play The Game gave us a cross country lesson in the CCI3* at Tattersalls International Horse Trials & Country Fair today to deservedly hold the lead.
Vittoria made Italy very proud on Thursday when she piloted "Elvis," a 14-year-old KWPN gelding (Stravinsky X Mirakel, by Lancer II), to a career best dressage score of 34.5, which also set a new record for the lowest CCI3* dressage score ever seen at Tattersalls.
Now Vittoria and Elvis have the chance to make history once again in tomorrow's show jumping, where they will look to finish on that score to set a new record CCI3* finishing score, currently held by Izzy Taylor and Allercombe Ellie, who finished on 41.0 in 2014. Vittoria and Elvis can afford one rail and two time penalties tomorrow and still set a new record!
The next two pairs on the CCI3* leaderboard also have the chance to set a new record finishing score thanks to jumping one of the 10 clear rounds inside the time on cross country.
Piggy French and Jayne McGivern's Quarrycrest Echo, a 10-year-old Irish Sport Horse gelding (Clover Echo X Royal China, by Cavalier Royale), scrapped around the horse's first CCI3* course to remain on their dressage score of 39.3, which moved them two spots up the leaderboard to second place.
Phillip Dutton has both of his horses sitting inside the top six thanks to fast and clear rounds inside the time. Fernhill Revelation, an 11-year-old Irish Sport Horse gelding (YOU X Hallo Noble Girl, by Hallo), moved up to third on 40.6. Z, a 9-year-old Zangersheide gelding (Asca X Bellabouche, by Babouche VH Gehucht Z) owned by Tom Tierney, Simon Roosevelt, Suzanne Lacy, Annie Jones and Caroline Moran, moved up to sixth on 45.0.
"It's the biggest test that Fernhill Revelation has had. I got him at the end of last year, so I don't know him that well, but he's brave, and he gutted it out at the end. He was a bit tired but he kept going. I'm excited about his future," Phillip said.
"Z gets so wound up on cross country. I probably went a little bit quick on him at the beginning, so I had to hold him together at the end. He's a freak of a jumper, so I've got to really look out for him because he's got a big future."
As for Phillip's thoughts on Ian Stark's course, which ran in a reverse direction for the first time in the history of the event: "Ian's done a great job because there is not a lot of terrain. All of the hills and mounds are man-made. It wasn't overly hard but right up to the second last jump you had to have enough horse to finish. For my two it was a great experience for them."
We have two other North Americans sitting inside the top 10, with Buck Davidson and Carlevo, a 10-year-old Holsteiner gelding (Caresino X Ramatuelle, by Levernois) owned by Carlevo LLC, adding 9.2 time penalties to slip from third to eighth on 48.2.
"He tried really hard. It was just one too many mistakes really. At the last water he was on the time and really dropped his stifles going into the water. I went to turn and thought we were fine, and then all of a sudden he stumbled. To stay upright I had to keep going straight, then stop, get organized, go back around and jump the skinny," Buck said.
"From there he tried but he was tired. He kept jumping. Hopefully he'll come out better from this, hopefully I'll ride better from this. He was really good up until then. You find out a lot about your horse when they are tired, and he kept fighting for it."
Kathryn Robinson and Gayle Robinson's Let It Bee, a 16-year-old Westphalian gelding (Lamerto H X Baroness, by Brentano II), jumped clear with 10 time penalties to round out the top 10 on 54.1 as the sole combination representing Canada in the CCI3* field.
"I had to do a slight detour because he launched himself off the mound jump, so I had to quickly go a bit long and that wasted a bit of time," Kathryn said. "He was really good and full of beans. Hopefully tomorrow he'll be good as well."
Katherine Coleman and her own Back to Business, a 10-year-old Irish Sport Horse (Harlequin Du Carel X Moxella, by Quick Star), went clear and inside the time in the mare's CCI3* debut to move from 20th up to 13th on 57.7.
"She was really good. She's quite ditchy and she took a good look at every single ditch out there. I knew she was quite ditchy coming into this and thought it would be a good course to help her education. Hopefully she will learn a lot from that," Katherine said.
Dedicated EN readers will know that Katherine is a very fast cross country rider, so as a little bonus we asked her to share her tips for making the time on course.
"For me it's not about counting numbers and everything being really technical. It's all about riding the horse's balance. Keep them forward and balanced and teach your horse to go between the flags and when in doubt, kick. It's a matter of staying aggressive and not getting too hung up on numbers and the technicality of it. Sit back, balance your horse and just keep coming."
Unfortunately things did not go to plan for Kim Severson and Cooley Cross Border, who sat in second place after dressage on 38.5. Kim retired the 10-year-old Irish Sport Horse gelding (Diamond Roller X Whos Diaz, by Osilvis) owned by the Cooley Cross Border Syndicate after refusals at the sunken road at fence 12.
"He was very suspicious just from the very first fence. Everyone said he looked great but he was very weary and suspicious. Every single jump I was like, come on! I came around to the sunken road and gave him a good enough ride, and he just looked at it really hard and left a leg. I was up on his neck on the landing. He didn't even go down to the ditch; he jumped off to the side," Kim said.
"I circled around, got my canter and he just didn't want to go jump that ditch. He was kind of like that the whole way around even though he didn't appear to be outwardly like that. I thought after Kentucky he was great because he was so good and it was easy, but I actually think now that he thought that was a lot. In hindsight I probably should have done Jersey Fresh just to check on how he was feeling, even if I only did part of the course."
Keep checking back to this report for more photos of our North American combinations! You can view a full breakdown of live scoring here. The final horse inspection is at 8:30 a.m./3:30 a.m. EST tomorrow, with CCI3* show jumping at 4:30 p.m./11:30 a.m. EST. You can watch live on the fantastic free Tattersalls live stream. Go Eventing.
Tattersalls Links: Website, Entries & Live Scores, Live Stream, EN's Coverage, EN's Twitter, EN's Instagram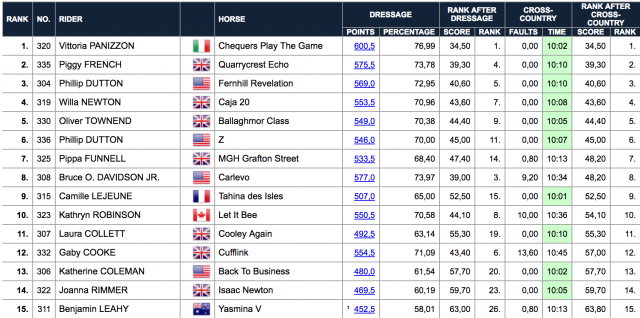 Comments