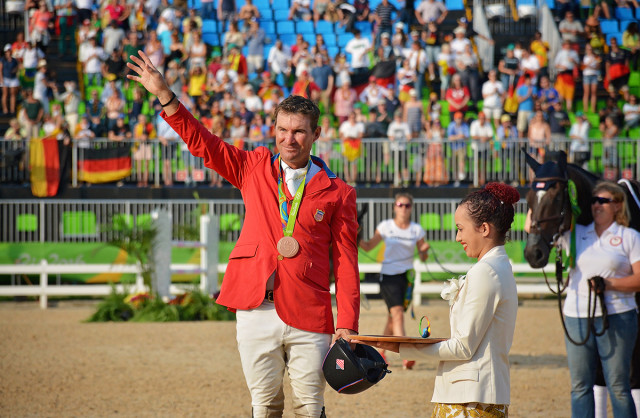 It has been a rollercoaster winter for Phillip Dutton, his family and his dedicated team. Amidst being named 2016 USEF Equestrian of the Year and seeing HND Group's Mighty Nice named 2016 USEF International Horse of the Year, Phillip's stepdaughter Lee Lee Jones suffered a traumatic brain injury in a fall just before Christmas.
EN caught up with Phillip on an unseasonably warm February day at his True Prospect Farm in West Grove, Pennsylvania, where he has remained thus far this winter. Phillip sent his longtime barn manager Emma Ford and the core members of his team down to Aiken, South Carolina, last month with the younger horses in tow. He stayed behind with his top horses and wife, Evie, to be with Lee Lee as she started the long road to recovery.
"Lee Lee is progressing well at Bryn Mawr, which is an incredible rehab facility and the next step in her recovery. She has therapy three times a day — physical, occupational and speech — and has friends and family visit with her each day. She is making constant progress and positive steps forward in her recovery."
Evie, "the rock of the family," Phillip says, travels to Bryn Mawr each morning to be by Lee Lee's side for her therapy. Phillip and their teenage daughters, Olivia and Mary, visit around school schedules and riding. This routine has become the new normal for the family, and Phillip said his outlook on every aspect of his life, including his career, has been forever changed.
"It's been what you could call a life-changing moment for Lee Lee and our family, and it certainly puts things into perspective about what is important in life. Something incredible that has come out of it is the impact that Lee Lee has had on the eventing community."
#TeamLeeLee and #LeeLeeStrong photos have peppered social media since Lee Lee's accident. Bracelets, hats and shirts bearing the same hashtags and messages of support for her recovery are now impossible to miss wherever event riders can be found.
"The outpouring of love and support and best wishes has really been humbling. It is a real testament to what a great person she is, and I think it will be really rewarding for everyone when she is able to be a part of the eventing world again."
A Different Winter
Phillip has left Pennsylvania a handful of times since the accident, primarily to check in with the horses sent earlier in the winter to his Red Oak Farm in Aiken. The quiet winter days spent in Pennsylvania, when the rest of the local eventing community has long since migrated south, brought Phillip to a deeper level of understanding with his top horses, all of which stayed behind with him.
"On a personal level, it's brought me back to basics with my horses. Having what you might call the 'A team' here with me in Pennsylvania and having to do all the long jog sets and canter sets and jumping on them myself, I've really enjoyed it. I would like to work toward being able to keep going like this in the future."
With that goal in mind, Phillip has decided to scale back his operation, from the number of in-house students and working students to the size of his staff and the string of horses he competes. "I wanted to place a concentrated effort on the careers of my top horses. I'm still going to teach, but my first priority will be these horses and not spreading myself quite so thin."
With Lee Lee now settled in at Bryn Mawr Rehab Facility and making consistent progress in her recovery each day, Phillip will be moving his top horses down to Aiken on Feb. 28 next week in preparation to start his 2017 competition season.
"We all feel comfortable now that Lee Lee is on a proper road to recovery. It's obviously still going to be a long way before she's able to come home, but we're excited about this next stage for her."
Starting the Season
Phillip will compete for the first time this year at Sporting Days Farm Horse Trials on March 4 and 5, with a focus on his younger horses. His top mounts will come out for the first time at Red Hills International Horse Trials the following week. Boyd Martin is competing The Revelation Group's Fernhill Revelation and Annie Jones' The Manager for Phillip this weekend at Pine Top Horse Trials.
Thoroughbred fans will be pleased to know that Phillip will continue working with Graham and Anita Motion and their Herringswell Stables to promote second careers for racehorses. "We have a lot of fun with Anita and Graham, and I'd like to keep putting an emphasis on the retraining of the Thoroughbreds and have one or two in work all the time. We're always looking for one that has the potential to go at a higher level."
Phillip currently has Water Cube, owned by Michael Phelps, Bob Bowman, Evie Dutton and Herringswell Stables, and Quadrivium, owned by Flaxman Holdings, Herringswell Stables and Evie Dutton. Both horses are ready to step up to Training level in 2017.
He is especially excited about Sea of Clouds, owned by Anita Motion, Jodi Dady, Annie Jones, Evie Dutton and Sheikh Fahad Al-Thani. At 6-years-old, Sea of Clouds already has multiple Preliminary runs under his belt and is one Phillip thinks "has the making of an upper-level horse."
Fan favorite Icabad Crane will continue competing with Phillip's daughter Olivia this year, starting his season in Ocala, Florida, competing in jumper shows during her spring break. Fernhill Cubalawn, who Phillip says is going well after the injury that saw him withdrawn from the 2016 Rio Olympic Games, will also make the trip to Ocala, along with another familiar face: Mr. Medicott.
"This will be Cave's last season competing, so I'd like it to be a good one. I'll have to take it week to week and make sure he still wants to compete at that highest level. We've brought him back very slowly. I think he'll tell me whether he's ready to keep going."
Looking Ahead

Looking ahead to the spring four-stars, Phillip is aiming for Rolex Kentucky CCI4* with Tom Tierney and Annie Jones' Fernhill Fugitive and John and Kristine Norton's I'm Sew Ready, who he will continue competing through the spring while Kristen Bond is expecting her second child. Fernhill Cubalawn, owned by Tom Tierney, Simon Roosevelt and Caroline Moran, is aiming for Luhmühlen CCI4* in Germany.
Phillip is also hoping to take Z, owned by Tom Tierney, Simon Roosevelt, Suzanne Lacy, Annie Jones and Caroline Moran, and The Revelation Group's Fernhill Revelation to Tattersalls CCI3* in Ireland in June.
"I think both Z and Fernhill Revelation are close to doing a four-star, so it's good to get out of the comfort zone a little bit as their last three-star. I've never been to Tattersalls before, and I believe it will be good stepping stone for them before they go to the four-star level."
HND Group's Mighty Nice enjoyed an extended vacation after winning individual bronze in Rio, and he is now back in full work. Phillip will have him out competing later in the year, with an eye on aiming for a big competition in the fall with the 2018 World Equestrian Games in Tryon in mind.
"With Happy we'll try to work back from the World Championships and come up with a good competition plan for him that builds up to that. The first thing will be to get qualified, and then we'll see where we aim for."
As he prepares to start the season, Phillip said he is grateful to his team for keeping the horses going during what has been a very trying time for his family. He extended special thanks to Emma Ford, Emily Hamel, Jenny Caras, Sydney Solomon and Shelby Bornheimer, all of whom have kept the farm in Aiken running smoothly.
"The whole team has been incredible, and they really stepped in to make sure I could focus on my family. When I visit the farm in Aiken, it looks beautiful and the horses are really going well. I couldn't be more proud of my team. They've conducted themselves in such a professional manner in a difficult situation for all of us," Phillip says.
"All of my sponsors and owners have been great as well and have all said to 'take as much time as you need. The horses will always be there and ready when you get through this.' I can't thank them enough for standing by us during this time."
Comments