Competitors walk the stadium course between divisions.
Poplar Place Farm's first HT of the year wrapped up today. With thunderstorms looming on the horizon, competitors were eager to get through stadium jumping and get on the road.
The day began early with Open Intermediate/Preliminary getting started at 8:00. Temperatures were slightly warmer than Saturday, and despite the dreary skies, competitors and their supporters were in good spirits.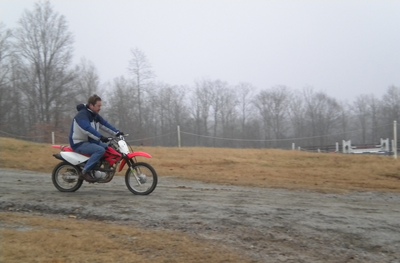 Event photographer, David Mullinix, scoots down to the jumping arena.
Thanks to owners Gary and Donna Stegman for hosting an organized and exciting competition on their beautiful farm in Hamilton, GA. Staff and volunteers did a great job accommodating the weather and keeping the event running smoothly. It was a great kick-off to what promises to be an exciting year.
Only one person located me this go around, but she couldn't remember the whole code phrase ("Eventing Nation is the coolest site online, and if you visit it every day your dressage scores will improve"), and I was Maid of Honor at her daughter's wedding. It counts anyway. Way to go Diana!
The cheering section: fans, friends, and family watch show-jumping on the sidelines.
My Favorite Horse Names of the Weekend:
Daddy's Empty Pockets

Little Bay Ferrari

Super Nova Drifter
Top Score of the Weekend: Winner of Open Novice Mallary Vaughn riding Double 9's Domino finished on their dressage score of 30.87
Congratulations to all the competitors! Check out the

final results

!
Competition photos will be available on David's

website

.