Preliminary competition in all ten offered disciplines at the 2023 Thoroughbred Makeover and National Symposium, presented by Thoroughbred Charities of America, is now complete, giving us our winners who will be honored at tomorrow evening's Awards Party as well as the top five in each discipline who will proceed now to the Finale Championships on Saturday.
Horses will compete in Saturday's Finale on a clean slate score, with winners of each discipline eligible to be named the Thoroughbred Makeover Champion by a panel of judges from all disciplines. Friday night's Awards Party will honor preliminary round discipline winners, as well as first place in juniors, amateurs and teams. Additionally, special awards, sponsored by various breeder and aftercare organizations as well as individuals, will be awarded based on preliminary placings.
Thoroughbred Incentive Program (T.I.P.) Western and Central Dressage Championships began turning over into Makeover competition spaces today, with competition in those classes continuing through Saturday.
Additional activities on Thursday included the Barrels & Brews event, sponsored by 1/ST Racing, which invited all attendees to grab a beer from West Sixth Brewery and enjoy the crowning of the T.I.P. Barrel Racing Championship winners. This afternoon's seminar, sponsored by Rood & Riddle Equine Hospital, invited attendees to get hands-on with body condition scoring, featuring Dr. David Alexander of Rood & Riddle. Refreshments were sponsored by Taylor, Harris Insurance Services.
Let's get to know our preliminary round winners. Full results and scores for each round can be found at TheRRP.org/makeover-results.
Barrel Racing: Dance Money and Lauren Clark (Professional)
Majestic Harbor – Cactusa, by Cactus Ridge
2018 mare bred in Indiana by Anthony Wolfe & Julie Mudman
22-2-2-1, $77,934 in earnings
Lauren Clark did not plan to compete in the Thoroughbred Makeover when she purchased Dance Money: her mother had just purchased Saint Commissaire and encouraged her to come out and take a look at a mare available. Once Clark saw Dance Money, she had to have her, and over the winter, she looked into the Thoroughbred Makeover, realized both horses were eligible, and decided to get involved, anticipating it would be a bucket list event. Clark scored in the middle of the pack in the horsemanship test, but ran two smooth, fast runs both nights to move into the lead.
"I thought I was going to end up behind, but I did my research on previous winners and their training methods," said Clark. "I did slow work until the end of August. It felt like I was going to be rushed, but I knew I was on the right track with these horses."

Competitive Trail: Adios Dee Dee and Haley Castleberry (Amateur)
Adios Charlie – Queen of Style, by Suave
2018 mare bred in Florida by Bob Carlson
8-1-1-0, $17,782 in earnings
Haley Castleberry's primary discipline of choice at the Thoroughbred Makeover this year with Adios Dee Dee was show jumper (in which she finished seventh in preliminary competition). Competitive trail may have been a secondary goal, but that didn't stop Castleberry from preparing just as hard for that discipline as for show jumper. Castleberry credits her method of preparation as well as Adios Dee Dee's excellent mind.
"My plan was to get her out as much as I could," said Castleberry. "I have two kids and I work, so every opportunity I had to get her out, I took it. I also made a lot of obstacles at home. Once she got something, I never had to ask again – she got everything very quickly. I work with a trainer for the show jumping, but to prep for Competitive Trail, I just looked at as many videos as I could find from past Makeovers to see what she would be faced with, and got her as ready as I could. I wanted to come as prepared as I could be, and did what I could with the time and the finances that I had."
Dressage: Knockemdown and Alison O'Dwyer (Professional)
American Pharoah – Ancient Goddess (FR), by Iffraaj (GB)
2019 gelding bred in Kentucky by Fifth Avenue Bloodstock
Unraced
As a professional, Alison O'Dwyer tends to seek a particular type of horse for eventual resale: big, flashy horses with eye-catching movement that work well in the dressage ring. Knockemdown doesn't check any of those boxes: she describes him as a fairly small, fairly plain bay gelding. But that doesn't mean he doesn't have his own unique strengths for the dressage arena.
"He's definitely naturally uphill, but he's not a big mover," said O'Dwyer. His first test, the judge's comment said 'he needs to cover more ground,' but if you come after him with your leg, he wants to come up and ball up. He doesn't have the most visually impressive trot. But because he's so short backed and small, he's very maneuverable. You have time to prepare for movements. That what makes him really fun – you can be so accurate. That can be a huge scoring advantage."
Eventing: Smokeonthehorizon and Jhett Jenkins (Professional)
Mizzen Mast – Jersey Tango, by Jersey Town
2019 gelding bred in Minnesota by Pam Davis
3-0-0-0, $685 in earnings
The Thoroughbred Makeover is not the only major show on Jhett Jenkins' calendar for Smokeonthehorizon: if all goes well, this pair will be headed to the Young Event Horse Championships at Fair Hill in Maryland next weekend. Jenkins is quick to credit the horse's progress to his easy trainability and his strong conformation.
"I rode him for the first time off the track in February," said Jenkins. "He came to his owner Dionne Benson in October and had a bit of downtime first. Right off the bat, he's been a really agreeable, trainable horse and I've really had a lot of fun with him. We went down for two weeks in Florida and got a head start to our season by doing our first event down there with just a month and a half of retraining. He's been out quite a few times now in the area and has really taken to the eventing – lovely on the flat, and I think he's a really neat horse."
Field Hunter: Arklow and Gina Gans (Amateur)
Arch – Unbridled Empire, by Empire Maker
2014 gelding bred in Kentucky by John R. Penn & Frank Penn
39-9-9-2, $3,025,996 in earnings
Multiple graded stakes winner
Three-time Breeders' Cup participant
Arklow is already one of the most accomplished horses competing at the 2023 Thoroughbred Makeover: he has earned over $3 million in a racing career that included multiple graded stakes wins and three runs in the Breeders' Cup Turf. Now, he's adding another achievement to his resume: winning the Field Hunter preliminary round under amateur rider Gina Gans, after turning in three relaxed rides over two days of competition.
"He's just so fun," said Gans. "When we had the big gallop up the hill today [in the Mock Hunt], he really took a big hold of me… but when we got to the top of the hill, he stopped in the check and just looked around. I think that's really hard for a lot of Thoroughbreds to be able to turn it on and switch it off – you show him something and he gets it and he's calm and cool. The biggest difference is the brain on him. His brain being so good makes such a difference – he could do anything."
Freestyle: Burl and Hamby's Rockin' H Ranch (Team)
Daaher – Happy Henrietta, by Supremo
2017 gelding bred in Illinois by Barr Three LLC, Cherrywood Racing II & Oak Rock Racing LLC
6-1-1-2, $26,530 in earnings
Hamby's Rockin' H Ranch team is headed by Monique Cameron, no stranger to the winner's circle in Freestyle after winning both preliminary and Finale honors in the discipline last year with her memorable Wizard of Oz-themed routine. This year, the team has nonetheless raised the bar with a firefighting-themed routine with props including dragging weight and a smoke machine. Cameron credits some unique training opportunities with some of Burl's success.
"He's got 20 hours of police training – so he's been through actual fire and smoke. He's gotten a certification for mounted police training!" said Cameron. "He's just a solid citizen. He's a super horse. He also went and show in the [T.I.P.] western pleasure today and we'll do ranch work later this week; he does trail, he jumps and he drags. Everything we did in our routine today was a practical skill – he can drag heavy things, he can carry a dog which means he can carry a calf. His owner Joe Kirby is looking forward to bringing him back as a T.I.P. horse."
Polo: Phlox and Buck Schott (Professional)
Dolphus – Cacahuatita, by Old Fashioned
2020 filly bred in Pennsylvania by Dede McGehee
3-0-0-1, $5,150 in earnings
Buck Schott might be accustomed to polo success at the Thoroughbred Makeover, a multiple-time winner of this discipline. But this might be the filly that he's had the most confidence in throughout his personal history with the event – despite not having as much time to dedicate to her training due to a busy traveling schedule.
"I got her last year right before we went to Florida in November," Schott said. "I took her to Florida but then I traveled back and forth a lot, so she didn't get a lot of riding in the winter. Summer has been super busy too, but she's just an awesome horse with a great brain – probably up for any discipline thrown her way. She's super relaxed when you want her to be; you can ride her in a halter and just do anything on the farm. Of all the horses I've entered in the Makeover, this felt like the most ready-to-win horse – she's put together and she felt like she wouldn't have a moment where she wouldn't do what I wanted or needed."
Ranch Work: Into Magarayquaza and Amber Jacobson (Professional)
Into Mischief – Boss Barney's Babe, by Street Boss
2017 gelding bred in Kentucky by WinStar Farm, LLC
12-0-0-0, $2,468 in earnings
Amber Jacobson is among the furthest traveled to get to the 2023 Thoroughbred Makeover: she traveled all the way from Longview, Alberta on a 36-hour drive back to the state where Into Magarayquaza was born. Jacobson's last trip to the Makeover included winning the Ranch Work Finale Championship with her own homebred Silence Is Awesome, but this trip is especially meaningful: she's prepared Into Magarayquaza to be a true working ranch horse, competing him in ranch rodeos, three-man doctoring events, and lots of ranch work including a 33-mile cattle drive with doctoring.
"I've gone from not being a ranch hand or not even showing horses myself four and a half years ago to winning with a horse that I completely trained myself in ranch work. He's a true ranch horse and I think that is really cool. I want to thank Ashley Francese for connecting me with 'Quinn' and WinStar for breeding me a winner!"
Show Hunter: Mission Canyon and Chris Bennings (Professional)
Uncle Mo – Dreamy Maiden, by Meadowlake
2017 gelding bred in Kentucky by Sierra Farm
3-0-2-0, $8,325 in earnings
Chris Bennings followed his usual approach with preparing his Makeover horses: light riding over the winter and scaling up in training and competing over the spring and summer to prepare for the competition. This year was a bit different, however, as Bennings felt a somewhat unusual lack of confidence until a few weeks before the Makeover.
"Up until about three weeks ago I was not very confident in anything – but then it all clicked, he got really soft, he got straight, and it all came together," said Bennings. "I'd taken him to school a few times at local shows and he just hadn't really been ready to show until now. He is short necked and short coupled, and he can have a big buck on him – he's got the best personality but also has a bit of an attitude. He's really just a real character. He loves being at the Horse Park and he thrives on the energy here."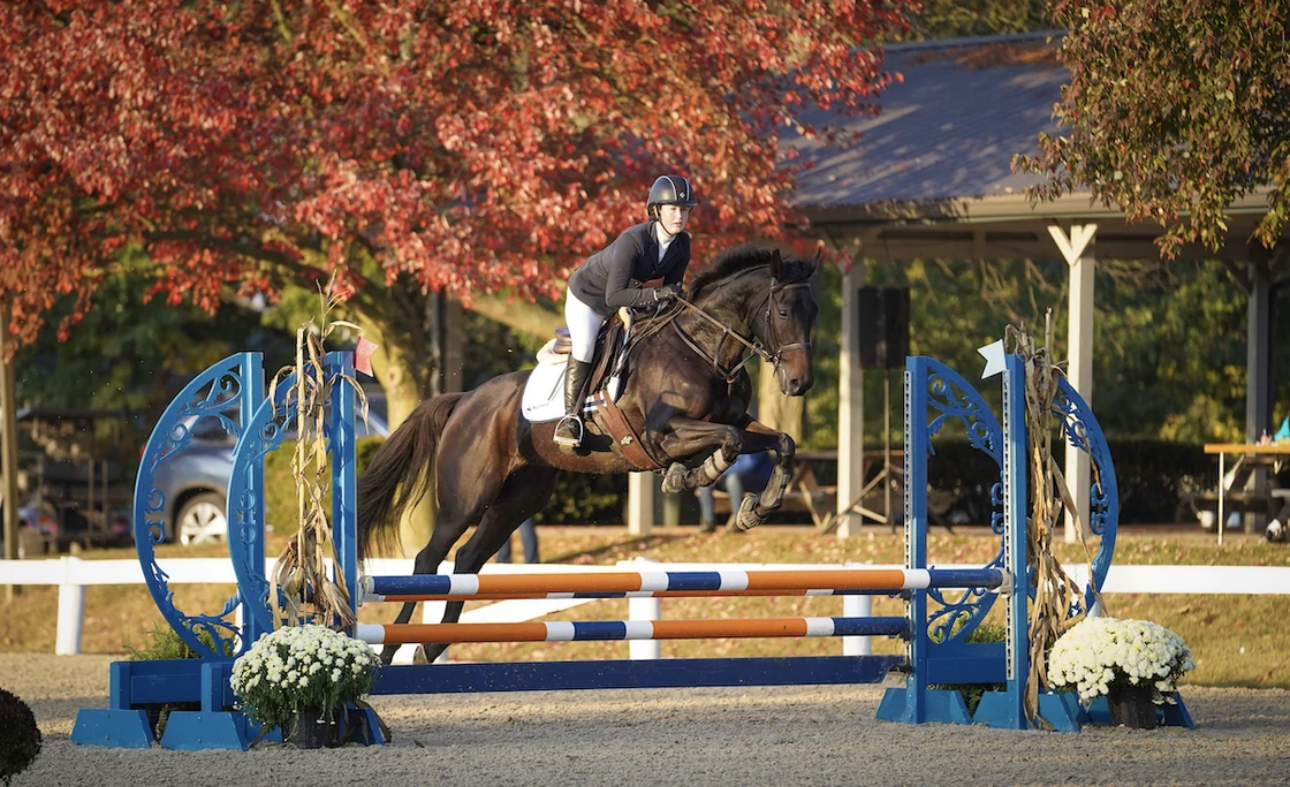 Show Jumper: Limonata and Claudia Dollinger (Professional)
Lemon Drop Kid – Ainda Melhor (BRZ), by Elusive Quality
2018 mare bred in Kentucky by Bonne Chance Farm, LLC
29-3-3-5, $48,407 in earnings
Claudia Dollinger wasn't sure that the 2023 Thoroughbred Makeover was in the cards for her: the two horses she was trying to bring to the event weren't great matches nor felt that they would be ready for the ten-month retraining timeline. She connected with trainer David Boyer, who had sold her past Makeover mounts, and who suggested he come take a look at another horse he thought she would be interested in. At their first meeting, Limonata actually kicked Dollinger, but she liked what she saw and brought her home anyway.
"She was a little sore behind and needed some time off, but once I got her going, she picked up jumping so fast and she seems like she really loves it," said Dollinger. "She is one of the sweetest, easiest horses I've ever had – I've had little kids ride her for lessons. I would love to keep her, but she is the kind of horse who could easily go on to a junior or amateur to continue."
Thoroughbred Incentive Program Barrel Racing Championships at Thoroughbred Makeover
The Thoroughbred Incentive Program (T.I.P.) Barrel Racing Championships returned to the Thoroughbred Makeover, running concurrently with the Makeover Barrel Racing discipline. Makeover entrants had the option to enter the Championships and roll their times for both standings. T.I.P. Barrel Racing Championships awarded fast times both Wednesday and Thursday evenings in a 4D format, crowning overall 4D average champions this evening at the conclusion of the second round.
Junior rider Rowan Hughes of Bell, FL cruised to a clear victory in the 1D average with last year's 1D average champion and 2019 Thoroughbred Makeover graduate Whiskey Terms (Connecting Terms – My Doctor Knows, by My Friend Max). Owned by Liz Howell, Whiskey Terms made 13 starts and never broke his maiden, retiring with $6,100 in earnings. He was bred in Louisiana by Joseph Dauphine and last raced for owner Shellie Duhon under trainer Benjamin Zeno.
Hughes had been intending to compete at T.I.P. Championships with her own 2022 Makeover graduate mare, but when she needed colic surgery, Howell offered Hughes the ride on Whiskey Terms. "I was lucky enough to get to ride the champ!" said Hughes. "He pulled it out of the bag again. The past few months we've been doing local jackpot shows and just really trying to run as muich as we can. He knows his job but I needed to figure out his buttons and getting used to him. I've never run a horse as well-seasoned and well-trained as him."