Welcome to EN's Product Review series! Who doesn't love shopping, especially when the object of your search is new gear for yourself or your horse? As an enthusiast of all products equine, I LOVE trying out new gear. Please join me as I narrate my personal journey of trying out all of the products featured. While I will make no recommendations, I hope you have fun reading about my many adventures of trying new products, and that hearing about my personal experiences helps you on your own quest for new gear. Go Shopping.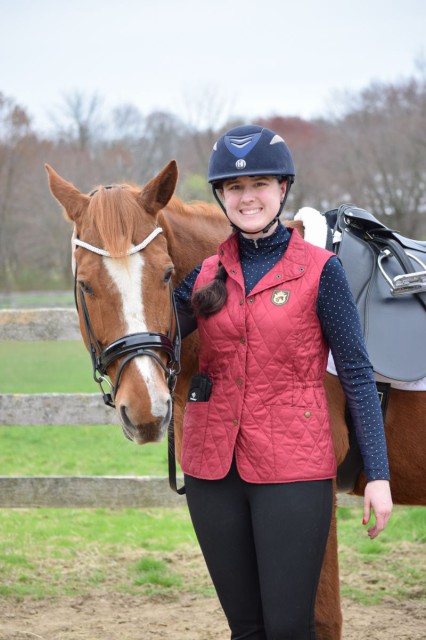 Some days I think that there are entirely too many clothes in my closet, but what can I say? I'm a girl who likes to have options. Of course, on the other hand, I'm also pretty indecisive. And these two things can often be at odds with one another, because while I like having a lot of choices, sometimes it is just hard to make up my mind on any given day. Talk about conflicted.
There are those pieces though that I would call part of my "core collection." Pieces that I consider to be essentials, because they are the kind of items that can be worn practically any wear. At any time. While being exceedingly comfortable, functional, and they still look fabulous whatever.
We're talking pretty high standards here. I've jealously guarded my essential pieces for years now – the pieces themselves inevitably change, but the concept stays the same. I pick pieces. And I wear (and wear, and wear them). At some point my style changes. I get tired of them. Or I could just wear them out, but until any of the above come to pass, the essentials remain.
I think back to some of the pieces that managed to end up on my favorite list over the years (and to reference a good 'old Dierks Bentley song…What Was I Thinking??). Some were great — like my 'jellies' sandals, my pink plaid cut-off shirt, my fav barn logo tee, or even my cute pair of button up denim shorty shorts.
But then there were those other pieces that I've pretty much blocked out, until I insisted upon sitting here and dredging up those (painful) memories. Like that pair of acid wash jeans. My pull over "Surf Style" windbreaker (from the shore, of course). And my original Reebok "pumped up kicks". And my favorite overalls (really?). And let's not forget about my entire collection of hair scrunchies (one to coordinate with any outfit).
Oh yeah. There's no denying that I was totally styling. Now that I've practically scarred myself by uncovering all things fashion related, which should have stayed buried in the distant past — let's just try to re-forget them. Where's one of those flashy things from Men In Black when you need one? Anyway, I digress.
Suffice to say that my style has changed and evolved quite a bit since I was in school – my personal style is a blend of a little bit country, a little bit chic, with a dash of equestrian flair thrown in to pay homage to my roots. Because make no mistake – I am a country girl and an equestrian, and I'm proud of it. So of course it is going to influence my personal style.
Pieces have to really earn their way into a coveted spot in my core collection at this point. Recently, a new vest has quite quickly climbed the ranks to join the list of my wardrobe essentials. And that particular piece would happen to be the Classic Quilted Vest, from Equestrianista Collection Apparel.
When I first saw the Classic Quilted Vest, I found that I was drawn to it's simply traditional equestrian element of style. Vests are definitely something that I gravitate towards, because of their tendency to function as a terrific layering piece while offering a little extra pocket storage space and style to boot.
So I was definitely excited for the arrival of the Classic Quilted Vest at my doorstep. Normally, when a package arrives, a box is a box. Or an envelope is an envelope. But this was not so with the padded envelope that arrived containing the vest.
The part of me that is secretly obsessed with all things shiny and sparkly got a bit excited over the glossy gold colored packaging that carried the Classic Quilted Vest safely to me.
And once I got around to pausing my admiration long enough to pull the vest out, I was also impressed with the way it was wrapped up in tissue and tied up neatly inside. When I (finally) picked up the Classic Quilted Vest, I was happy that the lightweight quilted shell felt like it was of very nice quality. I also very much like the rich and warm shade of wine (called Cabernet) – it is easy to coordinate with, and will hide dirt and smutz nicely.
The Classic Quilted Vest features bronze colored snap buttons that run down the front of the vest, which are convenient (that means no messing around with a zipper). The snaps allow for customization when fastening the vest — fasten all of them for a clean, traditional look. Or just snap a few buttons for a more laid back look (that also allows for more ventilation).
There are also two (very) generously sized side pockets present on the Classic Quilted Vest, which each feature a single snap closure at the top. And I also find the Equestrianista logo on the front adds a subtle element of style to the vest — it is located on the left chest, and I like that the combination of brown, paired with a glittery gold adds a little extra glam.
When I pulled the Classic Quilted Vest on for the first time, I found that I very much appreciated the length — even though I'm a taller person at 5'9″, I find that the bottom hem of the vest hits around mid-hip length for me.
This is very appealing to me; as someone with some curves, I favor pieces such as this to provide a well put together look. Because vests that hit at just below waist length tend to give off a more choppy and segmented look.
And perhaps one of my (very) favorite features of the Quilted Vest is the hidden drawstring waistline. Which is really a great style element for a vest of a longer length. Simply reach inside the vest and pull on the elastic running around the waistline, tighten the bronze colored stoppers, and you're done! The vest can be tightened to accentuate the waist for an even more flattering fit.
The fabric of the Classic Quilted Vest is also lightweight enough that it is terrific for layering to wear in a range of temperatures. I've found that on cooler Spring days, I enjoy layering the vest over a long sleeve shirt. But on the flip side, it also goes just as nicely worn over a short sleeve polo on warmer days.
I also find that I really enjoy the versatility of the Classic Quilted Vest. Because not only can I wear it around the barn and when going out for a ride – in which case the vest is of a terrific length and is very flattering with the adjustable waistline. I also find that the pockets offer a very generous amount of space.
Because I can store my gloves, my oversized smartphone, a utility knife, and (most importantly) horse cookies in the large pockets. I've also found that the Classic Quilted Vest does a nice job shielding me from wind and water while still looking great, even after being subjected to life around the barn. But life for this vest is not just limited to around the barn and ring…oh no, not at all.
The Classic Quilted Vest has been my constant companion of late — being worn to the barn, in the saddle, in to the office, out shopping, running errands around town, going to lunch, or even to the feed store. Heck, I even just took it along to the beach this past weekend, and it was just terrific to wear in the cool, salt air during the evenings.
The Classic Quilted Vest from Equestrianista is available in Cabernet (a rich wine color–pictured), or Slate (a warm neutral), and it has a retail price of $80.00, with free shipping to the US or Canada. You can find it in both colors here. And you can also find Equestrianista at Rolex this year, in booth #137.
Go Style + Function (For Barn + Everyday Life).  Go Equestrianista.  Go Eventing.