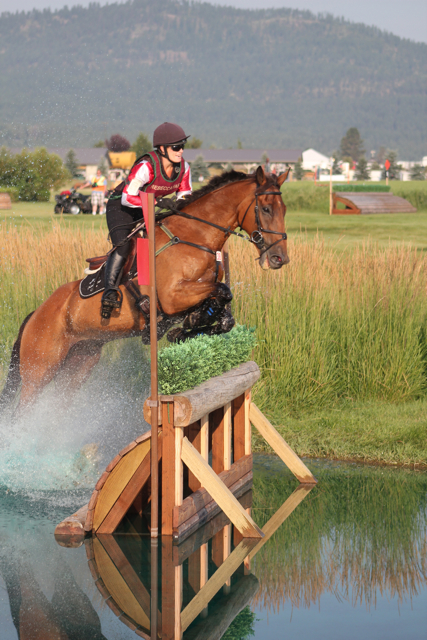 Well done to Lisa Marie Fergusson who brought both her horses home clear inside the time, and Feral Errol keeps his dressage lead as we head into the show-jumping on Sunday. All your CCI** scores are here.  Honour Me also, obviously, looked good, finishing well to move up to 9th place. Problems have been spread out around the course although as I was hovering around the second half I didn't see many of them.  Massive EN commiserations to Frankie Theriot who had to withdraw 2nd placed Uphoria before the cross country began due to a spider bite on her leg; she may re-route to Richland, so we'll keep our fingers crossed that wherever they go next they'll have better luck. Poor Frankie is putting a brave face on things, and poor Uphoria's leg is huge apparently and she can hardly walk, but Frankie will reassess, go back to Pennsylvania as soon as she can travel comfortably, and then head home to California via the AECs later this year.
I saw both Lisa Marie Fergusson and Feral Errol, top picture, and Kristi Nunnink with Astro (currently in 7th place) storming through the first water, really riding boldy and attacking it, and they looked fabulous – talk about channeling Ian Stark! I had a quick chat with Ian after the CCI** completed and he said he was pleased with the way the course was riding, and hoped for a similar result for the CIC*** this afternoon, "I'm quite happy with the 3* course but there's still quite a lot I want to do with it for next year on the CCI***, I have lots of plans that I need to run past Jerome and Sarah, I'm looking forward to it." Whether the CIC*** will be replaced or run alongside the CCI*** has not yet been decided, "I suppose it depends on demand, we could do both." Walking the courses at the beginning of the week, and then again this morning as the two star horses set off I must admit to wishing I was competing, and I asked Ian if he felt the same, "Sometimes. I've been riding a bit at home at the prelim level and some days I really look forward to it and really enjoy it and it's a real pleasure to get out there and compete, and other days when I've got too many other things going on it becomes a chore and I don't enjoy it so much and I know I'm doing the right thing. I haven't got the time to devote enough time to do it seriously. Going out once in a while is great fun but I know now that I haven't got the time to devote to the higher level so I'm not missing it." However, Ian jumped at the idea of getting on Hawley Bennet's Gin N' Juice when I told him she had been wondering whether to ask him to give her a gallop and a jump, "Oh God, I would certainly do that! I would be in my element, I'm very game! I'd come out of retirement to ride that one!" he laughed. EN, we'll keep you posted!
I really liked Jordan Linstedt's big horse Revitavet Capato in the dressage yesterday, so was thrilled to see him go so well for her cross country today, what an exciting prospect he looks to be for her.  She moves up into second place with a clear inside the time.
Julie Wolfert and Buenos Aires survived a lucky moment at the B element of this, the second water to come home clear inside the time and move up three places to third.
Well sat, Julie!
Martha McDowell piloted her own and Sarah Kelly's Nabouco De Lessay beautifully round the course, adding just two time penalties and moving up to fourth place overnight.  Maddie Mazzola looks to have struck up a great partnership withKate Brown's former ride Mojito and jumped round clear and quickly to take 5th place. Tamie Smith also looked impressive on Fleeceworks Fernhill, and round out the top 6 by dint of a double clear across country too.
Emily Pestl-Dimmitt gave Airlington vocal encouragement and praise the whole way round, and moved up to 8th place with about a dozen time penalties.
Lisa Marie Fergusson and her second ride, Honour Me in 9th place
Julie Norman and Consensus slipped to 11th place with a stop
Jil Walton and Dee Dee Chaser also had a bit of trouble on course but looked great through the coffin and the latter part of the course
Madison Hogan and Kings Crossing head for home, through the second water
Andrea Baxter accumulated stops on the course and so had the long walk home after retiring.
The weather this morning has been ideal – cool and crisp, but as the sun begins to rise higher in the sky so the temperature is soaring, as is the anticipation. The CIC3* will begin at 11:30 (Mountain Time) with Katy Groesbeck and Oz Poof of Purchase first out. Best of luck to all of them, and I'll be back later with more from Rebecca Farm – Go Eventing!
Comments