Olympian Rebecca Howard's experience in London offered more learning moments than glory.  I have always said that Rebecca is one of the toughest mental competitors in our sport and today Rebecca gives us insight ingo how she is looking back at the Games and looking forward to the rest of 2012.  I'd imagine this was Rebecca's hardest EN blog to write yet, but I am very grateful that she took the time to do so.  As always, thanks for writing this Rebecca and thank you for reading.
—-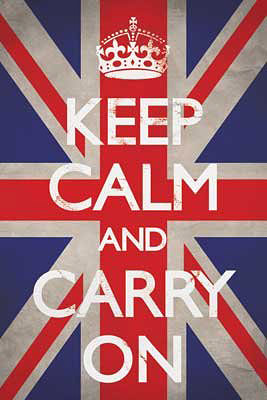 The slogan that was around London for the Games
From Rebecca:
Yes I know….sorting out my emotions with regards to the Games has been a while coming.  Reflecting on the Games has been an interesting process that continues to produce different reactions each day.
Considering my extreme personal disappointment about the Games, let me first say how glad I was NOT to be on that plane home.  It feels very right to be planning my next moves from here in England.  I am so keen for that "redo" opportunity.  It now appears that Riddle Master (Rupert) and I are heading to Blenheim.  Investigations into Burghley, revealed a wait list of 45…did I just say a waitlist of 45 for a 4 star (??!!).  Unreal – which is exactly why I am so excited to be here in Britain.
Rupert and I returned to Maizey Manor and joined a whole multilingual/multicultural eventing gang…Canada, USA, Ireland, Germany, NZ, Australia, and the odd Brit are all represented in the yard and at Jack's dinner table.  I have been spending half my day riding for New Zealand's Tim Price and Jonelle Richards.  This has been fantastic and it feels great to be back schooling and jumping more than one horse again.  These guys are good fun and have a very busy yard so I have been riding a lot of nice ponies.
It is nothing short of surreal that the whole Olympic thing is done.  The buzz in this country is still going strong – as it should – given the British effort, enthusiasm, and success at their Games.
The Olympic aura was simply brilliant – excitement and genuine support was everywhere you went.  Call me dense if you wish but because I specifically work to minimize things as a means of keeping my own competitive zone small & focused – I was initially "surprised" by the genuine interest of soooooo many others.  It took a while for it to register that I was at the freakin Olympic Games in London.  The advice of many was "to enjoy the moment and take it all in" – which is a different concept from what I usually practice.  All the buzz, hype, attention was a lot – but it was a healthy thing for me since I can too easily "hide" inside my own head.
Sinead asked if there was a moment that I sat back and just thought "wow, this is it – this is what I have been working for."  Then answer is ABSOLUTELY yes….and they occurred in the tack – either just before or just finishing work.
Moment #1: Entering the big arena for the first time for our familiarization.
Riding into that arena – the first thing you see is the Queens House – Built in 1616 for Anne of Denmark, Queen of King James I of England (…now I know!!)  One cannot help but be struck by the history of the setting, and that these Games were in England – Eventing's Mecca.
Moment #2:  My final salute after our dressage test.
I looked up and saw the Olympic rings that hung in the distance in the tunnel behind the judges box – suddenly the arena that I had worked so hard to "keep small" – became wonderfully large!
Moment #3:  My arrival at the XC warm up area.
We had to hack through a large crowd – I waved = they cheered.  The crossing guards then remarked, "Wow you're popular!"
I was planning on so many more of those moments.  Canada once again had an amazing group of people all working to make the experience happen.   It was so sad that we could not deliver.  Our team result was devastating for all involved – and all of us are now working at diagnosing the reasons why.  We will find some kinks in the system I am sure, but fundamentally the program in place is a good one and full of great people that go above and beyond.  Dana Cooke, my groom and dear friend, has been there for the entire journey taking the best care of "Master Riddle" (and me!). Vet/Farrier/Massage: Christiana Ober, Randy Pawlak and Jo Ann Wilson kept our horses so happy.  Deb Furnas our Stable Manager had our stables looking classy and running so smoothly.  Fleur Tipton picked up all the loose ends and just got it done, Jacquie Brooks was there with her great dressage insight and the most fun attitude.  Then of course DOC – all I can say is: lucky lucky USA.  Graeme Thom – this guy makes the whole thing happen there isn't much he does not think of and take care of.
It indeed has taken me quite some time to simply surface from our Olympic shock – but primarily it is replaced with an overwhelming determination for getting better – more time in the tack and more ponies in the stable.  Next time Rup is going to be a whole lot more than just #7 on the pretty list!