As both a #RebeccaVirgin and an FEI event first-timer, I've obviously been in heaven here at Rebecca Farm the last few days. Today, after receiving a massage in the Vendor Village tent, I spoke the words, "can I get a deep fried cookie dough topped with ice cream?" to a food truck lady and proceeded to eat it on a picnic table in the middle of a beautiful grass field while watching some Classic Three-Day riders fly by on course… so yes, I've had a very good day.
In anticipation of tomorrow's Cross Country Day, I want to not just give an overview of Ian Stark's CCI4*-L course (check out our Instagram reel of all the 4*-L jumps here!), but also take a look at the other awesome jump designs featured across the levels as well — because let's be honest, that's what a large majority of you readers would be riding! Take a look at the course maps here to follow along while watching.
All levels from Novice up will be starting with the famous Rebecca Train, which gives us seven different options of varying levels of brightness. As some of my teammates mentioned earlier on this week, it's more the situation that's "looky" rather than the jumps themselves, as very few horses have actually seemed to care much at all about the seemingly-imposing line.
Next up for Beginner Novice through Training is what I consider to be a very photogenic line — even featuring some friendly riding advice.
The Western Town feature is quite the fun corner with tons of cute hidden easter eggs. The 2* and Prelim levels get a rather tricky approach around a rather prominent mound — atop which sits the famous Stetson jump — and through the keyhole of a sheriff's office. Between the "City Hall" and "First Interstate Bank" lies a nice water complex for many of the lower levels.
The Training level and Novice Three-Day levels were blessed with the full array of food court fun, featuring a 9ab Carrot-to-Corn combination while the coveted Hot Dog jump was reserved just for the Classic Novice riders.
Training level riders seem to be getting all the fun designs, as one of their last questions is the "Doggie Jump", complete with a scattering of real dog treats for those walking to distribute among their walking friends.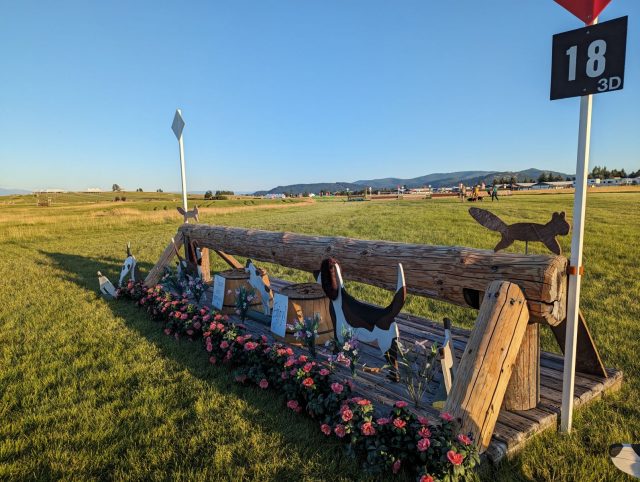 In terms of the upper level courses, we head out in another direction from the start, heading for the "Ogopogo" and Avery Island pond, where we see some very stunning water complexes that start to have more and more of that Ian flair. For those who also had to look it up, it turns out that the "Ogopogo" is Canada's Loch Ness Monster of sorts — a mythical water creature who inhabits a lake in British Columbia… and also a small pond within a cross country course. Those darn things must travel fast.
This line of tables are particularly gorgeous, where we can once again see just how much meticulous care and thought is put into every one of these obstacles. They are also very appropriately named, as these really are out in the boonies of the far north corner of the tracks.
Around this combination is where I started to really say, "Oh wow okay, here's that 4* flair." While every jump is beautifully designed and thoughtfully placed, I think giving a single question in a duck combination its own little water complex is some next-level dedication.
And finally, the Tree Pond nestled between the native Reservation and the Cavalry Camp areas isn't even involved in any of the questions, it's just plain beautiful (look at that goose living his best life). A few of the levels go right around the edge of this water, and I honestly wouldn't mind the time faults taken by just taking a little pit stop to admire this grotto of tranquility. Maybe not too long though, because this is still Montana, and bugs are still a thing.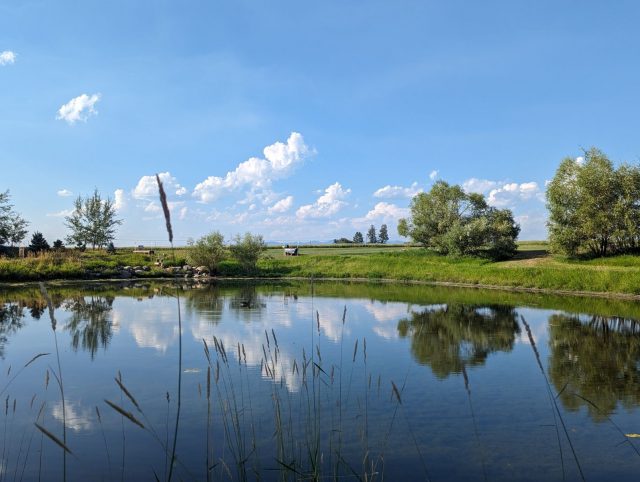 And now that you've been appropriately convinced of the majesty that is the Rebecca course, let's get on to the FEI rider placements after a hot day in the sandbox!
Liz Halliday-Sharp has stolen the lead in our CCI4*-L today by over five points after a particularly clean and refreshing test aboard The Monster Partnership's Cooley Moonshine. Currently scoring 25.6, this weekend will hopefully mark the 11-year-old gelding's first completion at the level, as the pair looks to build on their sixth place finish at Tryon's 4*-S last month. Thanks to being one of 19 recipients of the Rebecca Broussard Travel Grants, the pair was able to make their way West from Ocala, Florida, to tackle Kalispell's sprawling course.
"He's spectacular," says Liz. "I've had him from a five-year-old so we've been together a long time. He's quite a quirky, interesting horse. He's quite an edgy character, but he's getting better and better with age and he's been trying really, really hard for me, so I'm thrilled with him." Liz and "Billy" haven't scored outside the top ten in the since 2021 when they first moved up to the 4* level, so we expect to see the show continue on a positive note for them tomorrow. Billy has quite the record to be sure, as the two have only one cross country jump fault on record, and Liz's success here last year as the champion of both the 3*-L and the 4*-S certainly doesn't hurt.
Our second rider in the box today takes a second-place position going into Saturday, as Buck Davidson and 13-year-old Business Class look to complete their second ride together since Katherine O'Brien's gelding transferred from Allie Knowles just a few months ago. The pair seemed to already be meshing quite well, and bring a score of 30.8 with them into cross country. This is Buck's first time taking the long jaunt to Rebecca Farm from his Pennsylvania home base since 2018, and he clearly couldn't have come at a better time. After taking the win in both the 3*-L at Tryon in May — their first event together — as well as the Advanced level at Stable View's Horse Trials last month, it seems that us West Coasters may be in for a rare treat from this pair.
James Alliston, our Rebecca Farm 4*-L Champion two years running, sits in a comfortable third aboard Alliston Equestrian's nine-year-old Oldenburg mare Karma, who makes her debut at the level this weekend after only five international events together. The pair have an incredibly clean record, with only two of their 20 runs outside the top ten. Their score today of 32.6 is a personal best in the FEI ring, and we can bet that this duo's experience here at Rebecca Farm — including taking home a third at the American Eventing Championships last year — will easily allow them to maintain their spot inside the ribbons.
Our elite little 4*-S squad is led by Tamie Smith and young eight-year-old Kynan on a score of 29.2, another 4* debut of the week. Tamie and Kynan traveled out to Tryon in May to take a solid second place in the 3*-L, with four other top-five international runs already under their belt. "He just keeps doing all the things… almost exceeds my expectations," Tamie says of the bay gelding. "He was super today. It's his first Advanced test — first four-star — and I was ecstatic with him."
The pair have only been together since June 2022, when Kynan and Tamie ran Training level at the Twin Rivers Summer Horse Trials, and Tamie has been very enthusiastic about his quick progress. "I had a couple of little green moments, but nothing that maybe the untrained eye wouldn't have been able to see," she states. "He really went in there and tried and was with me the whole way, so I'm super, really proud of him. He's an exciting horse."
Lucia Strini follows a good six points behind Tamie in the 4*-S aboard Excel Cool Quality on a 35.4, followed closely behind by Emilee Libby and Toska at 36.9.
While Alyssa Phillips maintained both of her leads in the 2*-L and the 3*-S overnight aboard Cornelius Bo and Oskar, Jordan Lindstedt slid right in to the first position in the 3*-L with Kiran D'Souza's FE Friday at 29.1.
Don't miss out on cross country day tomorrow — be sure to tune in and follow #TheBestEventInTheWest live (for free!) with Ride On Video and Horse & Country.
EN's coverage of Rebecca Farm is brought to you by Kentucky Performance Products. You can learn all about Kentucky Performance Products' full line of trusted, science-backed nutritional supplements by visiting kppusa.com.
The Event at Rebecca Farm (Kalispell, MT) [Website] [Ride Times/Scoring] [Live Stream] [EN's Coverage]
Photos by Allie Heninger unless otherwise noted.