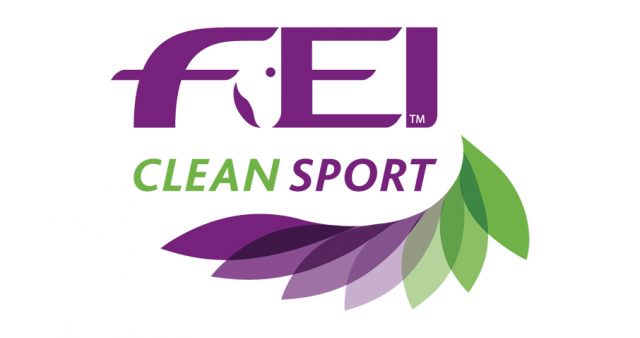 The FEI today announced that three riders who competed at the Ocala Jockey Club International Three-Day Event held November 16-20, 2017 in Reddick, Florida tested positive for prohibited substances under the FEI Anti-Doping Rules for Human Athletes.
Alyssa Phillips tested positive for Amfetamine and Canrenone. Hannah Sue Burnett tested positive for Amfetamine. Jennie Brannigan tested positive for Amfetamine, Methylphenidate and Ritalinic Acid. The case status table can be viewed here.
Amfetamine is a stimulant used in the treatment of attention deficit hyperactivity disorder (ADHD) and narcolepsy and commonly sold under the brand name Adderall in the U.S. Methylphenidate is a stimulant used in the treatment of ADHD and narcolepsy and commonly sold under the brand names Concerta, Daytrana and Methylin in the U.S. Ritalinic acid is an inactive, major metabolite of methylphenidate. Canrenone is a diuretic commonly sold under the trade names Contaren, Luvion, Phanurane and Spiroletan in Europe.
All three riders have been suspended from FEI and USEF competition as of Thursday, December 21 until the FEI Tribunal rules on the case and releases a decision. A hearing date for the FEI Tribunal has not yet been set. The riders can also request the lifting of the provisional suspension and ask for testing of the B sample within the next 21 days.
The USEF said in a statement: "The FEI announced today that the results of samples collected from three U.S. athletes at the CIC3* Ocala-Reddick Florida event revealed the presence of Stimulants, which are Prohibited Substances according to the 2017 Prohibited List of the World Anti-Doping Agency (WADA), in force at the time of sample collection.
"Contrary to speculation, cocaine was not detected in any samples taken at the event. Effective immediately, these athletes, Jennie Brannigan, Hannah Sue Burnett, and Alyssa Phillips are provisionally suspended from participating in FEI and USEF sanctioned activities in accordance with WADA's Mandatory Provisional Suspension requirements."
Jennie Brannigan released the following statement to EN: "My recent positive test, while devastating news to me, was the result of a medication that had been recently prescribed to me by my doctor. My use of this prescribed medication had absolutely nothing to do with trying to enhance my sport performance, and I hope that once my explanation is provided to the FEI, I will be able to return to the sport I love as soon as possible. I greatly appreciate everyone's support during this time."
Alyssa Phillips posted on her Facebook page: "Earlier today, the FEI publicly disclosed that I tested positive for Amfetamine and Canrenone at an event in Florida last month. I wanted it known that my doctor prescribed both banned substances to me for legitimate medical conditions and that I openly declared both substances to the doping control officer as part of the testing process. I was not trying to enhance my performance through the use of either substance and my case is certainly not one involving the intentional use of a banned substance. I will apply to the FEI for a retroactive therapeutic use exemption for these two prescribed medicines. If granted, I will no longer be charged with a positive test."
Hannah Sue Burnett informed EN she is not releasing a statement at this time.
WADA's Prohibited List identifies the substances and methods prohibited in and out of competition. As a WADA Code Signatory, the FEI tests human athletes based on WADA's List of Prohibited List of Substances and Methods and on the code-compliant FEI Anti-Doping Rules for Human Athletes.
For more information on the FEI's Clean Sport initiative, visit the FEI website here.
This article has been updated with a statement from Alyssa Phillips.
[USEF Statement on Prohibited Substances Found Present at CIC3* Ocala-Reddick]
[Prohibited Substance Cases Under FEI Human Anti-Doping Rules]
Comments