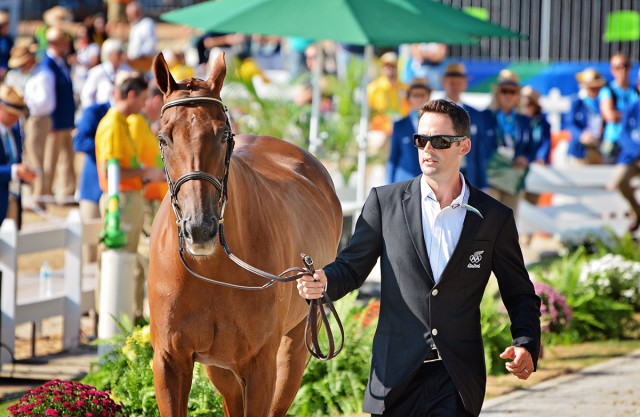 The team order and ride times have been confirmed for the 2016 Olympic Games (click here to see them), with two key last-minute shake-ups for top teams Germany and New Zealand following this morning's first horse inspection.
Tim Price and Ringwood Sky Boy have replaced Jock Paget and Clifton Lush on New Zealand's team due to a cut on the horse's cheek.
"All of the New Zealand horses arrived in Rio healthy, sound and ready to compete but earlier this week Clifton Lush cut his cheek on a pipe outside the stable that had somehow become exposed during the night. The cut required suturing and the vets have been happy with his progress," the team said in a statement.
"Under expert supervision Clifton Lush has been kept in work and has been working well. However, despite the positive daily progress, it has been decided that the horse should be given further time to heal to make a full recovery."
Julia Krajewski and Samourai Du Thot have replaced Andreas Ostholt and So Is Et on the German team, which will look to defend their Olympic gold medal. Horse & Hound reported that So Is Et lost a shoe at team training camp and had been unsound, so the decision was made to substitute him as a result.
"I feel for Andreas," Julia said. "This is something you don't wish for anybody. But I have to respect the coaches' decision and for me this is what it is."
Andreas added: "I was told three hours after landing in Rio. I hoped until now that the decision would be revoked. That hasn't been an easy week for me when I had to smile and tell everybody how happy I am to be here."
German teach coach Hans Melzer said "sport is tough" and added that the team would not "take the slightest risk regarding a horse's health. I can relate to his feelings but the decision stands."
Click here to see the full list of ride times for both days of dressage. Changes to the teams can still be made up to two hours before dressage starts at 10 a.m./9 a.m. EST tomorrow.
U.S. ride times:
Boyd Martin and Blackfoot Mystery: Saturday 11:36 a.m./10:36 a.m. EST
Clark Montgomery and Loughan Glen: Saturday 2:14 p.m./1:14 p.m. EST
Lauren Kieffer and Veronica: Sunday 12 p.m./11 a.m. EST
Phillip Dutton and Mighty Nice: Sunday 3:38 p.m./2:38 p.m. EST
Canada ride times:
Jessica Phoenix and A Little Romance: Saturday 10 a.m./9 a.m. EST
Kathryn Robinson and Let It Bee: Saturday 1:30 p.m./12:30 p.m. EST
Colleen Loach and Qorry Blue d'Argouges: Sunday 10:16 a.m./9:16 a.m. EST
Rebecca Howard and Riddle Master: Sunday 1:54 p.m./12:54 p.m. EST
Of course we're also cheering loudly for California's own Lauren Billys and Castle Larchfield Purdy, who are representing Puerto Rico and go at 10 a.m./9 a.m. EST Sunday.
If you missed the full report and photo gallery from the first horse inspection, click here to see it. Stay tuned for the full cross country preview with stunning images from the one and only Shannon Brinkman, and click here to catch up on all of EN's #Rio2016 coverage so far.
#Rio2016: Website, Schedule & Results, Ride Times, EN's Coverage, Twitter, Instagram