Welcome to Rolex 2015, day two! The cold has broken a bit, leaving riders with a windy and still slightly chilly morning in which to navigate their dressage tests. The Kentucky Horse Park grand stands will get more and more filled as the day moves on towards the keynote rides this afternoon, so we can expect the atmosphere to grow with every ride.
The USEF Network will be streaming live all day today for those in the U.S. and Canada, and you can click here for times and options for watching if you are not in North America.
Refresh this page frequently for the latest updates from dressage this morning, and don't forget to follow us on Twitter for live scores and commentary. Go Rolex!
#RK3DE: Website, Entries, Schedule, Ride Times, Live Scores, How to Watch Live, EN's Coverage, Ultimate Guide to Rolex, Twitter, Instagram
—
Lots of cheers for Gina Miles. Wonderful to have her back at this level. Score of 64.8 #RK3DE

— Eventing Nation (@eventingnation) April 24, 2015
11:37 am ET: And that takes us to the lunch break here on day two of #RK3DE. Here is your top 10 after the morning sessions — we'll have a full report up soon!

11:34 am ET: Rachel rides Irish Rhythm in the very soft Nathe bit, a much loved bit for dressage for sensitive horses. Another fun fact, Irish Rhythm is one of the many OTTBs competing here this weekend. He raced 43 times and earned just over $25,000 on the track.

Amanda Wilson overcome with emotion as she leaves the ring. Lovely moment and what #RK3DE is all about!

— Eventing Nation (@eventingnation) April 24, 2015
11:31 am ET: 67.2 for Amanda Wilson and Cool Decision. Just one more to go before we break for lunch, Canadian rider Rachel McDonough and Irish Rhythm. This pair finished 25th last year.

11:26 am ET: We would be beaming too!

Amanda is possibly the happiest I have seen in the ring. Big smiles! #RK3DE — Eventing Husband (@EventingHusband) April 24, 2015
11:25 am ET: Amanda trending just under 60% currently. Fun fact, Amanda has produced this horse herself from the Novice level. #getitgirl

11:24 am ET: I'll reiterate what John said earlier: helmets are so commonplace this year. (Top) hats off to you, riders! #mindyourmelon

11:24 am ET: Another Rookie in the sandbox now: Amanda Wilson and Cool Decision. #RolexRookies

11:22 am ET: What a lovely test from Katie and Houdini. They scored a 49.8 which is good for 7th place currently. To put this improvement into perspective, they scored a 61 last year. Well done, Katie!

11:30 am ET: Only if I can come with you, Eventing Husband. If and only if.

I need a kickstarter campaign https://t.co/Gk2UuQix4v — Eventing Husband (@EventingHusband) April 24, 2015
11:16 am ET: Katie Ruppel and her OTTB, Houdini, are getting ready to canter down center line now. Houdini is back for his second Rolex this year. And we're just in love with his face markings. Katie calls it a "rubber chicken face." See any resemblance?
11:14 am ET: A 61.5 for Lizzie Snow and Coal Creek in their #RK3DE debut. Just a couple more to go before the lunch break for today.

11:10 am ET: Lizzie has said that Coal Creek can be stronger depending on the venue he's at. He looks obedient for her so far in this test. They're trending in the low 60s for percentage currently.

11:08 am ET: Surely an emotional time for all who knew and loved Amy Tryon, as Coal Creek is a former ride of hers. Thinking of you today, Amy!

11:07 am ET: Another Rookie is in the ring now: Lizzie Snow and Coal Creek.

11:06 am ET: Jordan and RevitaVet Capato earn a 51.7 — a great Rolex debut for this gelding. Just outside of the top 10 in 11th at the moment.

11:04 am ET: A nice big jumping extended canter from Jordan. This horse has a huge stride — will be fun to see tomorrow.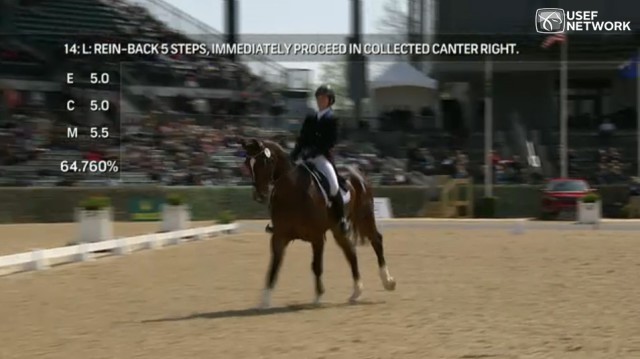 11:03 a.m. ET: 63.6 for Holly Payne and NeverOutfoxed. That horse is super fun to watch on cross country.

11:02 am ET: Jordan Linstedt and RevitaVet Capato are in the ring now. Check out our interview with Jordan here.

10:58 am ET: "He looks ready for tomorrow," Karen O'Connor on Never OutFoxed as Holly finishes to big cheers.

10:58 a.m. ET: I just want to say that I have Tim Price on my Fantasy Team for our team this year. #winning

10:56 a.m. ET: Sally is taking over for John for a bit, which he says will be "boring and serious." My apologies.

10:50 am ET: Longtime partners Dana Widstrand and Relentless Pursuit had a bobble in the canter work that echoed through a few additional moments. But they finished with an awesome square halt to cap off a good overall test to score 58.1. Break time!

54.200 for Meghan O'Donoghue and Pirate. #Rolex15 #RK3DE — Practical Horseman (@prachorseman) April 24, 2015
10:24 am ET: Meghan O'Donoghue and Pirate had the misfortune of following Tim Price's lovely test. The veteran pair rode some of the most accurate canter work we have seen thus far to set their Rolex best score of 54.2, which ties her score at Burghley last year.

10:18 am ET: One really nice element of Rolex this year for me is that it feels genuinely odd to see a rider in a top hat. When Tim Price entered the arena, I had to pause and ask myself "is that legal anymore?" The riders based in Europe seem to be the only riders leaning toward wearing top hats this year.

10:12 am ET: Reigning Luhmuhlen champions, Tim Price and Wesko of New Zealand, were the first non-US riders to compete on Friday. As Michael Pollard said on the USEF Network commentary — you have to be pretty darn good on the flat to win a 4* in Germany. Tim and Wesko wowed the judges with extremely clean and precise work. They were so organized that it looked like they just had more room in the arena than any other pair. 36.3 sets the new low score of the competition.

Anna Collier & Gleaming Road earn a 66.0 #rk3de pic.twitter.com/ZIkuzrV0iX — USEF Network (@USEFNetwork) April 24, 2015
10:03 am ET: Anna Collier enters the arena as the last of 5 awesome young US lady riders to start off Friday dressage. Gleaming Road gave Anna a great reason to smile as they worked their way to a very nice 66.0. Frankly, I felt they deserved a better score than that. After a few very low early scores, the judges came back to earth a bit, unfortunately.

9:54 am ET: Oh, hi Mackenna, It's your first time at Rolex? You're the youngest rider at Rolex? Why don't you just come into the arena and deliver a perfectly rhythmical, straight, and accurate test with Landioso? Oh, you just did that? Ok, good. 44.0.

Tough ride for Erin Sylvester & No Boundaries. 79.3 score. #rk3de pic.twitter.com/zzrfOBgLPS — USEF Network (@USEFNetwork) April 24, 2015
No Boundaries showing off some lateral movements not required in the test. Erin Sylvester handling him as best she can #RK3DE — Eventing Nation (@eventingnation) April 24, 2015
Maya Black and Doesn't Play Fair score 52.3. Good recovery after Cody would have much rather cantered the whole test! #RK3DE — Eventing Nation (@eventingnation) April 24, 2015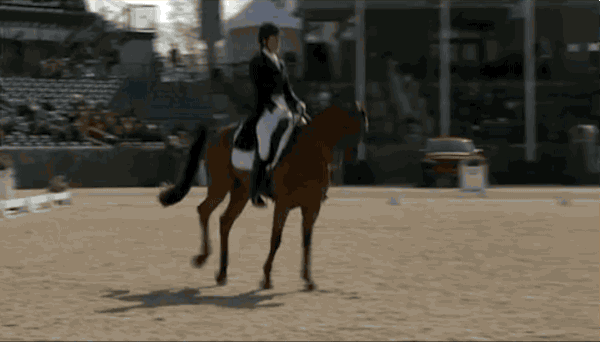 9:40 am ET: Rolex rookie Maya Black delivered yet another awesome first-time performance for Rolex 2015. Cody bobbled out of the first centerline, but Maya stayed calm, cool, and collected to pull every possible point out of the rest of her test. You can see Cody's incredible spring in the canter that translates into his fantastic jumping.

Maya Black managing a very bouncy Doesn't Play Fair, useful for XC, not so much in the dressage ring #comeoncody — samantha clark (@samanthalclark) April 24, 2015
Follow @JohnKyleSpeaks for a behind the scenes look at @USEFNetwork's #Rk3DE broadcast! #eventinglive — Eventing Nation (@eventingnation) April 24, 2015
9:30 am ET: Lillian Heard and Share Option started the action at Rolex on Friday. Share Option wowed the judges with lovely early flatwork. Lillian and Share Option scored a 51.6 to get the morning off to an awesome start that puts her into a great position going into the weekend. The other morning riders will breathe a sigh of relief that the atmosphere seems to be conducive to low scores.

We're ready with the second day of dressage with commentary from @JohnKyleSpeaks @PollardEventing and @OCEquestrian pic.twitter.com/Fw4Yw3kvlW — USEF Network (@USEFNetwork) April 24, 2015
9:25 am ET: Be sure to tune into the USEF Network for awesome live video coverage of Rolex, available in America.