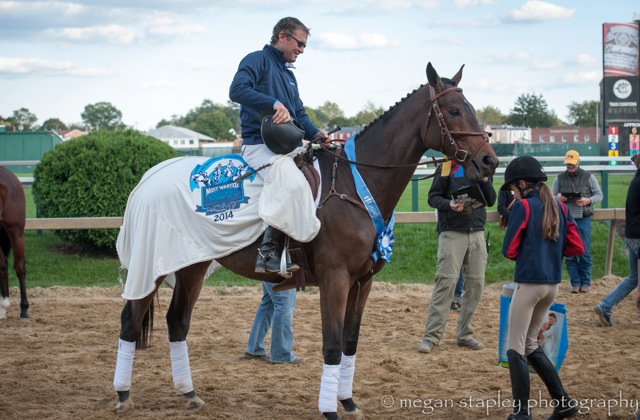 The Retired Racehorse Project officially began accepting entries for the 2015 America's Most Wanted Thoroughbred Contest this week, with $100,000 in cash and prizes up for grabs by the top placed horses. The contest will take place during the October 23-25 Thoroughbred Makeover and National Symposium in Lexington, Kentucky.
Any Thoroughbred with a Jockey Club tattoo that raced or was trained to race in the last two years and has not begun second career training can be entered, and the RRP is expecting close to 100 entries this year.
"My friends who ride and train Thoroughbreds outside of racing have been eagerly awaiting the launch of this Makeover for months," said RRP President Steuart Pittman in a statement. "We expect a frenzy of horse shopping in the coming weeks and a flood of entries from some of the biggest and some of the smallest players on the equestrian scene."
The competition is open to professionals, juniors and amateurs. Depending on when the horse is entered, trainers will have five to nine months to train the horse for a second career in one of ten disciplines before the competition begins.
"It is a brilliant way to restore demand for Thoroughbreds, and restoring demand is the most effective strategy for securing the futures of our horses," said Dan Rosenberg, organizing committee member and president of Thoroughbred Charities of America.
In addition to the contest, the weekend will feature seminars, demonstrations, and activities presented by Thoroughbred industry leaders. There will also be the opportunity to take a Thoroughbred home with you from the marketplace of the Makeover horses.
According to the RRP website, the "Thoroughbreds that once dominated equestrian sport are today viewed to as part of America's unwanted horse problem, with riders calling their ex-racehorses 'rescues.'" RRP wants to change that line of thinking and restore the market for off-track Thoroughbreds, educate riders and promote trainers teaching new skills to these horses.
Last year's Most Wanted Thoroughbred has begun a career in eventing and has a large following of fans. At the 2014 Makeover, Preakness Stakes runner Icabad Crane was ridden over fences by Phillip Dutton and then did a lovely flatwork session with Phillip's then 13-year-old daughter Olivia, showcasing the adjustability and kind nature of the Thoroughbred and winning the hearts of horse lovers everywhere.
Entries close on June 1, so keep an eye on RRP's Horse Listings, go wild on the CANTER websites and watch for EN's Weekly OTTB Wishlist and start thinking about how you might best last year's winning performance.
[Thoroughbred Makeover Open for Entries with $100,000 Incentive]
[Contestant Information]
[RRP on Facebook]