Longtime EN guest blogger and good friend Shannon Lilley has kindly agreed to give us her perspective on Galway this weekend.  Thanks for writing this Shannon and thank you for reading.
—-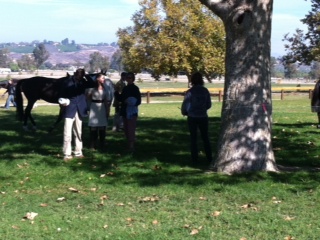 From Shannon:
I am fortunate enough to be a part of the Galway Downs International Three Day Event where organizer Robert Kellerhouse never ceases to impress.  This year Robert has decided to out do himself by really catering to the spectators and athletes alike, having parties each night with different caterers and live artists playing.  Additionally, on cross country day there will be five different oases where a winery will be pouring and a live artist will be playing.  If I were only spectating, I would love to make my rounds while watching some fantastic cross country riding.
The jog took place today for the FEI competitors.  The one star kicked it off at ten o'clock and the third horse to jog was held.  That set the rhythm for the day.  All were passed although many were held.  The T3D followed with a separate ground jury but they seemed to do just fine.  I think each year's fashion gets better among our event riders.  I saw some incredible outfits today on ladies who mastered the contemporary look while maintaining a sophisticated attitude.
The weather is absolutely gorgeous this weekend in the mid to upper seventies with a hint of fall crispness in the air. As the afternoon fell upon us, the one star dressage started as well as the preliminary divisions.  There were some notable tests in both divisions.  Julie Flettner and her horse, Ping Pong, put in the first really solid test scoring a 42.5, which is good enough for 1st place going into tomorrow.  As I was coaching some students today one pair in the preliminary caught my eye, James Atkinson and the lovely Annie Oakley, put in a relaxed but impressive test that turned many heads.  They scored a 29.6 which also puts them in lead in the open preliminary division.
Friday will be another fun-filled day in the sand box for all the FEI divisions.  The horse trial divisions compete dressage and show jumping throughout the day as well, which is nothing short of a three ring circus.  Hats off to Robert, Katie, and Christina in the office for a scheduling job well done.  It is absolutely incredible how they fit it all in.
The three star dressage goes in the afternoon.  Hopefully I will have time to pull myself away from the warm up arena to watch.  Two of my Pan American teammates are here competing; Buck Davidson and Michael Pollard.  I haven't seen them since December of last year so it is an added treat that they are here.  It also shows huge dedication to the sport that they flew all the way across the country along with Philip Dutton to support the west coast.
Good luck to everyone!
Go eventing!!