In the market for a new four-legged partner? You may find your unicorn on our sister site, Sport Horse Nation. To help with the search, we're going to feature a selection of current listings here on EN each week. We include the ad copy provided; click the links for videos, pricing and contact information.
Summer working students are ending their terms and heading back to school, which means professional barns are looking for hard working, eager, reliable individuals to take their place. Being a working student is your chance to immerse yourself in the professional equine world, further your education, and network network network.
There are tons of positions listed on the Sport Horse Nation Employment Opportunities category page. If you're on the hunt for work, be sure to check it out, and scroll down to see eight working student and full time hire positions available now.
We'll start with one of the best employment ads we've ever seen here: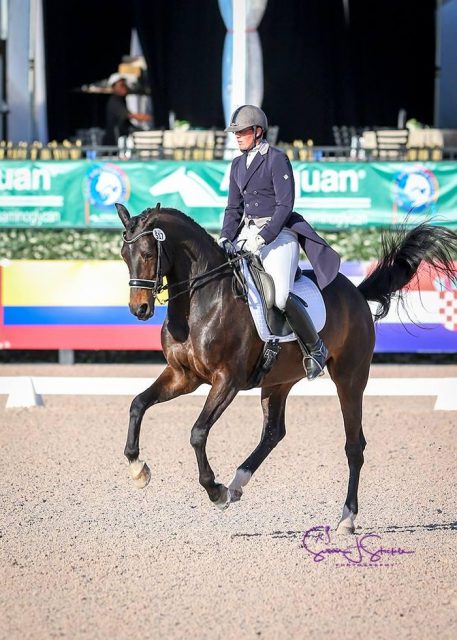 working student for dressage barn with eventer fondness
Working student wanted for FL season. 3 months (January-end of March, early April) in Wellington taking care of dressage horses for CDI GP rider. Range of horses-this winter season will include breaking in a young horse to wear a saddle and longe, taking babies to their first outings, training changes on a young horse, all the way up to schooling piaffe and passage. Bring your own horse for 5 lessons/week!
Job includes transport for your horse to and from Florida, board, lessons, barn apartment. You need to enjoy horse care–that means grooming, turning in and out, bathing, cleaning stalls. You want to learn–you do not need to already know everything!–and you have a good sense of your strengths and weaknesses. You do not hate "the sandbox" but appreciate its ties to cross-country and stadium.
Job: Mondays off, split night check with me (no more than 3 per week), minimal time at horse shows grooming, and the opportunity to show your horse. Pretty regular hours for an equestrian job–we start at 7 and are done by 5. If you lack a horse, I have a nice TB mare I can lend you for the season.
You need: a car, or a truck and trailer (Thumbs up for own transport). I am not opposed to visiting WEF and have h/j friends who might be engaged to help you leap over things. I even have experience schooling jumpers, so I can help a bit. Happy to give you names of eventing clients and friends in private if you are interested.
Good opportunity for an eventer to work on dressage in a relatively positive, occasionally sarcastic, and often quite funny environment. Last year's working student really appreciated her music tutorials–she came barely able to identify rock and roll and left singing Bruce Springsteen. High tolerance for NPR required.
Live in barn manager position for 8 stall barn near Minneapolis MN
Safe Haven Stable is seeking a live in barn manager for a small boarding facility starting in the fall of 2018. Easy going fun people, nice horses to care for, and heated barn in which to work. Duties include feeding, turn out, cleaning, etc. Must be able to move hay bales and feed bags. Ideal person will have a sense of humor and a love of horses. Compensation includes rent, utilities, board for one horse, and a stipend. See www.safehavenstable.com and safe haven stable on facebook.
Cairn O'Mount Stables' expansion to Delchester Farm has created an opening for full time help. International event rider Susie Beale has been producing top horses and riders for 30 years. Travel to world-class events, work with FEI horses, and enjoy a team environment. Position includes all aspects of horse care, riding and competing opportunities available for the right individual. Salary commensurate with experience, with an adjustment should you bring your horse. Valid drivers license, previous horse experience, and positive attitude a must.
Working Student for 4* Rider at Active Facility in Sunny Florida!
Event barn under CCI**** rider Jennie Jarnstrom located in Apopka, FL (20 min from downtown Orlando). Active event barn with 30+ horses. Duties include but are not limited to am/pm feedings & turn out, stall cleaning, & other various barn chores. Benefits include DAILY riding opportunities and instruction, hands on experience working w/ horses both made and green, learning medical management skills & overall barn management skills.
Looking for someone with a willingness to learn and ability to take direction (and a joke). We have a great community ranging from older AA's, to serious competitors, to some "bad to the bone" little kids, and everyone likes to have fun. It is hard work and long hours but we've also shared mimosas on the cross ties. The atmosphere and support amongst our clients is unbeatable. There are also potential opportunities to travel for shows (several FEI events on our schedule for this season) and to teach lessons, for the right applicant.
Accommodations are a shared 2 bedroom detached apartment, stipend & groceries, board for one horse. Minimum 6 month commitment required but longer commitment preferred, opportunity to turn into a permanent position. Position is FULL TIME (1 full day off) and most suited for someone between 18-24 years old. Looking for someone who can start as soon possible. No pets.
Working Students Needed in Near Future.
Law Eventing will be looking for a 4th team member to start anytime between now and December to get ready for the busy winter/spring season.
Interested individuals should be:
18 or older
have a riding ability of strong training level or above
own their own vehicle
be able to work consistently, be reliable, be mature, be alert, be energetic, be interested
must be able to pay for their own accommodation (we can probably help you find cheap local accommodation) and have the money to support themselves and their horse
must be able to commit through May1st.
must have their own horse that is: SOUND, SANE, and able to put up with the level of training you will receive
Our working students are expected to work 6 days a week, with vacation time in winter and summer, regular hours of 7am-4:30pm, show hours of ?-?. In exchange they receive full board on one horse, customized attention, many many lessons in whatever they need, help at shows, experience riding other horses, experience grooming at top events, ability to watch lessons given to people at their own level up to riders of 4 star calibre, and shipping when available.
On paper, our working students receive approx $2,200 a month in services. But if they are diligent and attentive and watch, what they can receive in learning about riding and the business far exceeds that amount. We have produced many many horses through the ranks and many riders. Our working students come for 6 months and the MAJORITY have stayed for over two years whether we like it or not lol.
Please realize this is not a 'barn job'. This is an emersion into an upper level, elite, eventing program. It is a lifestyle, a pathway to a career. We operate as a family with a small group of people here and a lot of very nice horses.
Join the team at Caroline Martin Eventing!
Amazing opportunity to work and be part of Caroline Martin Eventing! Based in Riegelsville PA for 7 months of the year and 5 months in Ocala Florida. We are looking for a hard working individual with initiative and is a strong team player. Ideally with some previous experience working at a farm and is confident handling competition horses.
Duties include: daily chores, lunging, hacking and galloping (if competent rider). You will have the opportunity to travel all over the United States and Europe to groom at international events. This is a full time, 6 days a week and must be able to drive a trailer. Shared accommodations on property and is a paid position unless you bring a horse. Start date is ASAP.
Looking for a long term, hard working, organized female to join our team at Windfield farm in SC. Great opportunity for someone wanting to improve their riding/training and competition skills as well as gain knowledge in horse care and barn management.
Lovely, low Key facility, 8 stall barn and pasture board. Peaceful place to ride and enjoy your horse. Duties include feeding, turning in and out, blanketing, stall cleaning, grooming and tacking. 5.5 day work week and this job will allow you to pick up work elsewhere if needed.
We offer lovely housing (utilities & internet paid), free board for one horse, weekly lessons and coaching at shows. Opportunities to ride and have lessons on other horses here as well . Hoping to find someone willing to make a year commitment. please email if interested and provide some references.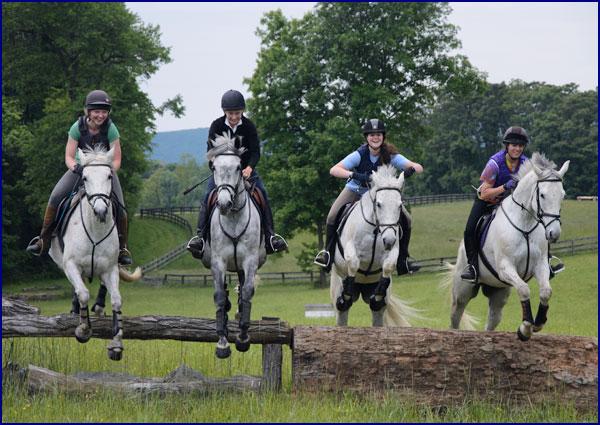 Working Student position – Join the Windchase Team!
Olympic rider Phyllis Dawson (VA) is looking for a long-term working student at Windchase beginning in September 2018. Receive daily lessons, full board for your horse if you bring one, experience riding multiple horses, housing, and shipping to competitions, a package with a value of over $3000 per month – in return for barn work and horse care.
You will be part of a top quality Eventing stable, train with an Olympic rider, and learning how to run a successful business. Plenty of riding opportunities and daily instruction, and top class facilities. Check out our Web site: www.teamwindchase.com. We are in the heart of the Area II Eventing community. Bring your horse, ride and compete – or if you don't have a horse take lessons on ours. We are looking for dedicated students who can commit to at least six months.
Listings included in this article are randomly selected and confirmed to be current and active before inclusion. Sport Horse Nation features user-generated content and therefore cannot verify or make any warranty as to the validity or reliability of information.
Comments