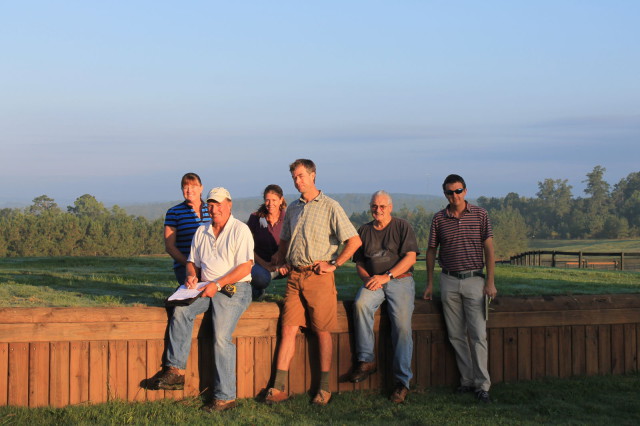 Last week EN gave our readers a sneak peek at the upcoming Oktoberfest Advanced Horse Trials (Oct. 1-2) at Stable View Farm in Aiken. While speaking to course designer Capt. Mark Phillips, course builder Eric Bull and facility owner Barry Olliff, a recurring conversation emerged: How do we keep riders in the sport engaged and investors in the game?
Both Capt. Phillips and Eric have been involved in Stable View since Barry and Cyndy Olliff acquired the property in 2010. Since then the Olliffs have gradually built out the infrastructure to capture the essence of what they envision to be "A Gathering Place" in Aiken, and they've stepped up in a big way. While the original facility had a solid foundation, over the past six years this equestrian destination has morphed into a world class training facility.
The USEF recently introduced the Elite Training Center Designation Program to recognize venues that have provided training facilities for a USEF sanctioned team, developing rider or horse training session. Fourteen venues in the U.S. are currently designated as Elite Training Centers, including Stable View.
Facility amenities include five separate barns for multiple trainers, a 300-by-250 covered arena with Attwood Equestrian Surfaces' Pinnacle footing, an outdoor show jumping arena and dressage court with Attwood GGT sand blend footing, a grass grand prix field, a large grass field for dressage arenas and the newly expanded cross country track. Capt. Mark Phillips, Eric Bull and Richard Jeffery were brought on board to oversee the build out of the stadium, derby field and cross country courses.
Making the leap to Advanced
Stable View started hosting USEA events up through the Preliminary level in 2014, and while the natural progression would be to host an Intermediate division along with the inaugural Advanced, the Oktoberfest horse trials are not offering the Intermediate level. Barry Olliff realized that if their facility improvements were to be capitalized upon, an Intermediate event was not as likely as an Advanced event to attract top riders, sponsors, vendors and spectators.
Capt. Phillips said he has enjoyed working strategically with Stable View because of Barry's vision and ability to make calculated decisions with a long-term goal in mind. "This Advanced Oktoberfest horse trials is the first step in that vision, and Stable View will become one of the premier facilities in the U.S.," he said.
The decision to run an Advanced horse trials was actually Plan B. In reality, Plan A was to look at running a three-star, but with all the financial obligations to run an FEI level event and no guarantee for a priority date on the calendar, the numbers didn't add up for Barry.
"Hosting an Advanced event helps our riders get their qualifications for the FEI events. We are trying to create awareness for the sport and for Stable View by giving away substantial prize money at the Advanced level instead of hosting a three-star," Barry said.
"We've actually had a lot of Plan Bs that have kept us moving in the right direction. We want to grow organically and provide useful services for Aiken, which is very neatly positioned geographically. In addition we are trying to undertake a business plan within the context of a five year commitment. We don't want to commit to things one year and change them the next."
Supporting the lower levels
Even though the main attraction of the Oktoberfest event is its designation as Aiken's first Advanced horse trials, Stable View has always offered prize money for the lower levels at Beginner Novice through Preliminary. The entries for the Open Preliminary division for the October event have poured in, and it was decided that rather than close that division at 40 horses, the prize money will now be doubled and two separate divisions will run.
Barry hopes competitors see this boost in prize money as a commitment to the lower levels and the core group of riders who have supported Stable View's horse trials from the venue's very first event in 2014. This is the group Barry wishes to attract and support on a continual basis throughout the season.
"We have supported the lower levels from the beginning, and we have approached what we do from a bottom-up perspective. Aiken has a lot of lower-level riders a lot of events and therefore a lot of choice. Our job at Stable View is to increase the pie by encouraging those that are outside Aiken to come participate. We do that by being new, fresh, experimenting and through increased branding. We aim to provide a good product at a reasonable price, ensuring that riders are made to feel welcome," Barry said.
"The Oktoberfest horse trials will help create a buzz for all of our other events for all the disciplines, like our recognized and unrecognized horse trials, dressage and jumper shows, and we'd eventually like to hold hunter derbies as well."
This strategy aligns with Stable View's overall mission statement to serve as "A Gathering Place," not just for eventers, but for other equestrians and the greater Aiken community and beyond.
The Oktoberfest event has had overwhelming support from area businesses and organizations, and the vendor and sponsor list continues to grow. There are activities for the whole family scheduled throughout the weekend, including Aiken Horsepower's Fall Fling car show, a Giant Jenga competition and complimentary happy hours from Carolina Moon Distillery and River Rat Brewery.
The competition closing date is today, Tuesday, Sept. 13, so get those entries in ASAP! Be sure to check out the new promo video for the event below, and click here for more information on the event.
Comments