We are very happy to congratulate The Event at Kelly's Ford on a very successful first recognized event on Saturday. EN's good friend Lindsay Berreth was kind enough to send us a recap of the event, which featured over 100 competitors. Please check out Lindsay's blog here for a great read. All photos in this post are courtesy of Lindsay and you can find more photos from the event soon at GRC Photo. Thank you very much Lindsay for writing this and thank you for reading.
—-

From Lindsay Berreth:
On Saturday, The Inn at Kelly's Ford was host to the USEA's newest recognized competition, "The Event" at Kelly's Ford. Over 100 riders competed at the historic Civil War Battlefield site alongside the Rappahannock River in Remington, Va. The event started a couple of years ago unrecognized, but quickly earned it's USEA-recognized status this year with the help of organizers Jim Moore, Gary and Amy Coppage of GRC Photography and the owners of the Inn, Bill and Linda Willoughby.
The Inn has quite the history, of which you can read more about on their website. The last remaining original building, built in 1779, was renovated in 1999 and now accommodates the Inn. The facility also has a popular equestrian center and offers trail rides to guests over the Phelps Wildlife Preserve, which is adjacent to the 150-acre property.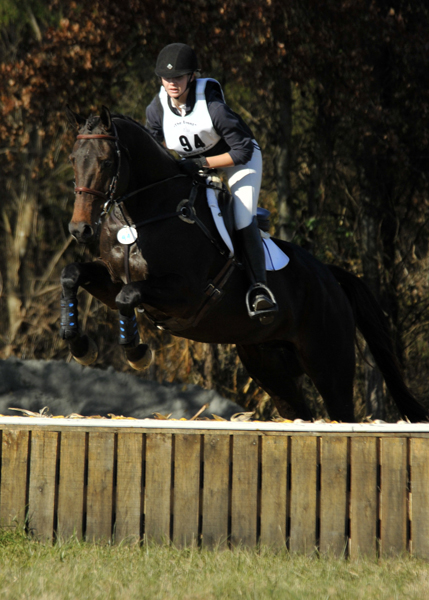 Jules Ennis and Rockford on their way to winning Beginner Novice Horse
On to the show! The event was much-improved from the unrecognized event in April. Mogie Bearden-Muller pulled double-duty this weekend, designing the cross-country course and riding. Over 30 new permanent and portable jumps built by Tyson Rementer and Doug Haught have been added to make for good, flowing tracks from Intro through Training level. There are talks to add Preliminary in the future.

Water jump
Three dressage rings now run side-by-side in the old show jumping arena, and the show jumping has been moved to a gently rolling grassy area. Everything was close together, which is always nice. Kelly's Ford also organized a Fall Festival that ran right next to the competition area. Live music, a moon bounce, natural horsemanship demonstrations and a trade fair (including the Smoothie Lady!) made for lots of entertainment for spectators and some interesting dressage tests.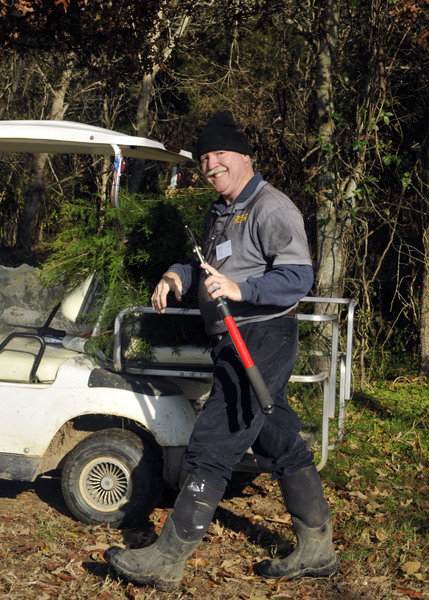 Gary Coppage, owner of GRC Photography and co-organizer, putting some last minute touches on some jumps. If you compete in Area II, you probably know Gary since he covers just about every event in Virginia and Maryland
The overall vibe I got from competitors was positive. They thought the courses were good and gallopy. I was photographing show jumping for GRC all day, so did not get to see how all of the cross-country rode, but I was near the finish and saw a lot of happy faces. Everything ran on time, which is impressive considering this was the first time running recognized, and the prizes were nice too!

I spy….EN's own Annie Yeager and Smarty Pants
It's been really fun to watch this little event grow over such a short period of time, so please thank the organizers and come back next year when the event will run recognized in May and November!