Dressage kicked off today at Le Lion d'Angers, with Austrian Charlotte Dobretsburger and Vally K taking the early lead in the 7-year-old Championships on 45.2. Tamie Smith and Judy McSwain's Fleeceworks Royal scored 51.3 for 14th place, with Robyn Fisher and Betawave scoring 62.5 for 29th place; both mares are Holsteiners bred in California. Go U.S. breeders!
Vally K, a 7-year-old mare (Valentino X Freia, by Freiherr) owned and bred by Dr. Susanna Kleindienst, has two FEI wins at Austrian events under her belt this year, taking first in the CIC* at Pelmberg on her dressage score of 39.7 last month and also winning the CIC2* at Laintal in June.
Gemma Tattersall and Chillis Gem sit in second place on 45.9, and Chilli Morning fans should take note as his daughter steps up to the CCI2* level. The 7-year-old British Sport Horse mare (Chilli Morning X Kings Gem, by Rock King) owned and bred by Christopher Stone finished in the top 15 in her CIC2* divisions at Nunney and Barbury Castle this season.
Maxime Livio, who is coming off a big CCI4* win at Pau last weekend, and Vegas des Boursons round out the top three for the 7-year-olds on 46.8. The Selle Francais gelding (Allegreto X Des Boursons, by Tin Solder) placed 10th at the CIC2* at Saumur in May and make their CCI2* debut at Le Lion.
Tamie Smith and Fleeceworks Royal (Riverman x Marisol, by Corofino I) didn't quite catch their personal best of 48.8 from Jersey Fresh in May, but a dressage score of 51.1 still has the 7-year-old Holsteiner mare, owned by Judy McSwain and bred by Charlotte Wrather, sitting inside the top 15 after the first day.
"I was thrilled with her and couldn't have asked for her to be better. She was relaxed, obedient and accurate, uphill and balanced," Tamie said. "I have to say I was disappointed to hear we received a 51, but you're not always feeling what the judges are seeing, so onward and upward. The cross country is a long course, and I think it will be a true test on Saturday. Now I just need to ride her well and let her shine."
Robyn Fisher said the hustle and bustle of Le Lion impacted Betwave, a 7-year-old Holsteiner mare she owns with her breeder Carol Singh. "Betawave was definitely affected by the atmosphere here; it was a very electric ring. There was a bit of confusion, as my start whistle rang me in while another horse was still in the ring, so I had to canter around the arena, which jazzed her up a bit more than I would have liked," Robyn said.
"Considering this phase is her weakest, I am quite proud of how well she handled herself under the circumstances. Unfortunately, the tension showed through in her trot work, but as always she was much better in the canter. Much like a fine French wine, Betawave's dressage will get better with age."
Robyn said the entire experience at Le Lion has been an unforgettable one thus far. "The facility here is undoubtedly on par with the top competitions around the world. Every detail has been accounted for, from large comfortable stalls and tons of grass for grazing to one of the most amazing trade fairs I have ever seen. We are so fortunate to be here and it is an absolute pleasure to sit back and soak in all this place has to offer.
"It's awesome enough to be competing at the 7-year-old World Finals in France, but what makes it even more special is doing so with Betawave, an American-bred Holsteiner. None of this would be possible without the ongoing support of Carol Singh. who bred Betawave and brought her into my life at age 3 and has been my partner ever since.
"I also would like to extend a big thank you to Hawley Bennett-Awad, my friend and coach, for making the trip to France with us. Leta and I are so lucky to tap into your wealth of knowledge! Also, thank you to my vet Kirstie Timm for making the trek with us and always keeping Leta healthy and happy. Last but certainly not least, thank you to my twin pillars of support, my fantastic grooms Tessa Robinson and Cara Julian.I could not do this without you!"
Keep it locked on EN as we follow along with Tamie and Robyn's journeys at Le Lion throughout the weekend. You can read Tamie's comments about the cross country course in yesterday's report, and thank you once again to Libby Law Photography for the beautiful photos of our California girls.
Looking to the 6-year-old Championships, there's a husband-wife battle brewing at the top of the leaderboard. Lara de Liedekerke-Meier and Ducati d'Arville took the provisional lead early in the day on 42.3 but ultimately had to settle for second place when Kai Steffen-Meier and Painter's Maxim delivered a 40.3 to hold first place overnight.
Painter's Maxim, a 6-year-old Trakehner stallion (Phlox X Painter's Moon, by Painter's Row xx) bred by Graciela Bruch and owned by Welvert Stud, hasn't finished lower than 11th in his three CIC* starts this year and makes his CCI* debut at Le Lion.
Ducati d'Arville, a 6-year-old Hanoverian gelding (Diarado X Pricilla, by Perpignon) bred by Wolfgang Rüsch and owned by Five Star Eventers, finished 13th in the CIC* at Waregem last month and is also making his first CCI* start this weekend.
Belgium is dominating the 6-year-old leaderboard this far, with Ronny Thijs and Consequent Pia Z rounding out the top three for the Belgians. A Zangersheide gelding (Contendro I X Qurieuze-pia Z, by Quinar Z) owned by Bruno Geurts, Consequent Pia Z won the CICYH* at Jardy in July on 46.0.
Stay tuned for much more from Le Lion, and if you're a podcast listener, be sure to subscribe to the Eventing Podcast on iTunes for a full preview of the competition. This week, I join Nicole Brown and Diarm Byrne to highlight some of the top horses in both the 6- and 7-year-old fields. Go Eventing!
#MDL16 Links: Website, 6YO Order of Go, 7YO Order of Go, 6YO Live Scores, 7YO Live Scores, EN's Coverage
6-Year-Olds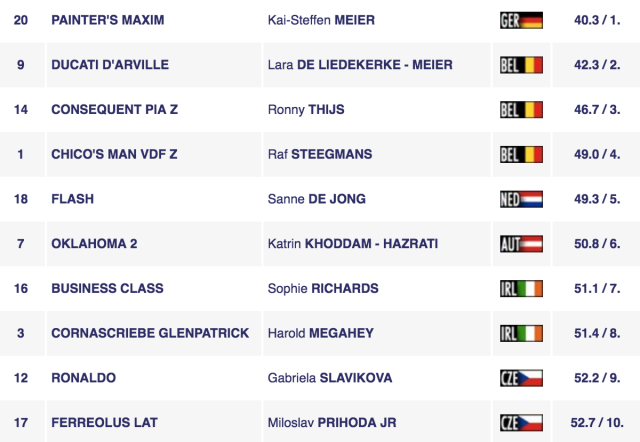 7-Year-Olds
EN's coverage of Le Lion d'Angers is proudly presented by Fleeceworks!