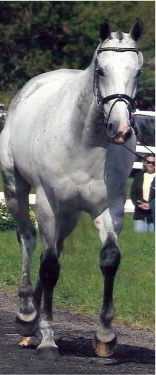 Do you ever stare in awe at the sleek shiny horses, the glistening brass, perfect braids, and dazzling white marks at a CCI trot up? Do you ever wonder how they get that way? (LOTS of hard work is the correct answer!) Each Sunday morning we will bring you a little insider info on how the big-time grooms manage an upper level event horse. Feel free to email or comment with specific grooming questions if you have a topic in mind!
Previous entries: Studs

Extreme Makeover: Button Braids , Part II

Extreme Makeover: Taming the Tail

What About Tack? Part I , Part II

READER REVIEWS 1st Edition
Life has become extremely busy in the Visionaire World of Grooming and Thoroughbreds, mostly due to the panic mad rush of mares to the breeding shed before the spring season ends. This has left little time for planning, photography, and detailed writing of Jog Up Tips. Thankfully, my dear readers have come through for me (read: saved my a$$) by responding to my request for feedback. This week, I empty the mailbag and turn Jog Up over to you!
This is in response to the request for feedback from the Groom tips.

I have always been impressed with the polished looks of braided manes at events, but have always failed at a comparable outcome. Oh I tried valiantly for many years to make those perfect button braids, but alas it was never to be. I would spend hours looking up different 'How To' videos & tutorials, taking notes & running out to the barn to try my hand at this new technique or what not. I have to admit my horse is probably ashamed at the way she has had to travel to shows with some interesting (that's a nice way to put it) braid jobs. It wasn't until the Eventing Nation article that I was finally, FINALLY, able to get it! The step by step directions with video were exactly what I needed. I was so impressed with the practice braid job, preformed using your method, that I started grabbing up all the lesson kids & showing it off! Yes I got quite a few stares of the "Lady it's only braiding" but I was so happy to have finally been able to achieve a beautiful button braid. Thank you so much for the excellent tutorial, my horse & I really appreciate all the work you put into it.

Unfortunately I didn't have my camera with me that day so I didn't get any pictures, but I will definitely have some in the future.

Thank you again,

KT
You're VERY welcome, KT! I am so thrilled that I could alleviate your horse's shame and stress of a poor braid job…I bet she feels like a million bucks now! Good job, and good luck at your events this summer! We'd love to see your pics!
—————————————————–
OMG! I need you to meet up with Rugby and tell him I got it all wrong, it's supposed to be done RIGHT and I'm not doing it right! I'll take pictures and show you — he has so much hair I have been pulling as per directions since CHRISTMAS and no results, it doesn't look REMOTELY like your tails. It is growing MORE hair! Help HElp HELP. He has not kicked me yet but thinking about it. I have not picked up the clippers yet but thinking about it.

– Retreadeventer

OK Retread, everything will be OK. Put down the clippers and back slowly away…that's it…one step at a time…now unplug the power cord…deep breath…we can do this…! Despite the "ease" at which it appears in the photos of Taming the Tail, pulling takes a good bit of practice, effort, and yes, faith. You must See your desired tail through the unpulled frizz, and let it Guide you to the land of the Perfect Tail. Sometimes you don't always get there on the first go-round. That's ok, don't give up! So long as you leave the clippers in the tack room, you won't be wasting your time.
And Retread, if I ever meet up with you at an event, I'll help get Rugby's tail on the right track!
—————————————————–
I stumbled across the EN site a couple of months ago and now I'm hooked! Thanks for the Sunday Jog Up info. I routinely pass it on to the 4H kids that hang around our barn. The mane pulling section has been very helpful though I think I'm going to need to ace my mare so I don't end up hanging from the rafters in the barn! J
Any chance EN could put together a new-comers to eventing section? I rode in pony club (in Australia) over 20 years ago and am getting back into riding. As a re-rider I'd love to be able to find helpful stuff like Eventing For Dummies info. I'll never be an international eventing star but I'd love to get into local/regional horse trials & 3DE's for fun but finding anything on how to get started is just about impossible here in Central California.
Please pass my thanks on to the EN crew for inspiring and entertaining your readers.
– IndiRandol

Indi, we're so glad you happened to stumble on through! You'd be surprised, that's how most of us end up on here…stumbling and fumbling, and then completely addicted. I know, I was once one of you…and now look at me!
What say you, readers? Would you also like to see an Intro-To-Eventing segment added to the site? Keep sending us your ideas!
——————————————————

–


This picture of the bay is my first ever attempt at braiding with thread. You can see how the first several are not so great as I am figuring out how to do this, then there are a couple decent braids before I hit mohawk rubbed portion of the mane, which is a disaster and finally a few last decent braids near the wither. I have traditionally used yarn and braided what I call "knot braids" which are pictured on the chestnut (DannyBoy2008). They are nice and tidy, no frizz, all the way to the withers.. BUT I have also been braiding like that for several years, I imagine that with a bit of practice the thread braids will look just as nice, and I like the ability to more easily grab stray hairs. Aside from that, I also like the picture because it shows his nice clean white socks.. totally worth all the scrubbing.




There is also a picture of a tail mishap (StaticTail), which I would love suggestions for. The silly horse comes in with a tail like that every other week :p Conditioner, etc. doesnt seem to do the job, and I even tried a dryer sheet.




Above is a photo of my tail in its current state, with a small portion at the base of the tail pulled. I cannot decide if I REALLY want to pull it the rest of the way.. I am so terrified of screwing it up!

You asked for feedback, here it is!! Now I will go finish writing my English paper that is due tomorrow.. Go eventing now, study later.

Sarah

Sarah, your original "knot" braids look quite nice! Thanks for giving button braids a chance, I promise they do look better with practice! The horses in your photos look lovely, you clearly put a lot of effort into your turnout. As for static tails, sometimes plain Showsheen will help; or try HealthyHairCare spray in conditioner (the concentrated pink stuff; dilute mix in a spray bottle). When all else fails, sometimes a can of StaticGuard spray is your only chance! Your horse's tail is looking great in the Spring Bay picture. Have faith and keep going! Or, if you think the mini-length suits him, stick with that. Not every tail must be pulled halfway down the dock! The most important aspect is that YOU love the way your horse looks when he's turned out his best.
And by the way, "Go eventing now, study later" is an AWESOME tagline. I'm sure most of our student-readers would very much agree!!
Thanks so much to KT, Retread, Indi, and Sarah for their feedback. I always love hearing others' grooming stories and sharing ideas…please keep them coming! [email protected]