Liz Halliday-Sharp and Fernhill By Night fulfilled EN's prophecy today at the Cloud 11 ~ Gavilan North Carolina International, beating the clock on Ian Stark's cross country course to take the CCI4*-S win on their dressage score of 27.9 — their personal best finishing score at the level.
The win is the sixth career international victory for "Blackie," a 16-year-old Irish Sport Horse (Radolin x Argentina XII, by Argentinus) owned by Liz's mother, Deborah Halliday. He has now won back-to-back internationals, as he also topped the leaderboard in his last international run at the Ocala Jockey Club CCI4*-S in 2018.
The top 10 after show jumping ran in reverse order, but with three horses in the top 10, Liz's ride times were spread throughout the division. Deniro Z, an 11-year-old KWPN (Zapatero VDL X Zonne- Trend, by French Buffet xx) owned by The Deniro Syndicate and Ocala Horse Properties, sat second after show jumping and was meant to go later in the order, but Liz requested to ride him first so she would have enough time to ride him back to stabling, as he can be very hot to lead on the ground.
"Niro was a bit of a beast today. I was surprised he was that far under the time because I didn't look at my watch at all. I knew the time was really tight last year, but I was also trying to prepare him for Kentucky, too. He can be a little bit keen and onwards bound because he has a giant stride, so at a few of the fences I was wanting him to back off a bit," Liz said. "He's class and an incredible horse. We have a great partnership. He just fights the whole way through. I couldn't have asked for more of him, and I'm excited to take him to Kentucky."
After "Niro" delivered a blisteringly fast round 17 seconds inside the time, Liz sealed the deal on the win very early on as the fourth rider out of the start box. She could only beat herself with Blackie, who could be 3 seconds over the time and still win. As the last horse on course, Blackie skipped around 5 seconds inside the time to win the second CCI4*-S of his career and beat the clock at the level for the first time. Niro finished on his dressage score of 29.5, which is also his personal best finishing score at the level. Liz was the only rider in the CCI4*-S to complete on sub-30 finishing scores.
"I knew I could probably make the time on Blackie if I got stuck in since I was so far under with Niro. He didn't need to make the time (to win), but I wanted to for myself and for the horse, so I wanted to see what we could do and take a few risks," Liz said. "He really was fantastic. The horse has really come into his own now that he knows he's not going to get exhausted in the long formats. He comes out and fights for me now."
The one-two result is the culmination of a challenging month for Liz and her team, as Gemma Jelinska, her super groom and yard manager, was admitted to the hospital in Ocala due to ulcerative colitis just before Red Hills. Gemma ultimately flew home to England to receive treatment from her trusted team of doctors and has been there ever since.
Liz's team — Carter McInnis, Pru Dawes and Claire Tisckos — had to step up to fill Gemma's shoes, and experienced freelance groom Debbie Carpenter also flew over from England to assist at Carolina, where the HS Eventing team competed 10 horses. Liz dedicated Blackie's win to Gemma, and the entire EN team continues to send her well wishes.
Hallie Coon and Celien, a 12-year-old KWPN mare (Tenerife VDL X R Quicksilver, by Hamlet) owned by Helen Coon, completed 1 second inside the time to finish third on their dressage score of 32.3. Erik Duvander's North American Futures Challenge team had already secured the victory when Hallie set out on course, but she still wanted to go for a fast round.
"I started out with the goal in mind to make time. We'd already finished the team so the pressure was off, but I wanted to get a good, quick run in for Kentucky and fitness. I set out quickly and then I protected her a bit, just to see how things are going and knowing there are bigger things this spring," Hallie said. "I thought she was really fantastic. She's really game this year and really feeling fit. I was a little bit surprised by how forward-going she was; she's not the biggest striding horse. I came home easing up, and she was really good — 1 second within the time — and that's how I wanted it, so I was really pleased."
(Stay tuned for more on the results from the inaugural competition for the USEF/USET Foundation North American Futures Team Challenge, a new program established to simulate competing in a team environment.)
Last year's winners Doug Payne and Vandiver, a 15-year-old Trakehner (Windfall II X Visions of Grandeur, by Mystic Replica xx) owned by Debi Crowley, finished 4 seconds inside the time to take fourth place on 33.0.
Will Coleman and Off the Record, a 10-year-old Irish Sport Horse (VDL Arkansas X Drumagoland Bay, by Ard Ohio) owned by the Off the Record Syndicate, were 15 seconds inside the time to round out the top five on their dressage score of 33.4.
Will Coleman also delivered the fastest round of the day with The Four Star Eventing Group's OBOS O'Reilly, storming around 19 seconds inside the optimum time of 6 minutes, 40 seconds. While only one pair caught the optimum time in each of the last two runnings of the CCI4*-S here at Carolina, the clock proved much easier to beat today, with 11 total pairs inside.
In addition to the pairs already mentioned, the following combinations beat the clock: Felix Vogg and Colero (sixth, 33.8), Sharon White and Cooley On Show (eighth, 35.7); Ariel Grald and Leamore Master Plan (13th, 41.2); Lisa Marie Fergusson and Honor Me (16th, 42.1); and Cornelia Dorr and Sir Patico MH (18th, 43.0). Lisa Marie Fergusson and Honor Me also won EN's Biggest Mover Award, shooting up 24 places after dressage.
The CCI4*-S cross country course saw an 83% completion rate. Click here for a full breakdown of all the action in EN's live updates. Click here for final scores from the CCI4*-S.
Looking to the other divisions, Will Faudree and Caeleste, owned by Jennifer Mosing and Sterling Silver Stables, won the CCI3*-S for a second time. Liz Halliday-Sharp and Pru Dawes' Flash Cooley finished on the same score of 28.9 in the horse's CCI3*-S debut, but Will was 1 second closer to the optimum time to break the tie in his favor. Sydney Conley Elliott and Carol Stephens' QC Diamantaire, who were also members of Erik Duvander's team, finished third on 29.0.
In the CCI2*-S, Andrew McConnon and his own Bossinova dropped one rail in show jumping today but still clinched the CCI2*-S victory on 24.3 — the first international win of their career. Kyle Carter and Gaillards Lancer, owned by Brandon and Savannah Blackstock, jumped clear to finish second on 27.5. Hugh Wrigley and his own FE Santos jumped clear to round out the top three on 28.9.
Looking to the Advanced, Waylon Roberts and Lancaster, owned by Michelle and John Koppin, added 6.8 time penalties on cross country to move up to lead overnight. Buck Davidson and Carlevo LLC's Carlevo added 10.8 time penalties to remain in second on 38.3. Matt Flynn and Flynn Sport Horses' Wizzerd moved up to third on 40.0 with 8.0 time penalties added. Show jumping starts at 8 a.m. EST tomorrow. Click here for start lists.
Stay tuned for much more from Carolina International, including more quotes from today's big winners. Thank you to all for following along with EN's coverage of this fantastic event. Go Eventing.
Carolina International: Website, Entry Status, Ride Times, Live Scores, Start Lists, EN's Coverage, Live Stream, EN's Twitter, EN's Instagram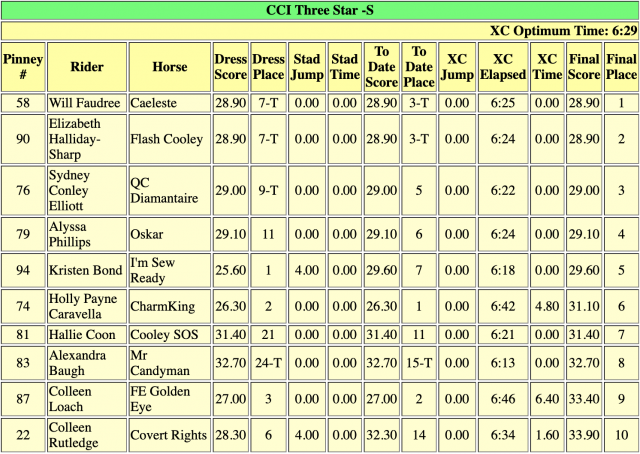 Comments