What a lovely surprise to see Mojito here for the CCI**, looking fabulous with new rider Maddy Mazola
The CCI* and CCI** trotted up this morning; all the horses were accepted but Tamie Smith withdrew Ixiom from the CCI*.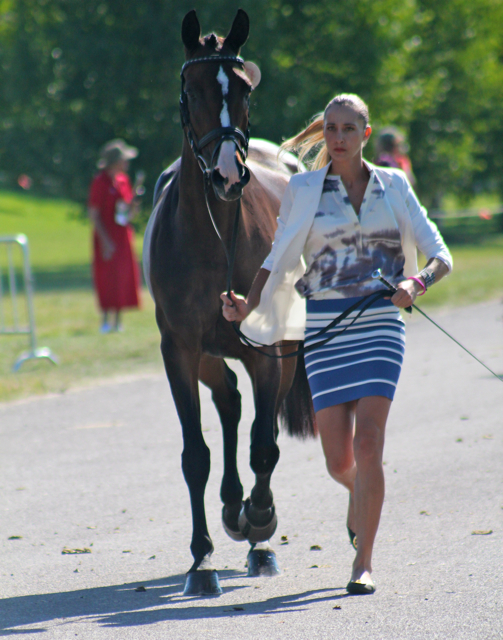 Frankie Theriot and her CCI** mare Uphoria
Jil Walton and Dee Dee Chaser
Tamie Smith and Fleeceworks Fernhill
It looks like Kristi Nunnink has found herself another very nice horse in CCI** ride Astro; he's a seven year old OTTB by Comet Shine (of Courageous Comet fame) and was actually registered as Super Comet. Kristi bought him from Lisa Peacock who found him and started him, "I just loved him. I literally walked in the barn and just loved him, his stamp, the way he looked in the cross ties, everything. I took one look at him and had to have him!"
Kristi and Astro sharing a moment!
Kristi rode R-Star again with David earlier this morning before it got too hot.'Rosie' is looking pretty amazing and if they can reproduce in the ring the work they've been showing with David these last couple of days they'll be hard to beat. Kristi told me she has Rosie a bit fitter than normal for this time of year as she laughed that they both got back from Rolex and 'ballooned'! (I can see absolutely no proof of this, but I feel your pain, Kristi!) She told me she's been working Rosie with her two star horse, Astro, and as a result this stunning grey mare is looking leaner than usual but still with plenty of muscle and substance – very impressive.
I also spent some time watching David work with Gina Miles and her lovely mare, Chanel.  Amongst other things, David used his ipad to video them cantering down the centre line towards him several times, and then let Gina watch it immediately afterwards to really make sure they worked on being straight.
The California contingent are all so supportive of each other, often turning out in force to watch each other's training sessions, and there were also plenty of fans to see Gin N' Juice do the CCI* test with Robyn Fisher.
It was very strange to see Ginny enter at A and trot down the centre line and she obviously also thought she should be doing some more complicated moves, going straight from walk to canter for example, but Robyn gave her a beautiful, tactful ride and I caught up with her and Hawley afterwards.
Ginny hasn't jumped since Rolex in the Spring and Hawley told me she was very tempted to ask Ian (Stark) to get on her and give a pop and a gallop as he's ridden her on the flat before.  I bet he would love to, and will keep tabs on all three of them in case it happens so that we can make sure EN is all over it!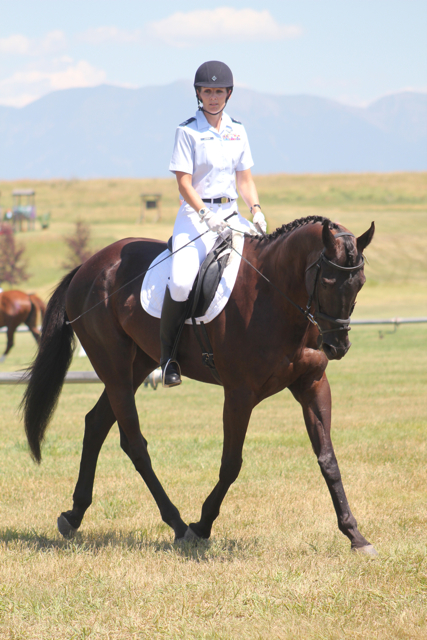 What do US Air Force fighter pilots do for fun? They go eventing, of course! Andrea Johnson and her aptly named Jet in the Open Training division.
Today was very hot again (91) and it is supposed to be even hotter on Friday (97), so as much as it pains me to admit, I will be slightly relieved if we get the cool down on Saturday that we're supposed to (88), but only for the horses' and riders' sake, of course!  The event is running like clockwork and all I seem to hear people say is how friendly everyone is because it's the truth. Much more from Rebecca Farm to come over the next few days. Thank you as always for visiting Eventing Nation, and Go West Coast Eventing!