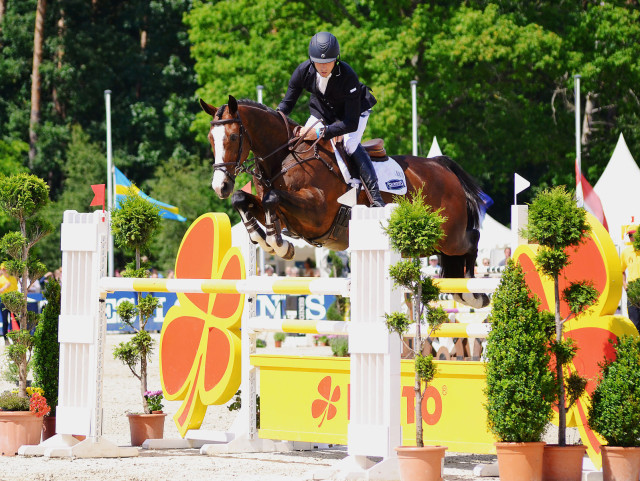 When the entry list for the Wellington Eventing Showcase invitational was released last week, two exciting names were included amongst the star-studded lineup. Dan Jocelyn and Tim Price will be making the trip to the U.S. to ride in the $75,000 event.

Dan and Tim are both New Zealand riders based in the United Kingdom. Dan represented his home country at the World Equestrian Games (WEG) in 2002 as well as the 2004 Olympic in Athens. Tim and his wife Jonelle rode together at the 2014 WEG in France. Tim and Wesko won the Luhmühlen CCI4* the same year and finished second at last year's Rolex Kentucky CCI4*.
When the call was put out to find North American-based horses for Dan and Tim to compete, three riders stepped up to generously offer their own mounts.
Angela Grzywinski heard that Tim was looking for a ride and thought her 14-year-old Thoroughbred mare Novelle would be perfect. She had met Tim while competing at Rolex last year and knew him to be a good rider and a nice guy, not to mention a fellow Kiwi like her fiancée Andy Bowles.
"Novelle is, in my opinion, the best jumping event horse ever born, and she's done everything for me I've ever asked, taking me places I never thought I'd go," Angela said. "I thought offering her to such a good horseman would be fun for him, fun for her and fun for me."
Novelle was featured in our $1 Horse Club series following her first four-star appearance at Rolex last year. They were sixth in the Rebecca Farm CIC3* in July and came fifth at the American Eventing Championships in September.
"All I'm hoping for is that Tim enjoys her as I do, that she has a good experience and that maybe a Kiwi stands on the winner's podium on Saturday night," Angela said.
Tim will also ride Classico Z, an 11-year-old Holsteiner/Thoroughbred cross owned by Edy Rameika. Previously campaigned in eventing by Danny Warrington and most recently Sara Kozumplik Murphy, "Dorian" is currently being marketed as a jumper with Sara's husband Brian. Sara still schools Dorian regularly, however, and says he is an extremely good cross country horse and she expects him to have a great round at the showcase.
Dan will be riding Win the War, a former racehorse owned by Jessica Bortner-Harris and the Win the War Syndicate. Jessica and "Bug" have been partnered for 10 years and moved from Novice to the three-star level together, building a strong partnership along the way.
Jessica and the now 15-year-old Thoroughbred are aiming for their first four-star at Rolex this year, and Jessica felt like having Dan ride Bug would be a good preparatory experience.
"It wasn't a hard decision to give it a go. He's an amazing horse, and if I can't ride him there myself, why not have someone of Dan's caliber take him around? Bug has quite a lot of his own fans, and I'm sure they would love to cheer he and Dan on," Jessica said. "It doesn't hurt that Dan is an amazing rider. I'm excited to learn from watching him ride my horse."
Dan's second ride will be Devil Munchkin, an 8-year-old Dutch Warmblood gelding owned and ridden by Sable Giesler. Sable has produced "Kermit" from Novice to the two-star level.
Dan was recently interviewed on the Eventing Radio Show and discussed his expectations for the showcase. You can listen in at this link, where Dan's interview starts around 29:00.
We're excited to be cheering on all the horses and riders at the Wellington Eventing Showcase! The showcase will run at the Advanced level, with dressage held on Friday, Feb. 5 and show jumping and cross country running on Saturday, Feb. 6.
VIP tables, which include lunch buffet and drinks each day, are available for the event. Contact Shelley Spielman for details and order forms at [email protected].
General admission and parking are free. The Stadium at PBIEC is located at 13500 South Shore Boulevard in Wellington. For more information, please visit www.PBIEC.com.
Comments