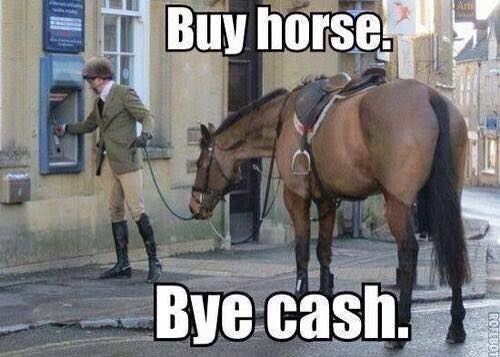 The above image perfectly captures my current sentiments, after having just bought a new horse (welcome to the family, Firefly!). As all horse owners know, horse expenses don't end at the purchase price; in fact, the party is just getting started! After buying my mare and paying to have her shipped to her new home from the east coast, I had to outfit her with new Minnesota-proof turnout blankets before last week's blizzard of doom snowstorm. At least shopping for new tack is fun!
News and Notes
Sexism in the (equestrian) workplace: Adele Williams is a lecturer in Equine Medicine at the University of Surrey, and is certainly highly-qualified in the field of veterinary medicine. Nonetheless, she has dealt with many instances of sexism in her profession. Read about her experiences and some of the proposed solutions to this issue at [The Conversation]
FEI Presidential candidate bares all: Pierre Genecand, Swiss candidate for FEI presidency, has outlined his platform in a Book of Intentions that includes a revamp of equestrian competitions, more media coverage, and having the FEI "provide better guidance and support" to event organizers. [Horsetalk]
Online gaming + social media + horse racing = DerbyJackpot: Thanks to a loophole in online gambling laws, betting on horse races online is a legal pastime for over 200,000 users of Giddy App's online betting service. DerbyJackpot allows users to place bets using credit cards and bank transfers; many of these users are young adults who are new to the world of horse racing, and can chat with competitors while watching live videos of the races. [Forbes]
Attention, jobseekers: SmartPak is hiring! Ever want to be an integral part of one of Boston Globe's Top 100 Places to Work (not to mention an equestrian company with a reputation for great customer service and "seriously playful" work environment)? Check out SmartPak's job openings and apply today!
Video of the Day: Ainsley Carter has done it again – check out her "Flashbacks of a Recovering Working Student" and prepare to LOL! Warning: some NSFW language.
Comments