The Advanced division at the Twin Rivers Winter Horse Trials saw a shake-up in the leaderboard after this afternoon's show jumping. Mackenna Shea and Landioso led after the first two phases with a score of 29.9. The pressure was on as only one rail separated the top five, but unfortunately Mackenna and her Bavarian Warmblood gelding pulled two rails, dropping them to fifth place.
Matthew Brown pulled one rail each with Happenstance, who is fresh off a win at the Fresno County CIC1*, and Super Socks BCF to maintain his second and third place positions after cross country.
It was Barb Crabo who came out on top, steadily climbing the leaderboard with longtime partner Eveready II. They were eighth after dressage with a 33.5, posted a clean cross-country round just one second over the time to move up to fifth. And with the pressure on and rails flying, they produced a double-clear round to win the Advanced division.
Barb and Eveready have historically placed well at the Advanced level at Twin Rivers and won their last competition at the Galway Downs CCI3* at Galway Downs in October. They'll definitely have a happy trip home to Arizona!
Friends Tamie Smith and Heather Morris will celebrate Intermediate victories together at Twin Rivers this weekend. Tamie and Alex Ahearn's Mai Baum led the A division from the beginning on a dressage score 20.7, showing the work they've been doing with David O'Connor this week is paying off.
They were double-clear on cross country and lowered a single rail in show jumping with plenty of room to spare over second place James Atkinson and Nabouco De Lessay. Tamie confirmed she has officially taken over the ride on Mai Baum from Alex, who is heading off to college.
James partnered with "Hugo" last December after Martha McDowell, Sarah Broussard and Carolyn Hoffos put together a surprise syndicate for him. They're targeting the CCI3* at Rebecca Farm this summer and they're off to a good start!
Tamie was in position to take the top two but Team Milton Syndicate's Dutch Warmblood gelding Fleur de Lis pulled two rails and picked up several time faults to drop to third.
Charlie Tango was the Preliminary Horse Champion at the 2014 AEC and has been winning nearly every event he enters ever since. Scoring a 26.1 in dressage, Charlie and Heather Morris never let go of their hold on the top spot in Intermediate division B, posting two double-clear jumping rounds to win their second Intermediate event since November.
Tamie Smith stayed hot on Heather and Charlie's heels through the first two phases with Sunsprite Syrius, a Trakehner gelding owned by Company Sunsprite Warmbloods and another consistent winner on the West Coast. Just over one point behind the leaders heading into show jumping, they lowered one rail to drop to third. Derek di Grazia and his own Ringwood Justice snuck into second by .2 penalty points with a double-clear show jumping round.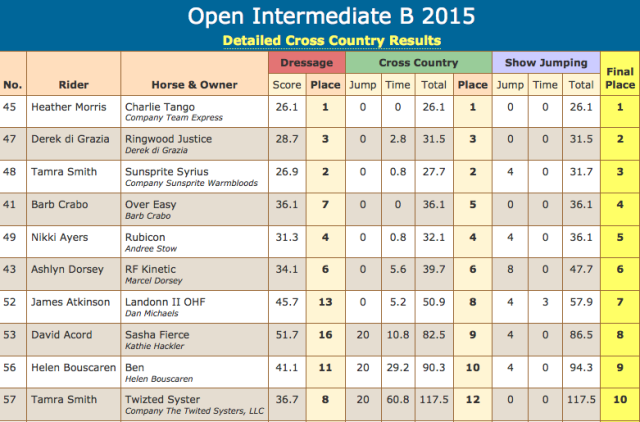 James Atkinson's cross-country course was clearly a tough test for some. Fence six caused several problems, and those that picked up even one refusal ultimately racked up quite a few time penalties, and there were a handful of eliminations for both the Intermediate and Advanced levels.
Twin Rivers Winter H.T.  [Website] [Entry Status/Ride Times] [Live Scores]
Many thanks to Sherry Stewart for sharing her gorgeous photos with us — the next best thing to being there to see everything for ourselves!
Comments