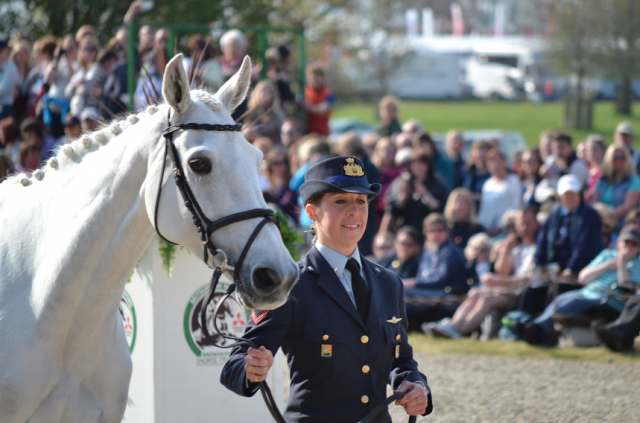 Italian eventer Vittoria Panizzon and her nominated mount Borough Pennyz both sustained injuries which will prevent the pair from representing Italy at the 2016 Olympic Games in Rio next month. While Italy has not yet announced who their riders would be, Vittoria was definitely a front-runner as a two-time Olympian already, and with a handful of good outings the past two years.

Vittoria confirmed on her Facebook Page that she broke her collarbone in a fall with a greener mount, Menlo Park, in the novice division at Upton House HT earlier this week. Coincidentally, she had just won the open novice division on another horse before the fall.
One imagines that Vittoria would have likely ridden with a broken collarbone or much worse if given the chance, but it came to light that her 13-year-old gray mare and partner at the London Games was also out of commission. She did not specify the mare's injury, only that it was enough to rule out a trek to Brazil. The mare seems to have sustained the injury at Barbury where she was competing in the Event Rider Masters division — the pair had a solid dressage test and a rail and two time faults in show jumping before withdrawing before cross country.
"I cannot deny I longed to make Rio since I first I first heard of it and missing representing ones country at the Olympics at this near stage is one of the toughest mishaps," Vittoria said. "Devastated for my whole team and sponsors and especially for Pennyz, a medalist in my eyes and a very special friend."
The two are longtime partners with great successes under their belts, including placing 11th individually at the 2012 Olympics in London, 7th at Badminton in 2013, and recently placing 9th in the Event Rider Masters division at Bramham.
Italian Announcement Down to the Wire
The news comes amidst a very bizarre Olympic year for Italy, who failed to qualify a team for the games, but through the individual ranking system qualified for three individual slots. Then they were told that due to a rider from another country abdicating their slot, they could send four participants.
The final list was to have been announced Friday, but likely due to Vittoria's mishap, the announcement has since been postponed to Monday, the official deadline to submit final combinations for Rio. The following horses and riders are on the FEI qualified list for the Olympic Games:
Stefano Brecciaroli and either Apollo VD Wendi Kurt Hoeve, Roulette B, or Viscount George 
Luca Roman and Castlewoods Jake 
Pietro Roman and Barraduff 
Arianna Schivo and Quefira de l'Ormeau 
Giovanni Ugolotti and Oplitas
We send our best to Vittoria, Pennyz and all their connections, and wish them both speedy recoveries. We'll bring you the announcement on Italian riders as soon as it's available Monday.
[Popular Eventing Pair Ruled Out of Rio Olympics With Injuries]