It seems like months ago when Monty White did a review on the two Apps that allow you to record your course walk including fences and minute markers. Since then I have had a play with the Apps CrossCountry and CourseWalk but I hadn't had the opportunity to walk a real course with either App.

Today I got to walk the Adelaide four star course with Jose Diacono, the financier behind the CrossCountry App. I say financier as her son James is the programmer and daughter Helen the designer. Helen is a PreNovice rider here (Prelim in the USA) and James has been writing iPhone apps for a couple of years now and he has been working almost full time on the CrossCountry for months now. So early Friday morning I set out on my second walk, iPad in hand.
The first two minutes includes 13 obstacles
Let me start by saying that carrying an iPad around a full 6 kilometres of cross country isn't advised, better with your iPhone. That said it looks better on the iPad. The good news is that in a future release, I was working with a working beta version with the new features, you will be able to share a course map between your devices and even better with your friends. Just imagine, you and a friend have a couple of horses in different classes, you can each walk separate courses and then share after the fact rather than doing it that extra time. (I still of course advise you walk every course but this way your minute markers will be already known).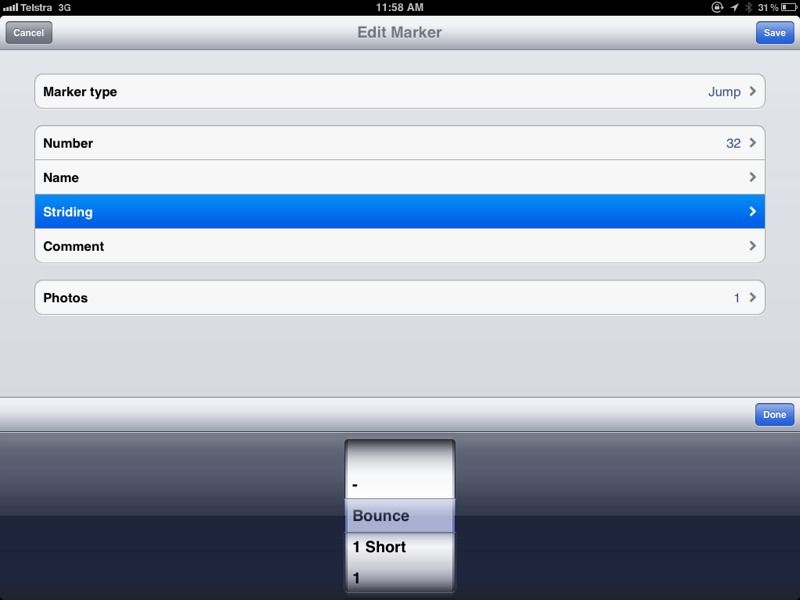 The CrossCountry App couldn't be easier to use. Once you start a course you merely need to add your fences, including all elements separately, you can add videos, photos, voice notes or written notes for every fence. It is up to you how much detail you add to a fence, even striding is a standard feature, so if it is a bounce you select bounce and move on. It took me about three fences to get into the swing of it and after that it was almost automatic.

I personally stopped using a measuring wheel over a year ago as it isn't easy to travel with. I have a handheld GPS unit. One of the problems with a GPS unit is you need to pass it over an obstacle rather than walk around with it. The CrossCountry App gets around this by allowing you to 'Pause' the recording, walk around an obstacle and then resume. It then draws a straight line between the two paused points, really simple.

The other thing which is tough with a GPS is when you are chatting away and suddenly realize you are walking the two star course rather than the four star. You know that feeling right??? I do. Anyway it is easy to fix walk back to the spot where you made the mistake, click the 'Erase' button, zoom in, swipe back to where you are on the map, the little blue ball shows you. Then click 'End Erase' and you are done.

The ease of use is the key, the other surprise I got is the 'Minute Markers', they show up as you walk the course, they are marked in the course map and the best thing is that your minutes are chimed every time you walk the course with the app on, the sound is the same as the one you are familiar with on your eventing watch, it just works.

I like it and will continue to tinker with it. For under 20 bucks the CrossCountry App is a great investment for almost every Eventer from four star to beginner novice.

Yours in Eventing,

ESJ