Welcome to Rebecca Farm! Blue skies and hot sunshine means the water pods and sprinklers are working overtime to ensure the best possible footing on Ian Stark's tracks here in Montana.  The scenery is incredible, and matched by the hospitality of the crew here making sure that this really is an amazing destination event. Each year the event grows, both by the numbers of competitors and in stature.  Although we only got underway officially this morning it's already a hive of activity with in barn vet checks, The Young Event Horse and Future Event Horse classes, and lots of training.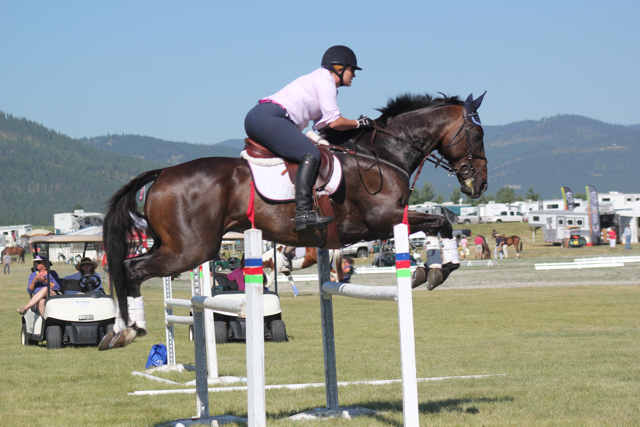 Erin Hofmann gives her CCI** horse Macchiato a jump with trainer Tamie Smith and under the FEI stewards' watchful eye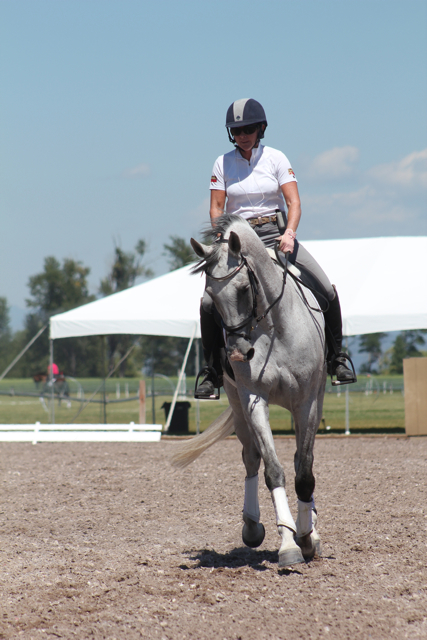 EN blogger Kristi Nunnink working defending Rebecca Farm champion Rosie aka R-Star  with David O'Connor
West Coast Style! Whatever the weather US Coach David O'Connor always seems to be perfectly dressed for it
I'm very happy to report that Young Rider Zach Brandt told me (in an immaculate Aussie accent, no less!) that Cavallino Cocktail aka Scotty, travelled very well up here and is feeling terrific.  Zach was also a guest on last week's ERS along with Sarah Kelly and Ian previewing Rebecca Farm, and he's promised EN another video this weekend – hurray!
However, what a welcome treat to arrive here out West and hear the clipped, very English, tones of Nigel Casserley keeping us all informed as I walked amongst the teepees, belt buckle and cowboy hat themes out on course!
In his second year here at Rebecca Farm, Ian Stark has done a wonderful job on all the courses.  They're trademark Scottie – big, bold and galloping but also incorporating tests of accuracy and rideability; Jess Montgomery and I spoke to him last week for the Eventing Radio Show and he told us then that riders definitely shouldn't arrive in Montana expecting a walk in the park. Ian shared that he likes for competitors to be somewhat scared the night before because that way he knows they're giving the course due respect, plus it will make the celebration after a good round the following night all the sweeter!  To that end, I imagine Ian has achieved exactly what he set out to do – there is plenty to do on all of his tracks, a little bit of everything, and, from the comfortable perspective of a spectator, it looks very jumpable.
Click below for much more:
Looking forward to bringing you lots more from Rebecca Farm all weekend, including my earlier chat with the lovely Hawley Bennet, hopefully up tonight. Thanks as always for visiting Eventing Nation, and Go Montana!
Comments