In my opinion Jan Byyny was definitely one of the best dressed ladies at the First Horse Inspection this afternoon. I simply can't pick out one person because there were so many good looking combinations strutting their stuff despite the rapidly dropping temps and bone-chilling wind.
Jessie Phoenix and Exponential
Catch A Star, Caitlin Silliman and her mother
Emily Renfroe nails it at her first four star
Lynn Symansky (check out those shoes!)
and her horse, Donner!
Allie Knowles and Last Call
Erin Sylvester and no Boundaries
Hawley Bennet-Awad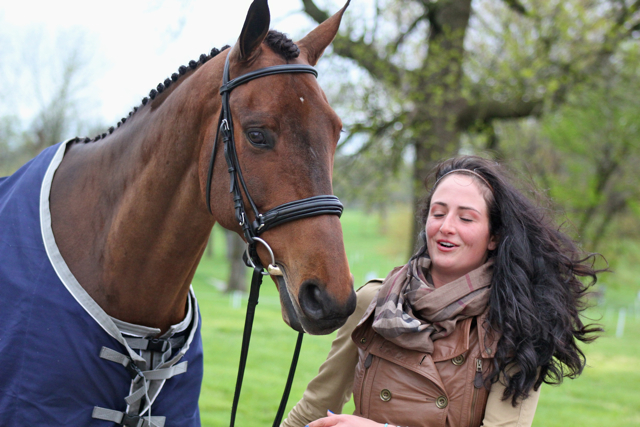 Jennie Brannigan and Cambalda
Kendal Lehari and Daily Edition
Marilyn Little – extra points for the awesome shoes, detail below, and for gritting her teeth and jogging up RF Demeter herself despite the separated shoulder.
Valentino, baby!
Shandiss McDonald
Shandiss' horse Rockfield Grant Juan with freelance groom for the weekend Sandra
Pirate and Megan O'Donoghue
Jonelle Richards and The Deputy
Katie Ruppel, winner of the Dubarry Best Dressed Award, Fillies Edition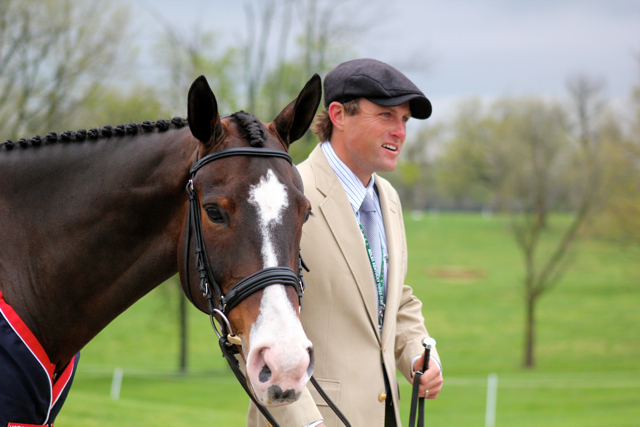 Winner of the Dubarry Best Dressed Colt Edition – Boyd Martin!
Andrew Nicholson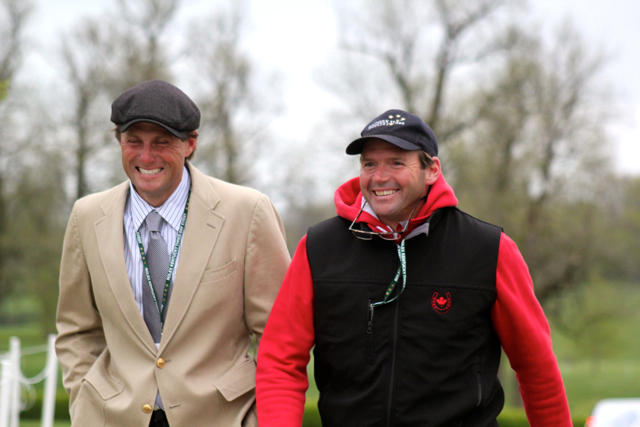 You can take the boys out of Australia but….! Boyd Martin and Clayton Fredericks
Buck Davidson rocking his trademark lucky red socks with yellow polka dots
Daniel Clasing and Houston
Phillip Dutton and Fernhill Eagle
It's a family affair – John Alliston leading his son James' Jumbo's Jake
Mike Alliston leads Parker for his brother James
Peter Atkins and HJ Hampton
Ringwood Mississippi with Austin O'Connor and the crew!
The look of love! Will Faudree carries off the French Detective style with Pawlow.
William Fox-Pitt
Yogi Breisner with Chilli Morning and Seacookie
Yogi Breisner and Chilli Morning
Massive props to all the grooms who turned out every single horse immaculately, and full marks to the riders for looking so poised and glamorous, even in the freezing conditions.
Commiserations to Emily Beshear and all her connections; I spoke briefly to her husband Jeff who told me they had decided to err on the side of caution and that 'Quincy' will be absolutely fine. Meanwhile, Emily's lovely grey horse River King will do the CIC*** at Jersey and then the CCI*** at Bromont. They hadn't got as far as deciding future plans for Here's To You yet. It was also nice to bump into Will Coleman and  Holden and say hello before they went out to walk the course – Will will be signing autographs in the Cavalor booth this weekend.
I wish I could have got photos of everyone – not pictured but definitely deserving of mentions – Mary King, naturally stylish and sponsored by Joules = always looks good and Becky Holder – flawless, her outfit was perfect and Can't Fire Me looked amazing too.
Dressage starts Thursday morning at 10 o clock, and Reese Koeffler-Stanfield will perform the test ride at 9:30. We'll be all ove r the Kentucky Horse Park tomorrow – the cross country, the barns, the live blogging of the dressage, hopefully some tradestands….Thanks for visiting Eventing Nation and Go Rolex Kentucky Three Day Eventing!
Comments