The first Aiken training session wrapped up this week at the beautiful Bridle Creek equestrian development. EN readers and my good friends Babbette Lenna, Emily Merrill, and Pam Eckelbarger from Hoof Pix were kind enough to send us a recap of the week. Training sessions resume Monday and Tuesday at Meredyth South in Ocala. We love guest contributions from every corner of Eventing Nation so if you have a clinic or training session report please send them our way to [email protected] Thank you for reading!
—-


©Hoof Pix ® Sport Horse Photography, LLC
From Babette:
The weather this winter in Aiken has been warmer than warm. Almost Ocala temperatures, but I am sure those in sunny Florida would beg to differ. The temps continued to impress this week during the first set of the Aiken training sessions. This year riders and spectators were honored to be able to ride and view the sessions at Ilene Boorman's gorgeous farm in the Bridle Creek community. Ilene's farm is the winter home of Boyd and Silva Martin, and what a fantastic place it is. The Bridle Creek community, the same equestrian development where Phillip Dutton is based, is a great horse community. Ilene's 30 acre farm sports a 70m x 30m dressage arena with rubber footing and full length mirrors along one short end. The jumping arena with similar footing, is nearby and adjacent to a cross- country schooling field filled with newly constructed banks, water complexes and assortment of obstacles similar to those found at many competitions. A perfect setting for training event horses!

©Hoof Pix ® Sport Horse Photography, LLC
All of the horses and riders looked in excellent form. As it is early in the season it was great to see the horses already looking very strong. It was also nice to see some very talented young riders get a chance to show their talent. Lizzie Snow, Kendyl Tracey, Alexandra Green, and Meghan O'Donoghue were the youngest of the Developing Riders List. Doug Payne, Jennie Brannigan, Susan BeeBee, Kristen Schomolze, and Lynn Symansky were also selected this year to the list, and it is clear from the riding demonstrated by all these Developing Riders that we have some extremely phenomenal up and coming talent in this country.

©Hoof Pix ® Sport Horse Photography, LLC
Meghan O'Donoghue and her horse Pirate.
Meghan rides with Jan Byyny and has brought her horse Pirate along from the beginning. They showed true class and a strong performance in front of Captain Phillips. He seemed to like what he saw and this is a pair to keep an eye out for.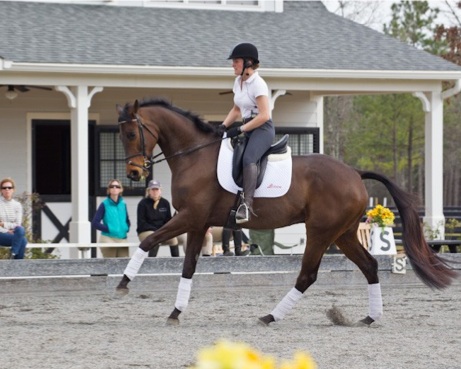 ©Hoof Pix ® Sport Horse Photography, LLC
Lynn Symansky and Donner were looking great on the flat.
It is great to see this pair coming off last years Pan Ams looking strong. I am sure she is hoping for an even better 2012 with this very neat horse. Captain Phillips and Lynn did a great job working on Donner's balance in the trot and canter for more expressive changes and bigger strides in the mediums where the tempo did not quicken. Lynn got quality work out of the horse as the lesson progressed.
It was truly wonderful to see Twizzel and Will Coleman. I know we all wish Will a lot of good luck this year after such big disappointments last year. They both looked great and are clearly in a good place because Captain Phillips had only small corrections to make.
©Hoof Pix ® Sport Horse Photography, LLC
With so many great riders based in Aiken for the winter it is truly informative and inspirational, as a spectator, to go and watch these training sessions. All of the riders show clearly what strong programs they have to bring their horses along in. It is only February and their horses were looking very well schooled and nicely started for the upcoming season. I was not able to watch Boyd Martin, Jan Bynny or Will Faudre but I have no doubt that as we move into this Olympic year we have some very strong horse and rider combinations to look at. Katie Prudent will be in Aiken February 20th -21st for two days helping the High Performance list of riders with their show jumping, then another Developing Riders and High Performance Riders training session will take place in March from the 13th-16th. If you have not come out to spectate the sessions yet and you happen to be in Aiken when they are going on it is HIGHLY recommended you come and watch some of the best in our sport do what they do. A lot of insight is gained and it is just plain fun. Until then!
Comments