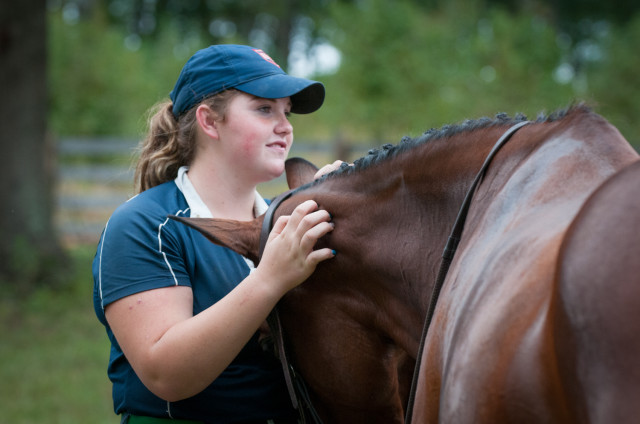 It has been a very tense several days as Hurricane Matthew made its way up the Eastern Seaboard. Even as Florida escaped with less damage than was originally expected (in some areas), the Georgia and South Carolina coast lines began bracing for historical rainfall, flooding and damaging wind speeds. Countless friends of mine reported that they would evacuate while others chose to ride it out and hope for the best.
For days I've seen posts on social media showing flooded fields and barns, downed trees and fence lines, and widespread reports of power outages. But what I've also seen is people reaching out, offering shelter for horses and humans alike, offering to donate supplies and time to help clean up and start to put their comrades lives back together. In a world where man-made tragedies make the news every day, it has to somewhat restore your faith in humanity to see people come together in times like these.
#MBE16: Website, Leaderboard, Team Standings, Live Stream, EN's Coverage, @eventingnation, Instagram
Events This Weekend:
The Maryland HT at Loch Moy Farm: [Website] [Results]
Spokane Sport Horse Farm Fall HT: [Website] [Results]
Heritage Park HT: [Website] [Results]
The Event at Skyline: [Website] [Results]
Feather Creek HT: [Website] [Results]
Woodside International HT: [Website] [Results]
Middle Tennessee Pony Club HT: [Website] [Results]
Course Brook Farm Fall HT: [Website]
WindRidge Farm Fall HT: [Website] [Results]
Radnor Hunt HT: [Website] [Results]
Las Cruces HT: [Website] [Results]
Kent School Fall HT: [Website] [Results]
Monday News and Notes:
Stay informed! The USEF has posted the proposed rule changes for consideration by the USEF Board of Directors at the 2017 USEF Annual Meeting. Now is your opportunity to read them through and submit your comments. [USEF Proposed Rules Changes]
Helen Bouscaren and Ben won the Adequan USEA Gold Cup Advanced division at Woodside International this weekend, moving up from third after dressage. At the same event, competitors were able to volunteer to participate in the USEA's Equine Cardiovascular and Pulmonary Research Study. Important data from about 25 horses, the analysis of which "works toward the ongoing evaluation of equine exercise health and welfare." [Bouscaren Leads Ben to Victory]
Jump-off results are often determined by milliseconds, and one of the most fascinating ways to watch two top riders go for broke in the final round is by watching a split screen of both horses and riders on course. You can see exactly how efficient one horse may be in the air compared to the other, how quickly they turn and how much ground they cover between fences. At the recent Longines Masters, Nayel Nassar and Lordan dominated the Speed Class to beat out flying Frenchman Kevin Staut. [Watch the split screen to see where they won]
Looking for a cool horse job? You may find inspiration from Horse Nation's column, "Cool Horse Jobs," where they chat with professionals from all facets of the horse industry to learn more about what they do and how they came to do it. In their latest edition, you'll meet Ainsley Jacobs, founder and owner of Ride Heels Down equestrian apparel company. [Cool Horse Jobs]
Weekly Business Tip from Mythic Landing Enterprises: If you are placing a classified ad and are limited in your word count, be sure to use correct spelling and grammar! For example, the following is concise but still makes sense: "Stilts: 6yo 17h bay TB g. Competing N, ready for T. Quiet, easy and eager. Perfect for AA or Jr/YR. $Priceless. [email protected] or (301) 502 – 8929." (PS my horse Stilts is definitely NOT for sale!) (PPS if you're buying or selling, check out EN's sister site, Sport Horse Nation)

Best of the Blogs: This is why.
Monday Video:

Comments