I have heard it said that things become cliché because they are true. The fact that eventing is like a roller coaster ride is undeniable. For every great, successful ride there is an unsuccessful ride and sometimes a fall.
Today I want to talk about the past few weeks since my last blog and what a ride it has been. The past few shows have been exciting. Team Bailey has seen a little bit of everything and has been on quite the emotional ride.
Our family has had the chance to put into practice those things I mentioned in the Winning is Fun blog. You see, I am not a real believer in karma, but I am sure there are people out there who follow Bailey who might say I got a healthy dose of it.
I prefer to see it as an opportunity to put myself to a test. For those who don't follow Bailey, let me explain. The prep show leading into the AECs and the AECs were not quite the all around "fun" shows we would hope for her Preliminary horse.
Bailey and Catcher had a run of bad luck. Whether it be Bailey's foot getting caught by a "break away" flag (those are supposed to break away, right?) and spinning her off of her mount or an unfortunate situation where Catcher's back foot stepped on his front foot at the down bank, Bailey had a couple of chances to test out her new air vest.
This is the fast, wind in your face, losing your breath, downhill ride on the roller coaster. It is the part of the ride when it seems to just keep going down. But, this is the time that you see what you are made of.
Yes, we all needed a few minutes to collect ourselves. We like to say give us 20 minutes. Give us 20 minutes to deal with the disappointment. Give us 20 minutes to be mad. Sometimes you are just upset by the situation and need time to get over it.
I like to come in and give Bailey a big hug and then go off to lick my own wounds. But once that is over, it is over. It is time to get ready for the next ride. And sometimes that next ride is just a few minutes away.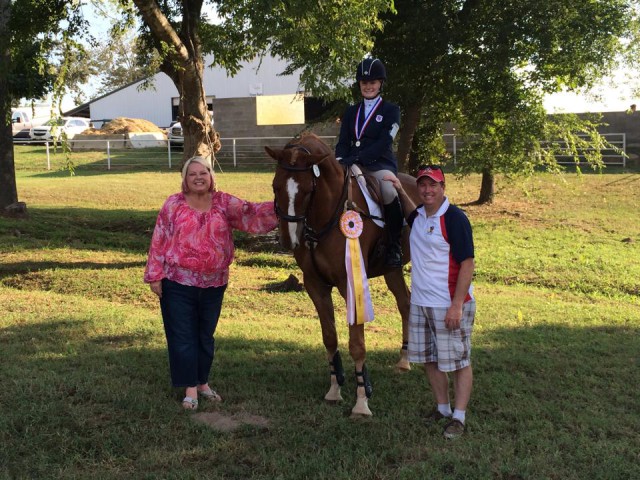 Then there is the uphill part of the ride. The feeling of anticipation in the pit of your stomach as the ride moves closer to the highest point of the ride. The feeling is very much the same as when you watch one rider after another riding the stadium course that was designed to challenge the best riders.
As you count down towards your child taking their turn in that test of agility, speed, and endurance. You feel the excitement as you crest the rise and cheer for your child. Your mind races as you think of the time spent preparing for this moment.
You look around at grandparents and see the tears welling up in their eyes as they get to share in the success of this moment. You get the pleasure of seeing your daughter and her horse standing next to Buck Davidson and Tamie Smith, collecting her third place recognition.
The 2014 season is drawing to a close. I am happy to say that Bailey and Leo, her goofy chestnut as she likes to call him, are healthy and still climbing towards the pinnacle on this year's roller coaster.
We hope that it will end with a trip to Fort Worth, TX for the USEA Annual Conference and the national awards. It has been a season that will bring Bailey another step closer to her goal of riding at Rolex in 2016.
We know there are still more down slopes in the future. If you cannot accept the fact that there will be low points in this sport then this might not be the sport for you. We all hope that, and the odds are, there will be a lot more uphill experiences then down.
But when the declines seem to be going on for a long time, take heart. You will get to the bottom and start to ascend again. That pit in your stomach will change to butterflies and the crest of that hill will be too high for you to see so enjoy the ride.
Like any good roller coaster, the ride can be scary. But we don't ride them to relax. It is the rush of adrenaline that keeps us all coming back. Riders, trainers, and parents, we all have a seat on this ride.
Comments