Andrew Nicholson and Calico Joe jumped clear and fast which means he can do no worse than a second place overnight; he's our current leader at Saturday lunchtime but we have William Fox Pitt to come again on the dressage winner Chilli Morning, and Andrew has a chance to see if he can best himself on Quimbo currently lying second.  There were some super rounds – we have come to expect greatness from William and Andrew, and I'm looking forward to watching some Mary King magic after lunch, but we also saw some of our first timers rise to the occasion and look really impressive.
Our EN friend, Daniel Clasing rode Houston beautifully to finish clear inside the time
Kristin Schmolze is no stranger to Rolex but her stunning horse Ballylaffin Bracken is having his first crack at it and looked fantastic – what an exciting prospect for her.
Likewise Donner who made his first attempt look like the proverbial walk in the park. Despite riding with a splint on her hand, "the claw!", they cruised round and although she was a bit slow picking up the knitting after this enormous jump in, (she said at The Fork that that would be her main concern) Donner is so bold, honest and genuine that he just locked onto the Goose coming out and never looked for a second as if he would do anything else.  Donner embodies everything I adore about OTTBs and I was absolutely delighted to see him go so well.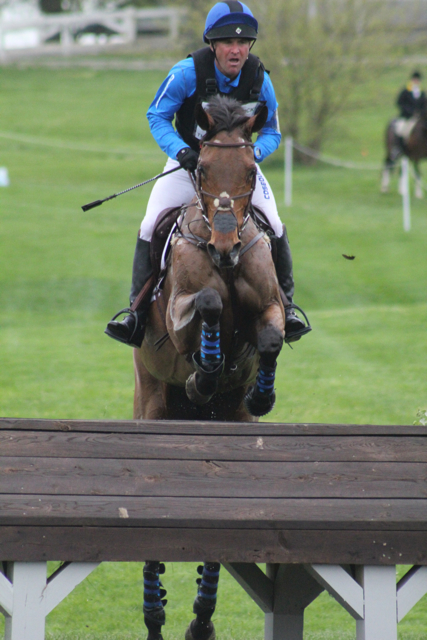 Phillip Dutton and Fernhill Eagle made it all look very easy, coming home inside the time and Fernhill Eagle still looked to be fighting for his head at the very end of the course.
Hawley Bennet-Awad managed to channel Ginny's considerable energy today and they had a fabulous clear – Ginny is a lion in a beautiful,  bouncy pony's body – I think she would jump through fire without blinking! They jumped clear with just 0.4 of a penalty.
Henny is amazing – he looks for the flags and does everything he can to jump in between them!
Oh my God, I want this horse too! How wonderful for his owners that he's fulfilling all his considerable potential; Shandiss gave him a mature ride and this a pair for the future.
James laid last year's ghosts to rest by coming home with two clear rounds this morning, above on Jumbo's Jake, and still has Tivoli to come this afternoon.
Buck Davidson was a man on a mission and that suited Mar De Amor well who rose to the occasion.
Park Trader however, looked tired at the end but kept trying for Buck
James on Parker, his first ride of the day
Pawlow getting a reminder from Will Faudree as they prepare to leave the infield and gallop for home; they looked so good all the way round.
Kristi Nunnink and R-Star came home with a clear round
Well, as a trailblazer you can't really ask for more than galloping around clear bang on the optimum time. William Fox-Pitt and Seacookie were pure class, an absolute treat to watch.
Katie Ruppel's got to be thrilled with Sir Donovan – clear inside the time
Luckily Syd Kent found his groove after a bit of a sticky start; he has such an unconventional jump that I sometimes wonder how Jan stays on, and even though they didn't look to be hurrying, they also finished with a double clear.
Heading back out on course, and we're all crossing our fingers that the rain will hold off until after the last horse goes this afternoon. Go Rolex Three Day Eventing!
Comments