Sandra Auffarth and Opgun Louvo made the final dressage test at the 2014 Alltech FEI World Equestrian Games a memorable one, scoring 35.2 to take the overnight lead heading into cross country tomorrow. The electric spectator stands and warmup ring set right against one of the grandstands has not helped spooky horses today, and Opgun Louvo came into the stadium looking very wide eyed.
But Sandra is such a calm, tactful rider, and she methodically delivered a stunning test, with the marks continuing to rise throughout and passing William Fox-Pitt and Chilli Morning's score of 37.5 in the final moments, much to the crowd's delight. The spectators rightfully gave her a standing ovation, and her score gives Germany a handy lead in the team competition on 116.9.
New Zealand holds silver medal position on 125.5 thanks to Jock Paget and Clifton Promise's lovely test earlier today, and our own Team USA is currently in the bronze medal spot on 138.8, led by Phillip Dutton and Trading Aces, who are tied for equal ninth place on 43.8. Our final Team USA combination, Boyd Martin and Shamwari 4, led off the afternoon session for a score of 46.3.
Of course, any score close to that 45 threshold — which Coach David O'Connor has emphasized is critical to win medals — is a good one, and if there's any disappointment in the Team USA camp tonight, it's only because Boyd and Shamwari's test started out flawlessly, with the marks for early movements placing them in first or close to it.
But Shamwari just got away from Boyd a bit, starting in the walk pirouette and snowballing from there, with things coming unraveled in the counter canter. As Boyd said in our interview — which you can watch here — it's a bit heartbreaking knowing what could have been, but it's important to remember that he did exactly what he needed to do to contribute to a good team score, and Team USA is sitting in bronze medal position because of it.
The ground jury of Gillian Rolton, Alain James and Ernst Topp certainly didn't make it easy today to land low marks, as they were consistently nailing riders for things like horses being a bit too deep in their frames. Riders needed a very correct frame and expression to wow the judges enough to punch something other than a 6, and the riders who accomplished that should be very proud of their efforts.
One rider who can be very proud of her test is Canadian Selena O'Hanlon and Foxwood High, who led off the final afternoon group to score 49.5, besting their score on this test at Rolex by seven full points. Leslie caught up with Selena in the mixed zone after her test, and she was thrilled with Woody. Click here to check out the interview.
Now we look ahead to cross country tomorrow, which is almost certain to drastically shake up the leaderboard. Though the sun has been shining all day, drying out the ground significantly, there is still standing water and deep mud in some low spots. As a result, two fences have been removed from course, fences 20 and 23, which will take two long loops off the track.
We're about to kick off the press conference with Sandra, Jock and William here at Haras du Pin, so stay tuned for much more from WEG. Sally has been running excellent open threads with photos, GIFs and tweets of all the action, so be sure to look at the morning post here and afternoon post here. See below for today's #WEG2014 Must-Reads, and stay tuned for much more.
#WEG2014: Website, Live Scores, Cross Country Start Times, Schedule & Results, EN's Coverage, EN's Guide to Eventing, FEI TV, FEI TV's YouTube, WEG Facebook, EN's Instagram, Fantasy Eventing, @eventingnation
Today's #WEG2014 Must-Reads:
[A Good Day For His Best Test Ever: Brazil's Ruy Fonseca Breaks Into WEG Top 10]
[Jock Paget Stages His Comeback, Hawley Bennett and Gin & Juice Shine at WEG]
[WEG Friday Afternoon Dressage Open Thread: 46.3 for Boyd Martin and Shamwari]
[Hawley Bennett Is Over the Moon With Her 'Pocket Rocket']
[WEG Friday Morning Dressage Open Thread: Donner Raring to Go for Team USA]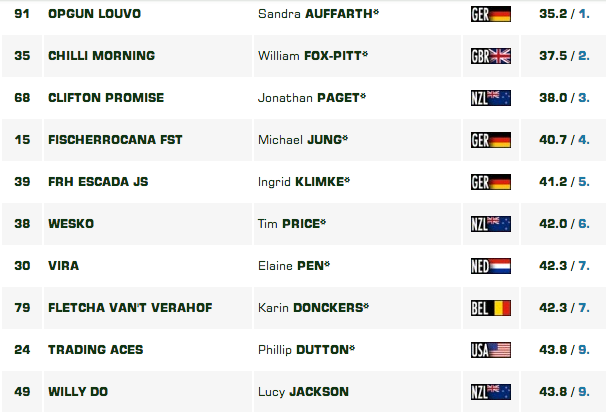 Comments