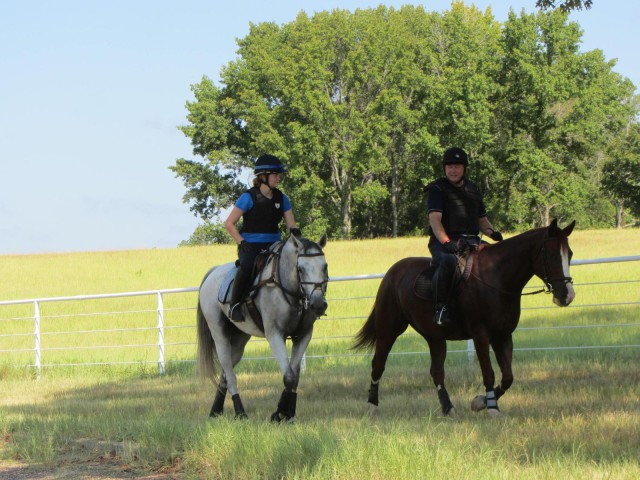 There is an old saying that the third time's a charm. It means that the third time you do something, it is going to work out. But it begs the question, what makes that third time a charm? What kind of work goes into making a success out of that third attempt? What kind of perseverance goes into it? And what would people miss out on if they gave in after two tries?
Bailey has received the honor of being selected to represent Area V at the North American Junior Young Riders Championship for the third year in a row. Last year, Bailey and Lougnatousa Caislean's (LOCK-NAW-TOO-SA  CASH-LAWN or Leo) had the incredible honor of standing on the podium and receiving a team silver medal.
Their three member combined area team pulled off a great feat of completing the championships while not having a score to drop. But for all of Bailey and Leo's success at an individual level, NAJYRC has been their nemesis. The past two years they have had issues on the cross country course which have knocked them out of contention for an individual medal.
This year started out with a move up to the Advanced level in Florida, but Bailey also had qualifying for the Area V CH-Y2* NAJYRC team as an additional goal. After that first show, Bailey sat down with her coach, Joe Meyer, and they evaluated what her goals should be for the rest of the year. After discussing the pros and cons, on Joe's advice the decision was made to make a course correction to a laser focus on the 2015 NAJYRC.
Bailey is just turning 20 years old this year. She has a whole career ahead of her to get ready for Advanced and the goal of Rolex, but she only has two years left of eligibility for NAJYRC. A piece of advice that she was given a few years ago was to try to make every national team you can. The honor of representing your country cannot be underestimated. There is something about being one of a select number of young riders who get to wear that patch on their show coat.
As we start to see the other riders around the country who are being selected to be on their respective CCI2* Young Rider teams, it is exciting to see the competition. It is a veritable whose-who from the Eventing 18 and Eventing 25 Developing Rider's list, which makes it all the more exciting!  What would a championship be if you were not going to be going up against the country's best? And the NAJYRC is a testament to this. Every one of these young people has worked hard and earned the right to be here.
The 2015 NAJYRC is going to be exciting. Bailey and Leo have had another year to grow their partnership and fine tune their dressage, stadium, and cross country. But as we all know, anything can happen in eventing. It is truly a sport of inches. It is a sport of seconds. It is a sport that you can never give up. When a clear cross country round will launch you up the rankings, there is always hope.
So, this is the third time. Will 2015 be the charm year? Truth be told, it already has been. The perseverance and work after the first two years has paid off. The fire is still burning to get better. The goal was to get qualified and selected for the 2015 NAJYRC Area V team and that goal has been accomplished. It is time to sit back and enjoy that success.
Whatever happens, the hard work has paid off. We will celebrate Bailey being a part of the select few young riders who get to wear that red, white, and blue patch with two stars and the initials YR on it. Those who worked hard and now get to show off what they have learned. In the words of Bailey's boyfriend Nicholas Hansen, it is going to be a good time.
Now excuse us, we have a horse to bubble wrap.
Follow Eventing Dad on Facebook and on Twitter. Follow Bailey Moran – USEA Young Rider on Facebook.
Comments