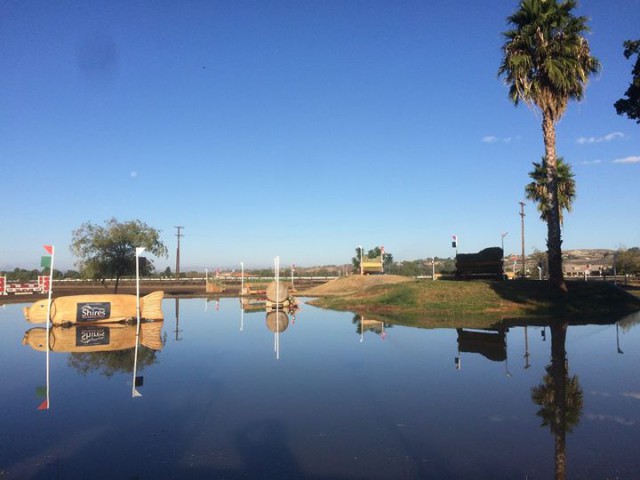 What do we love about the Galway Downs International Three-Day Event this fall? Let me count the ways …
1. Breeding of all orcas has been banned in California, but Galway Downs' Shamu has been allowed to exist in her (or is it his?) natural state since the beginning. (The drought is affecting even Shamu …)
2. It's Halloween Weekend. Who better to spend the spooky holiday with than a bunch of eventers who laugh in the face of danger daily? Especially when there is a costume party for competitors at the beautiful venue, and coordinators Robert Kellerhouse, Christina Gray and Katie Trafton are involved.
3. The food trucks. I am not lying, I would give anything for Two for the Road's Spinach Artichoke Grilled Cheese and Super Q's Pork Melt. Or Chicken Melt. Wait, you mean you haven't had three cheese mac and cheese with pulled pork and sautéed onions? Where have you been eventing lately? (If anyone would like to bring me some, I'll pay you back!)
4. Watching some of the nation's best riders come galloping up a hill to a jump RIGHT BETWEEN the vendor area. So you're shopping on the left side and Tamie Smith goes galloping by, and then you're getting some advice on tack closer to the stadium arena, and there goes Barb Crabo. No biggie. Just the best view while shopping, possibly ever.
5. Many of the tracks include at least a little stretch of the infield or the actual track. Yeah, this is a working training race track throughout the year. In the permanent barns, you can see the hot walkers. In the early mornings the horses are worked … it adds a little drama to your warm up when you have to pass a training gate on your OTTB to get down to the dressage courts!
6. Because it's the final FEI event of the West Coast (well, the nation), it's a party. Eventers at all levels have been working toward this event. Thanks to the USEF grants, we are getting to see Lauren Kieffer and Phillip Dutton out here for the first time in a long time. Plus Allie Knowles is coming home, David O'Connor is walking around the dressage warm-ups, Kate Chadderton has some other Aussies to catch up with, and Marilyn Little brought RF Demeter.
We are also welcoming Ronald Zabala-Goetschel and two of his horses, Jessie Phoenix and her string of three, and Jacob Fletcher, hot off his Adequan Gold Cup Advanced win at Texas Rose. Plus there's more! Lauren Billys, James Alliston, Bunnie Sexton, Allison Springer, and Andrea Baxter — with the Olympics in Rio next year and the Rolex qualification period coming to end, get ready for some world class competition.
(And that's just in the three-star! Click here to see the full entry list.)
7. Who doesn't love awards and gorgeous ribbons? Place at Galway and you'll get some nice swag, courtesy of some of the best sponsors the West Coast has to offer. (I'm not kidding. The winner of last year's Training Three-Day (both divisions) took home more goodies than I ever thought possible. Saddles! Feed! Pads! Bridles! Halters! SHINY THINGS!)
8. It is Sonoma Saddle Shop's FINAL SHOW. For those of you who have evented, or gone shopping or spent some time at any Area VI event, you know Kristi and Louis. Kristi's the one that has the extra batteries for your watch, electrical tape in great colors, poultice, bit guards, rein stops, etc. — everything you ever might forget. Sonoma Saddle Shop is more than just a business. They are part of the Area VI eventing family, and they will continue to be, but we will miss their presence at every event more than we can say. (I will especially miss chatting near Taj!)
9. Ain't no party like a West Coast party! No, for real, there is hooting and hollering when those awards are announced. Heck, be ready for some whoop whoops when you have a great stadium round, a personal best in dressage or make it through those finish flags. I love any good excuse to cheer, and clapping alone just doesn't cut it at Galway.
10. Thanks to Ride On Video's LIVE STREAM LAUNCH (YES, YOU READ THAT RIGHT!), you can be sure I will be whooping it up this weekend in between barn chores. Bob, Debi, Tayler and the entire camera crew — you're the BEST.
11. A Beer Oasis and Rasta Rita's tasty margaritas. We may be in a drought, but we don't go thirsty!
12. Everyone who had to stay home this year said the thing they would miss the most was the friendship and camaraderie. Despite the fact we drive double digit numbers and never cross into another state, October Galway is a little bit like Thanksgiving with our eventing family. We get to congratulate and commiserate with each other over the highs and lows of the year, we get to see our favorite beautiful faces in the warm up arenas (Yes, Don, that means you!), we plan for clinics and lessons and how great next year will be.
So even though not all of us can be there in person this year, we're stalking the scores, Facebook and EN, setting up group texts and telling you to rock it like we know you can.
So kick on, eventers, kick on.
(And remember to ship me that mac and cheese, if you would.)