Welcome back to the 2022 Land Rover Kentucky Three-Day Event, and it's not just the #BestWeekendAllYear, it's the best day of the best weekend. It's cross-country time, baby! First up to bat are the competitors in the second running of the CCI4*-S here, which has been referred to as a five-star short — it's a seriously intense course, and we've got some incredible partnerships tackling it today. Here's how the top twenty looks after dressage:
Take a look at the course via CrossCountryApp here. Here's how the course breaks down:
Length: 3960m
Numbered fences: 21
Optimum time: 6:57
Land Rover Kentucky Three-Day Event (KY): Website, CCI5* Ride Times, CC4*-S Ride Times, Live Scoring, Live Stream (North America), Live Stream (Outside of North America) Tickets, EN's Coverage, EN's Ultimate Guide, EN's Twitter, EN's Instagram
Error, group does not exist! Check your syntax! (ID: 59)
11.39: We have a change in the standings already — Liz Halliday-Sharp and Cooley Be Cool have had their 20 taken away, and they move into eleventh place. Here's the updated leaderboard:
11.32: We'll be back with a full report and galleries, plus more live updates from the CCI5* cross-country, which kicks off at 12.50 EST. Thanks for following along!
11.29: Whew, what a ride that was. We're looking at a day that saw 18 clear rounds out of 43 starters. 20 horses faulted in that coffin at 9ABC. 30 combinations went on to complete. That's a 42% clear rate and a 70% completion rate. Huge well done to Dan Kreitl, whose clear inside the time — the only one of the day — sees him take the lead from a first-phase eleventh place. Incredible!
11.23: Liz Halliday-Sharp has travelled the world with her horses, and even she says this is the toughest four-star she's ever encountered. It's hard to argue with that — here's the top twenty after this phase:
11.22: Joe Meyer's round ends early after a third 20, which he picks up at 14C, the corner at the Walnut Bank complex.
11.20: Oh no! Bobby takes a tumble at the Mighty Moguls. We'll see him back on course later in the five-star with Fortuna, and fortunately, he's up and about and looks fine.
11.18: Last out on course in this class is Bobby Meyerhoff with Albano. He could take third place if he goes clear with fewer than 3.6 time penalties.
11.17: Aaaaand another 20 at the coffin for Joe. I reckon everyone will sneak out tonight to burn those brushes.
11.16: Valerie and Favian continue to motor on with confidence — they stop the clock at 7.18. That's 8 time penalties, who will go into showjumping in the top ten! Joe Meyer and Buccaneer, like Colleen and Vermont, have a 20 at the Moguls at 4.
11.15: Colleen has now opted to retire after knocking the MIM at 6A, the rails at the coffin.
11.14: AAARRRGHHHH! They pick up 20 early on at 4B, the second of the Moguls. But wonderful for Dan Kreitl, who will lead this CCI4*-S overnight!
11.13: Okay, our current leaders are out on course. It's Colleen Loach and Vermont!
11.12: BOOM. Straight and SUPER for Valerie and Favian at the coffin. Nailed it, girl.
11.11: Make a wish! Valerie sits fourth at the moment after this phase has sent most people home with penalties.
11.10: Valerie Pride and Favian are next to start. This pair has five-star experience and frankly, they'll need it out here in this 'five-star short'.
11.08: Liz comes home with no further issues after that frustrating water. Lindsay Traisnel runs into trouble at the coffin, with a stop at the angled brush at C. We'll see this question being built at farms around the country next week, I think.
11.06: Lindsay Traisnel and Bacyrouge finished yesterday outside the top twenty, but as they leave the start box, they've already climbed to fifth. Wheeeeew. Kick on, girl!
11.05: ARGH! A super attacking ride at the Rolex water at 9ABC means that Liz and Cooley Be Cool just zoom past the C element. 20 penalties for them puts Dan Kreitl into minimum second place overnight!
11.03: Liz ATTACKS the Mighty Moguls, where she fell earlier, and then goes long at the coffin. Smart.
11.01: We're glad to see Liz Halliday-Sharp looking no worse for wear after her tumble earlier. She's back out on course now with Cooley Be Cool, who's now sitting in second after the field ahead of him thinned.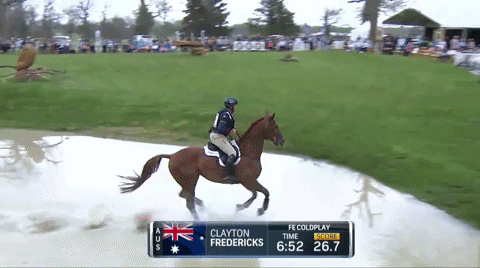 11.00: 7.44 provisionally for Clayton gives him 18.4 time penalties.
10.59: Clayton was sensible with that long route but now needs to be speedy to finish the course, as he's in a great position — he was fourth after dressage with this horse. He definitely won't catch the time but if he can keep his penalties to a minimum he could stay in a good place.
10.58: Newly-minted American James Alliston is out there looking good at the halfway point with Nemesis, while Clayton is clear up to 17 so far.
10.56: Clear in 7:37 for Sara and Rubens. Super, super round that'll give some of the riders to follow a bit more confidence.
10.55: "It's education, and it's awesome that we have this opportunity to give these horses this experience," says Tamie, who's another rider to express what a tough challenge this course presents.
10.53: Clayton Fredericks is the next to opt to go long at the coffin with FE Coldplay.
10.51: Wow, Sara Kozumplik-Murphy and Rubens d'Ysieux are tearing it up out there. I'm about to give you a coffin GIF that doesn't make us all want to cry. And also another GIF of them looking super at the Mighty Moguls because we all need some joy right now.
10.48: There's a provisional 20 for that coffin now — we'll see if there ends up being an inquiry! Great to see Andi and Cooley Northern Mist home and clear, and Skyeler Voss and Argyle home with their 20. Both cross the line at 7:31.
10.46: WOW! Interesting to see whether they penalise this — Tamie has a refusal of sorts at the ditch in the coffin but they dig seriously deep to answer the question. They don't technically step back, so…
10.45: Sally Cousins is our latest withdrawal, so next on course is Tamie Smith and the excellent Solaguayre California. I really fell in love with this cool mare at Boekelo last year, and though this is a big challenge for her, I'm excited to see what
10.43: Andi makes the wise choice to go long at the coffin, and makes a really tidy job of it. This is an educational run for this relatively green horse, and Andi rightly decided that it'll be better for her horse at this stage to have a confident run, rather than risk a challenge of that magnitude.
10.40: Now it's time for Andi Lawrence to fight for a climb with her Cooley Northern Mist. Andi was previously head groom for Kim Severson, and she's put in loads of hard work to produce this lovely mare. Go on, ladies!
10.39: Skyeler Voss and Argyle also pick up a 20 at the coffin. I'm going to start having some opinions soooooooon, friends.
10.37: OMG. This coffin, man. I cannot. Sharon is the latest to pick up a 20 for a driveby. This is another one where it looks like the horse just didn't really see the question in front of him.
10.35: Sharon White and the delectable Claus 63 head out of the start box in 13th place after dressage. Time to fight her way into the top ten…or higher!
10.34: NO!!!!! Doug hits the deck at the coffin, taking Starr Witness's bridle with him. Our leader is out! UGH, what a disappointment for him — this really is an exceptional up-and-coming horse.
10.32: A great, scrappy ride through that coffin for Mexico's Daniela Moguel and Cecelia! And now a huge round: it's overnight leaders Doug Payne and Starr Witness.
10.30: Ugh. Maddie is eliminated for accumulated refusals at the coffin: Crosby's Gold refuses and activates the clips at the rails after spotting the ditch and spooking, and then doesn't want to go over the ditch after that. They finally have a run-out at the brush.
10.25: Maddie Scott and Crosby's Gold head out of the start box on a score of 45.2, while Buck Davidson retires Jak My Style, who was initially entered in the five-star, after a run out at the C element of that super influential coffin.
10.24: New mum Erin romps home with one of the fastest rounds of the day so far. Super stuff!
10.20: Oh no! We see Jessica Phoenix end her round with Humble GS at fence 4A after a really unlucky tumble.
Error, group does not exist! Check your syntax! (ID: 60)
10.17: Kevin and Candy look like they're a bit lost at the Rolex Challenge water at 9. They'll be losing a lot of time there but with a 20 on their record already, this run is more about experience now. Erin Kanara and Campground make the right-hand route at the coffin look like a breeze. Beautiful ride.
10.15: Heather Gillette and Vincent Chase are in the latter stages of the course now and looking good so far.
10.14: Looks like Kevin and Candy had different ideas which brush they were going for at the coffin. Ultimately they choose neither — it's not a run-out so much as they just canter between the two and have to come back on themselves. They pick up 20 penalties and keep on keepin' on.
10.12: Kevin Keane and Sportsfield Candy leave the startbox in eighth place. This busy rider is also Phillip Dutton's vet!
10.11: It'll be 7:33 for Holly and Candy King, despite that pesky breastplate. That'll be a good climb for them!
10.06: Canada's Holly Jacks-Smither's breastplate breaks with Candy King, and she's doing her best to try to grab it while going full tilt with this cool horse. Missy Miller and Quinn are our latest to pick up penalties at the coffin.
10.05: NOOOO! Another one has a rough time at the coffin. Liz Halliday-Sharp so nearly saves it but hits the deck after a runout with Cooley Moonshine, who was sitting fifth.
10.03: Robin Walker and SBT Barolo are looking good as they come to the tail end of the course! They won't catch the time but they should climb if they can get home clear now.
10.00: WOW — Moonlight Crush is a genuine horse. Obviously tiring and now just…banking solid obstacles. What a trier.
9.55: Ryleigh Leavitt and Moonlight Crush also have a runout at the coffin. That's three pairs in a row now. Ope, and now we add a fourth — it's Natalia Neneman and Electric Lux.
9.52: Arggghhh, another one at the coffin, and it's a big one — Helen Alliston and Ebay opt to go left and run past. They were in ninth after dressage.
9.49: Sophie Click and Quidproquo are nearing the end of the course and looking confident and clear!
9.47: Oh no — another rider gets caught out at the coffin. This time it's Meaghan Marinovich-Burdick, who goes for the right-handed brush with Riviera Lu but runs past.
9.46: Dana and Mississippi are looking pretty tidy on time here as they jump the trakehner to wedge at 19AB. They won't catch the time, but they won't be far out — it's 7.15 as they cross the line, for a provisional 6.8 time penalties.
9.44: FE Golden Eye isn't as naturally speedy as some horses, but he really does hunt the flags. They cross the finish at 7.30 — 33 seconds over the time. Now we're looking at another FE horse, this time FE Mississippi and Dana Cooke, who won the four-star at Chattahoochee Hills recently.
9.42: Next out on course is Colleen Loach and FE Golden Eye, who bring forward a dressage score of 31.7.

9.40: WOW! Proven wrong — Dan Kreitl crosses the line on a provision 6:55, two whole seconds inside the time. Incredible. He made up for a sticky middle section by really finding the rhythm in the first and final thirds of the course. Both of them looked more and more confident as they came to the end. Really impressive!
9.37: Hmm, a couple of sticky jumps for Carmango, which will slow them down a bit.
9.34: Dan Kreitl heads out in 11th place on Carmango. We're still waiting for our first pair to catch the time — could they do it?
9.31: Mr Candyman adds in the Walnut Bank combo but finds his way over C. They're about 30 seconds down on the clock — and now they opt to retire after that.
9.29: Mr Candyman is a really good boy — he pops neatly into the coffin but the stride isn't quite there to the C element. He grows a pair of wings and carries Alex through to the other side without an issue. Big pats!
9.28: Next out on course is Alex Baugh and Mr Candyman. Jennie and Twilightslastgleam are still motoring after that early sat-nav error.
9.26: Oof. Kyle walks home with Reddy or Not after a heartstopping moment at 14A, the rails into the Walnut Bank. It looks like she just got a bit surprised by the sight of the drop down after the rails and put down a bit too early, hooking her front end over the fence and activating the safety device. She'd started to look a bit tired so Kyle makes the right call, dismounts, and gives her a pat before they head back to the stables.
9.25: AARRRGHHH! Jennie does a Coleman and goes the wrong way at the start of the course. It's so tough for these riders who have to ride both courses today — it's a pretty easy mistake to make in the heat of the moment.
9.24: Jennie Brannigan heads out with the first of her spicy ginger rides today. Twilightslastgleam is like an arrow out of that start box.
9.22: Canada's Kyle Carter starts his round with Reddy or Not, who sits 20th at the moment. One minute into the course, we see Kyle really picking his horse up and making some deliberate, attacking decisions. Clayton gets a sticky, tricky jump into MARS Sustainability Bay as Ophelia hangs a leg, but he gets away with it and they style out the rest of the question.
9.20: Ellen Doughty-Hume and Breakin' All The Rules pull up after some issues at the coffin, which reminds me of the one at the CCI4*-L at Bicton last year, which was influential there, too. Ellen opted to go left at the C element, had her runout, and then tried again over the right-hand brush option, picking up another refusal. It's not going to be an easy day out there.
9.18: We're seeing some issues that weren't shown or mentioned on the livestream for Will and Tamie. Will picked up 40 penalties on course, at 6C, the angled hedge out of the coffin, and 9b, the wedge in the water, while Tamie had a 20 at 6a, the rails at the coffin. That explains the time.
9.16: A super, super ride through the final water for Tamie and Elliott after a slightly sticky ride at the Cosequin Cove water. Tamie crosses the finish at 7:45 – nearly a minute over the time allowed despite what looked like a pretty committed trip there. This could be a very interesting day indeed! We catch up with the course at the coffin, where Clayton Fredericks and FE Ophelia are circling after an issue there.
9.15: Some interesting insights being relayed from Tamie, who had such a tricky week here last year when a MIM stopped her from fighting for the win in the CCI5*. She's now determined to 'answer those questions better' and we see that in action as she sets up a really careful, clean effort over a clipped fence.
9.13: Doug Payne and Camarillo head out. They're in 39th at the moment. A great ride through the trakehner to wedge question at 19AB from Phillip and Quasi Cool, who have looked seriously attacking and committed miles away from each fence. Similarly, Tamie is out there hunting down those fences. Elliott looks really great today.
Error, group does not exist! Check your syntax! (ID: 60)
9.12: A much better ride through the final water for Will and Chin Tonic, who finishes looking classy but stops the clock at 8:29. That early navigational error was so expensive, and Will was wise to then use the round to educate the gelding, rather than try to rag him around and catch up. It's no doubt disappointing, though, because Will knows he's got one of the best up-and-coming horses in the country underneath him.
9.10: Chin Tonic adds in the penultimate water at the Cosequin Cove which he gets away with but it won't help that time. Tamie Smith and Elliott V head out in 30th place.
9.09: Will has upped his cruising speed since that early sat-nav error, but we're seeing them around 40 seconds down as they tackle the Walnut Bank complex at 14ABC.
9.07: A bit of a sticky jump over the HUGE brush corner at the MARS Sustainability Bay at 18ABC for Liz and Monster, after they just get in a touch deep. They cross the finish line on a provision time of 7:08, which would give them 4.4 time penalties and put them on 30.1. Phillip Dutton and Quasi Cool are now on course, sitting 15th currently.
9.06: Liz is about ten seconds up on the clock as she hits the five-minute marker. Her early speed now gives her the wiggle room to play with if she needs it, but Monster is looking really, really good and I don't suspect she's going to need the buffer.
9.05: Oh dear. Second out of the box is Will Coleman and Chin Tonic HS, who sit 10th after dressage. They lose time pretty quickly by…accidentally going down the five-star track and having to turn back on themselves. Look, Will, we're ready for this horse to win the big one too, but it's not this year!
9.04: Whoops, the website ate my updates. Liz and Monster are motoring, despite a bit of a miss and a prayer at the coffin. They stay super focused and straight and get it done sans penalties. We've really seen him step up from a boy to a man over the last year.
9.00: And we're off! First out of the box is Liz Halliday-Sharp and her excellent Cooley Quicksilver. They sit third after dressage and in this tightly packed bunch, they'll want to try to beat the optimum time of 6:57. Liz has her game face ON.
Land Rover Kentucky Three-Day Event (KY): Website, CCI5* Ride Times, CC4*-S Ride Times, Live Scoring, Live Stream (North America), Live Stream (Outside of North America) Tickets, EN's Coverage, EN's Ultimate Guide, EN's Twitter, EN's Instagram
Error, group does not exist! Check your syntax! (ID: 59)