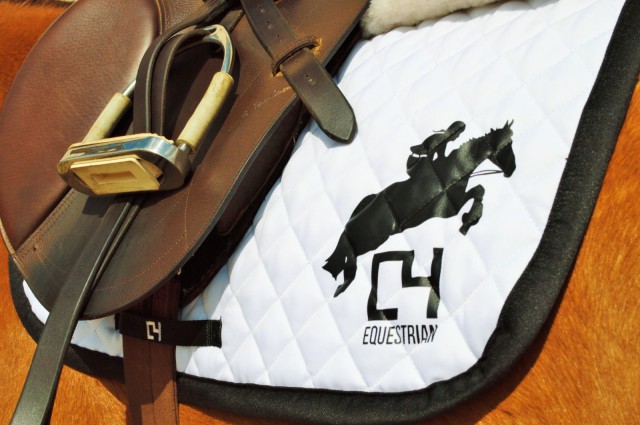 When C4 announced they were launching a new line of reversible saddle pads at AETA this year, we did a little happy dance. After getting a sneak peek at the new pads, which come in four different color combinations, we immediately knew that the popular belt company had hit a home run.
C4 has exploded on the eventing scene as the go-to option for color combinations. C4 belts are used for belts as well as "oh-crap straps" for eventers of all levels, and they've got a team of sponsored riders who love the product and what the company stands for: giving back.
We got a chance to take a saddle pad for a test ride, and we've compiled a list of our favorite features from this summer's must-have item.
1. Feed your color crazy with two colors in one pad.
The C4 saddle pad is currently offered in four color combinations: forest green/orange, red/blue, black/white and pink/navy. While I'm personally rallying for a purple pad, the black and white offered a sharp option that still matches my overall theme.
The pad is 100% reversible — no funky seams or mismatched logos to be found on the flip side. I've ridden in my pad many times now, and even though the logo on the underside is against the horse, I have not seen any damage or wear and tear.
2. Look polished and professional while having fun.
With the fun colors available, it's easy to go nuts matching everything from your ear bonnet to your studs. This pad can easily blend in with either a loud and all-out outfit or a more minimalist theme. The presence of the C4 logo on the side and on the billet keeper is classy and elegant.
3. It stays cool on the hot days.
It's nice and humid here in Kansas City, thanks to a full month of rain in May. For that reason, I'm always looking for a good way to ensure my horse stays ventilated under saddle. I was pleased to see that this pad did not get bogged down with sweat, nor did it trap a lot of heat underneath.
When I remove the pad after a long ride, my horse has normal sweat marks that are evenly patterned (from a well-fitted saddle!) and are minimal thanks to a light fabric that allows air to circulate.
4. Wash away!
I was a bit worried about the logo wearing off in the wash. I'm pretty hard on my things, as in I don't necessarily take the time to hand wash or take them to a professional clear. So one criteria is that I must be able to take my pads and just throw them in the wash with like colors. I expect them to come out on the other side no worse for the wear.
Luckily for me, the C4 pad did exactly that. I usually hang dry my saddle pads before tossing them in the dryer to fluff them. I did dry my C4 pad for experiment's sake and did not see any ill effects on the logo or stitching. Overall, this pad seems sturdy and in it for the long haul.
Are you wanting your own C4 pad? Not to worry — we've got you all set! For a limited time only, you can now receive 25% off the C4 reversible saddle pad with this special EN promo. Time to stock up! Click the banner below to go shopping now.