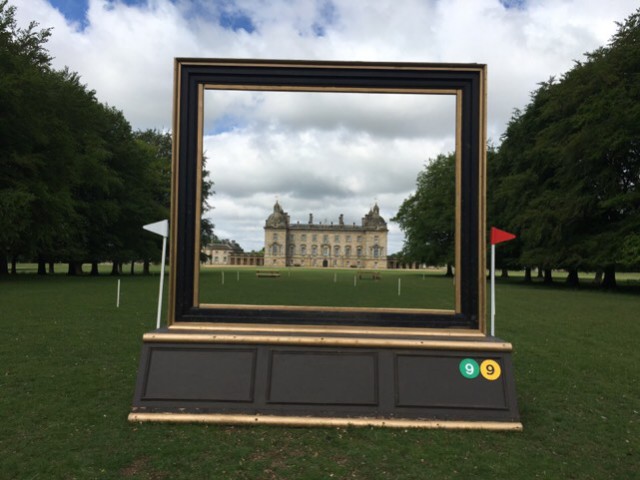 It's hard to take a bad picture at these British estate events with their built-in breathtaking backdrops of palaces, castles and just plain old "houses" like this one, Houghton Hall, in Norfolk, England.
Course designer Alec Lochore capitalized on the latter's pretty-as-a-picture setting for this week's Houghton International Horse Trials, which is headlined by a CICO3* FEI Nations Cup division.
His ability to think "outside the frame" is apparent throughout the 2016 CCI1*, CCI2* and CICO3* tracks. A sampling of his most creative creations:
Here are the full course walks via our friends at CrossCountry App, as recorded by Jane and Nigel Clark for Musketeer Event Management.
CICO3*
CCI2*
CCI1*
You can download the courses and get this invaluable app yourself at CrossCountry App,
The draw for the FEI Nations Cup took place last night (watch here) and the team order is as follows:
France: Denis Mesples, Geoffroy Soullez, Didier Dhennin, Matthieu Van Landeghem
USA: Katherine Coleman, Elizabeth Halliday-Sharp, Tiana Coudray (see team details here)
Netherlands: Renske Kroeze, Eef Hamers, Althea Bleekman, Jordy Wilken
Australia: Sam Griffiths, Andrew Hoy, Kevin McNab, Tim Boland
Great Britain: Izzy Taylor, Laura Collett, Coral Keen, Sarah Bullimore
New Zealand: Caroline Powell, Jesse Campbell, Mark Todd, Tim Price
Germany: Josefa Sommer, Peter Thomsen, Josephine Schnaufer, Bettina Hoy
The CICO3* dressage starts at 2 p.m. local time today, with Denis Mesples and Oregon de la Vigne first into the arena.All CCI1* and CCI2* horses passed yesterday's first horse inspection.
For entries and ride times, visit the Houghton International Horse Trials website.
Go Eventing!