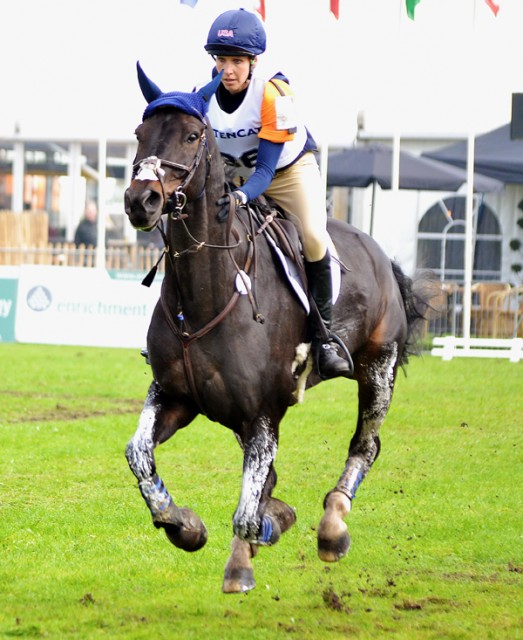 While Richland Park Horse Trials is the big event here in the States this weekend, all eyes across the pond will be on Blair Castle International Horse Trials in Scotland, the first key CCI3* of the summer in Great Britain, as well as the host site for the 2015 European Championships. And to make it even more exciting, a large American contingent will be out in full force at Blair.
Liz Halliday-Sharp and Fernhill By Night will represent the U.S. in the CCI3*, coming off a 10th-place finish at Hartpury CIC3* earlier this month. Liz and "Blackie," an 11-year-old dark bay Irish Sport horse gelding owned by Deborah Halliday, have been on a mission to put in a clean cross-country trip in a CCI3* since last fall.
Blackie attempted his first CCI3* at Boekelo, picking up a stop at a skinny with a downhill approach on a very muddy cross-country day. Then they retired on course at Saumur CCI3* and Bramham CCI3* this year, and they now head to Blair looking for redemption over Ian Stark's course. Liz said after Hartpury that Blackie feels fantastic, ready to tackle the mud and hills in Scotland.
Three Americans will ride for the stars and stripes in the big 76-horse CIC3* division, led by Area V's Jacob Fletcher and Atlantic Domino, who drew the lucky number 1 slot. This is a relatively new ride for Jacob, as he took over the ride from Tanya Kyle after moving to the UK to train and ride earlier this year.
A 9-year-old grey Irish Sport Horse gelding owned by Jacob, Atlantic Domino contested his first CIC3* with Jacob in the irons last month, finishing 24th at Cappoquin CIC3* in Ireland with 20 jump penalties on cross country. They'll be looking for a clean cross-country round in their second CIC3* attempt this weekend.
Tiana Coudray will also tackle the CIC3* with Kinnordy Rivaldo, a 12-year-old bay Hanoverian gelding she bought from Chris Burton following the 2012 season. This horse won Hartpury CIC3* in 2012 with Chris before going to Tiana's yard and was meant to tackle the Bramham CCI3* last year until a bone injury cropped up on an MRI, requiring surgery and a long recovery period.
"Ken" just came back out at Upton House last month for the first time since his surgery, bopping around at Novice, and then had a good run at Intermediate at Aston-Le-Walls earlier this month, jumping clear cross country and looking primed and ready for Blair with Tiana.
Katherine Coleman and Courage Under Fire are our third American pair entered in in the CIC3*, which will be Katherine's first attempt at the level. After moving to the UK in 2012, Katherine now has a successful string of horses, several of which will be running at Blair.
Courage Under Fire, an 11-year-old bay Irish Sport Horse mare owned by Katherine, has previously completed two CIC3* events in 2012 with Ireland's Steven Smith. They most recently finished 20th in the Advanced division at the Festival of British Eventing at Gatcombe.
Logan Duffort, who originally hails from California like fellow Blair competitors Liz and Tiana and has been based in the UK since 2009, will represent the U.S. in the CCI2* with S'prit Coeur Volant, an 8-year-old bay French mare owned by Arthur Duffort.
S'prit Coeur Volant placed 14th in the 7-year-old Young Horse Championships CCI2* at Le Lion d'Angers last year and has been successfully campaigning at the Advanced/Intermediate and Intermediate level this season, looking to be in good form for Blair.
Last but not least, Mary Frances Cargile has two horses entered in the CCI* for the U.S. You'll remember Mary from her Area V Young Rider days with Take the Mick, and she's another of our hungry young Americans who moved to England looking to train amongst the best in the world.
As a working student for Mark and Tanya Kyle, Mary Frances has the very cool opportunity to ride Ballylynch Skyport, Michael Ryan's longtime upper-level partner who completed Badminton last year. She will also be riding her own Pioneer Montague, an 8-year-old British Sport Horse gelding.
Mary Frances has completed three CCI* events this year with Pioneer Montague, and this will be her first international outing with Ballylynch Skyport, who she's had out at the Novice level four times in the past month. Stay tuned to EN this weekend as we follow along with our exciting field of Americans competing at Blair Castle. Go USA!