Glancing at the schedule for the 2016 PA Horse World Expo it's easy to feel overwhelmed. The event features four days' worth of demonstrations, lectures, exhibitions and events, plus you've got to squeeze a trade fair shopping spree in there somewhere.
If you want to make the most of your experience, you need a game plan. You're going to have to make some tough choices out there, kids, but Eventing Nation is here to help. We did the dirty work of combing through this year's lineup to custom curate a list of activities that we think will hold extra appeal for the three-day crowd. In no particular order…
Bernie Traurig is a legend of the sport — actually, make that plural, "sports." He's competed at the international level in all three Olympic disciplines and nowadays is sharing that knowledge via his online training site EquestrianCoach.com. Don't miss this opportunity to learn from a legend.
Schedule:
Friday, 11 a.m. – 12 p.m., Equine Arena (2nd Floor): "Flatwork Over Fences"
Friday, 1 – 2 p.m., Seminar Hall A (Expo Hall): "A Tribute to the Thoroughbred Sport Horse"
Saturday, 11 a.m. – 12 p.m., Seminar Hall A (Expo Hall): "History & Evolution of the American H/J Forward Riding System"
Saturday, 1 – 2 p.m., Equine Arena (2nd Floor): "Gymnastics & Course Work"
Sunday, 10 – 11 a.m., Seminar Hall A (Expo Hall): "Our US Equestrian Team 'Back in the Day;' DVD With Q&A"
Sunday, 12-1 p.m., Equine Arena (2nd Floor): Mini Prix Including Jump Off
Check out this video of Bernie competing "Maybe Forever" in the 1990 World Cup in Dortmund, Germany:
Dom Schramm needs no introduction in this neck of the eventing woods. He and wife Jimmie's Shramm Equestrian is based just an hour and a half or so away from Harrisburg in Cochranville, making Dom a natural PA Horse World Expo fit.
Schedule:
Saturday, 2-3 p.m., Equine Arena (2nd Floor): "Common Challenges of Introducing the Young Horse to Eventing"
Saturday, 4-5 p.m., Seminar Hall A (Expo Hall): "So You Want to Be an Equine Professional?"
Sunday, 11-12 p.m. 11 a.m.-12 p.m., Seminar Hall A (Expo Hall): "English & Western; What We Can Learn From Each Other"
Sunday, 1-2 p.m., Equine Arena (2nd Floor): "Dressage; A No-Nonsense Guide for Regular People"
Dom is a big fan of OTTBs and couple of his lectures are in coordination with CANTER PA. You can meet him at the CANTER booth, where you'll have a chance to purchase a CANTER tee at a reduced price to get autographed by Dom himself. Keep an eye on social media for an announcement about the time of this event and be sure to use the hashtags #canterpa and #DomlovesCANTER in your own social posts!
Retired Racehorse Project's $100,000 Thoroughbred Makeover will be in the spotlight throughout the Expo, featuring demos, commentary and even a 2015 Thoroughbred Makeover Rematch, which we previewed in this post yesterday.
Meet some of the top horses and trainers who traveled to Kentucky for last year's Makeover event, with a different part of their extraordinary journeys from the racetrack to new careers as riding horses showcased each day.  Steuart Pittman of Dodon Farm Training Center will provide commentary and interview the trainers as they perform.
Schedule:
Thursday, 3-3 p.m., Equine Arena (2nd Floor): "Finding the Right Horse for You"
Friday, 12-1 p.m., Equine Arena (2nd Floor): "Retraining From Racing to Riding"
Saturday, 5-6 p.m., Equine Arena (2nd Floor): "Thoroughbred Makeover Rematch"
Sunday, 2-3 p.m., Seminar Hall A (Expo Hall):  Trainer's Forum
Click here to learn more about RRP.
Can't get enough OTTB? CANTER PA also has a full lineup of events this weekend. Find them at booth S12 in Breed Row where you can take a hilarious selfie with (cardboard cutout) Smarty Jones, show your off-track pride with the purchase of a discount tee, score a celebrity autograph or window shop for a new OTTB of your own!
And whatever you do, don't miss a performance of  "Thoroughbred Bachelorette," presented by CANTER PA, Mid-Atlantic Horse Rescue (booth S10)and PA Racehorse Rehoming (booth S11) taking place each day during the Parade of Breeds. Spoiler alert: There will be costumes, hilarity and lots of hot OTTBs all competing for the love of a lucky mare.
Parade of Breeds Thoroughbred schedule:
Thursday, 4:30-4:40 p.m., Equine Arena
Friday, 1:30-1:40 p.m., Equine Arena
Saturday, 9:50-10 a.m., Large Arena
Sunday, 4-4:10 p.m., Equine Arena
Check out the full Parade of Breeds schedule here.
One more thing that didn't quite make the schedule but you'll want to keep an eye out for nonetheless… EN's own celebrity Chinch. 
We hear he'll be out and about, probably stirring up trouble as usual, so if you spot him don't hesitate to shake his paw, give him a squeeze, or take a Chinch selfie!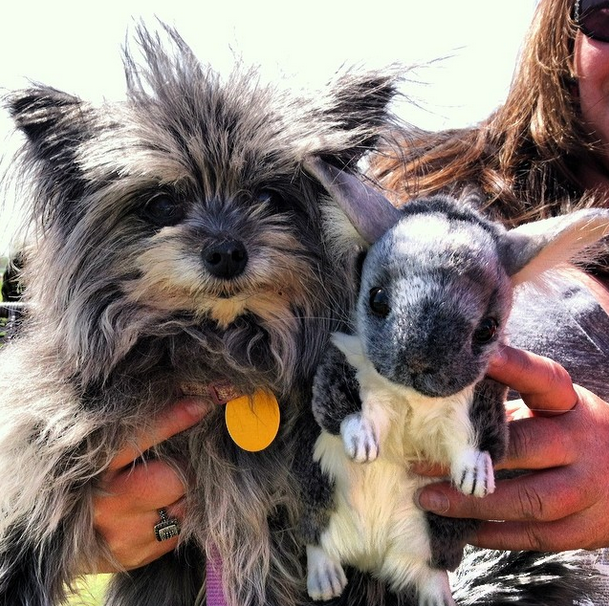 Find out more about the PA Horse World Expo by visiting its website here.
Have fun out there, and Go Eventing!